We need creative minds to guide us out of this crisis – look at what we're trying to do in Greece
In my new role as Greece's Chief Creative Officer, I've seen first-hand the benefits of innovation and technology in rebuilding a country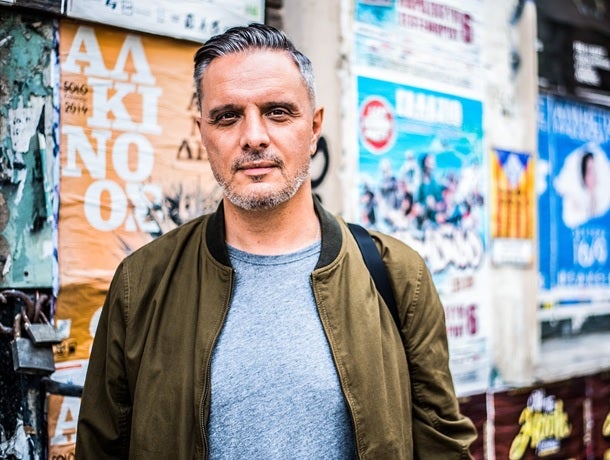 The coronavirus pandemic has triggered some of the biggest economic and social challenges we have had to face in decades, so world leaders might be forgiven for not prioritising the creative industries. However, my experience working in the design industry, for Google, and now as Chief Creative Officer for Greece, has shown me that creativity, innovation and technology can be critical factors in rebuilding a country at a time of crisis.
I started out as a self-taught graphic designer who caught the first digital wave of the internet in the 90s, something that would go on to shape the way I approached all aspects of design.
The son of Greek immigrants, I was raised on the West Coast of Canada in Vancouver in a neighbourhood with a modest Greek community. I always kept strong ties and wanted to build an even stronger connection to my homeland in Greece, but little did I know that I'd be put in a position to help out first hand. After the snap elections in July last year, I was fortunate enough to be invited to join the newly appointed Prime Minister, Kyriakos Mitsotakis, as a special adviser and the country's first ever Chief Creative Officer, a title more suited to a trendy Soho or Shoreditch advertising agency than a Mediterranean country.
A few months into my new role we were faced with the pandemic, causing untold pain and suffering, as well as economic meltdown in areas such as tourism. Almost 10 years of running Google's Creative Lab in Europe, the Middle East and Africa (EMEA) proved what design thinking and an innovation mind-set could do for a brand and now I had my first opportunity to apply it to an entire nation: a population that had already endured 10 years of economic crisis, mass youth unemployment and a brain drain in the hundreds of thousands.
Greece's Ministry of Digital Transformation responded to Covid-19 by rapidly developing online and mobile tools that allowed Greek citizens to adapt to a new way of life. Alongside this, my team developed Greecefromhome.com – a platform that warmly encouraged visitors to stay safe, while sharing a diverse array of video content celebrating Greek cuisine, music, fashion and sport.
It was hacked together in two weeks and our aim was to keep potential visitors engaged "until we can give you a big Greek welcome in person", and also keep locals occupied indoors and affected professionals skilled-up and trained. It was a big success, driven by creative thinking, and has been cited by many as a textbook example of an effective response to an industry in turmoil.  
I've also been working on Greece's country narrative, or what they call in some circles "country branding", a term I'm not really a fan of as it feels more like marketing speak than real structural change resulting in real-world benefit. The idea is to take one of the world's oldest civilisations and show its future-facing side, one based on its current achievements from the perspective of some of the most respected individuals in the world across business, art, music, fashion, sport, technology and culture – and they're all Greek. The aim is to state the ambition of where we want to go, not just where we've been, to drive further growth and innovation in the country in the years to come.
Creativity has been key here in how we've identified the challenges the country is facing, especially during the crisis, and developed innovative ways of solving them. This is what design thinking is all about. It's something that I learned while I was fortunate enough to be president of the UK-based creative organisation, D&AD: a not-for-profit that is the epitome of the power of creativity and the massive impact it can have across all aspects of society, environment, education and culture. It is here where I began to truly understand the role of creativity outside of traditional communications.
Design can help solve real-world problems like unemployment and was not just about applying a cosmetic layer over something on a superficial level. Technology enabled us to do some amazing things but that these things were empty without the heart and soul only a thoughtful human being can program into them.
More countries need Chief Creative Officers, or at least more creatives and designers working in Government. People who can capture and creatively communicate why one should visit, invest and live in a country. People who can help rebuild confidence internally while trying to re-establish credibility on the world stage by sharing the vision of a Government. People who can galvanise its citizens and the diaspora through a shared sense of belonging, while attracting tourists and investors who also want to be part of a movement.
I am trying to incorporate all of this into my current work for Greece, supported by a team of brilliant creative minds, many of whom are recent graduates without jobs who are now helping "rebrand" and rebuild a country. This is something I learned about only too well from programmes like D&AD's New Blood and Shift, initiatives that help young people land their first jobs in the creative industries.  
It's for all of these reasons that I believe drawing on a nation's creative minds, and nurturing the next generation of creative talent, should be on the top of world leaders' agenda both now and as we navigate a way out of the crisis.
Steve Vranakis is Chief Creative Officer for Greece
Join our commenting forum
Join thought-provoking conversations, follow other Independent readers and see their replies