Theatre has survived plagues and political uprisings – it can pull through coronavirus too
A new wave of digital streaming won't just be key to keeping it alive, it'll finally make the industry accessible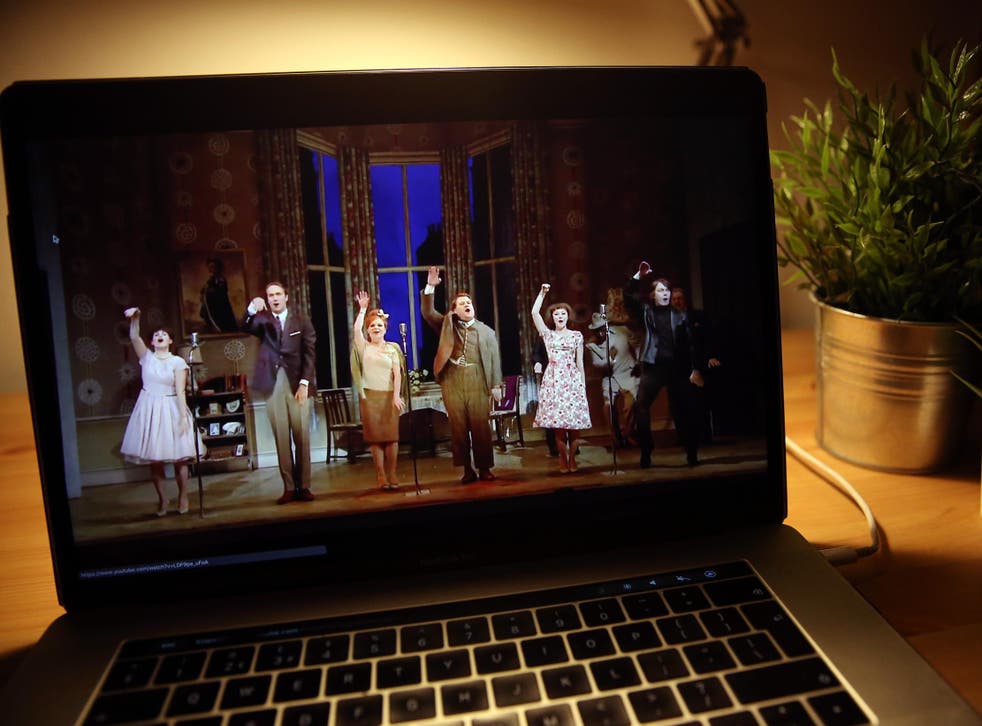 As a member of the theatre community, it's been devastating to watch the coronavirus pandemic grind the global arts sector to a standstill – an issue that has led to institutions like Shakespeare's Globe struggling to survive. For audiences, however, a significant bright spot has emerged: an explosion of digital theatre innovation. New forms of online programming are recruiting the brightest talent, reaching global audiences and reshaping our understanding of theatre altogether.
Much of this incredible online programming has been generously provided free of charge or pay-what-you-can in aid of charities. We launched our theatre discovery site, Thespie, to amplify the work of theatre artists and organisations to reach audiences at home, offering star-studded galas and intimate play readings performed by Olivier, Tony, Bafta and Oscar winners from their homes; dozens of filmed performances offered on streaming for the first time; arts streaming services temporarily opening their catalogues for free; and new podcasts, artists talks and workshops across dance, opera, and theatre.
All this activity is a huge boon to audiences. Hearing stories delivered person-to-person develops our empathy and helps us to deal dealing with issues well beyond our individual experience, and I think many like me are of the view that engaging with the arts has helped with processing the tragedy of this disruption, as well as providing joy and solace.
The industry may be considerably different in coming months than it was in 2019 – but my hope is that as well as being innovative, it will incorporate better access to communities near and far who didn't have access before.
There has long been an important focus on broadening access and dismantling the elitism built into the industry, yet there hasn't been enough conversation about using digital to send our programming to reach people where they are.
While many organisations maintain a host of pricing schemes for those who have been historically excluded or lack the economic means to afford a ticket, we need to talk about how we can develop formats of theatre programming that give people even more flexibility. Relaxed performances, subtitling and BSL-translated performances and working to facilitate easier physical access for those with specific needs are all existing initiatives across a number of organisations, but it is important to consider new ways of encountering the work that aren't rooted in the standard in-person theatre experience today. I believe we have a new opportunity to do so now.
As a child, I lived in a rural area and had almost no access to professional performances. But I was able to feed my interests by reading scripts, playing piano songbooks, and listening to recordings that helped me discover the incredible breadth of theatre. As well as giving better access to the sorts of shows I wouldn't have seen growing up, digital theatre helps to propel that cycle of discovery, providing reach to the hundreds of millions who can benefit from the arts but don't have the economic means to access it in person.
Watching theatre via a screen at home doesn't feel exactly the same as being there. Livestream performers will comment on how odd they feel to not have applause in between numbers, and we're learning what works well and what doesn't. But in many ways, the at-home experience feels very natural. The Stageit platform which hosted a Digital Drag Fest, enabled real-time tipping of performers as well as interactive questions with the artists, and the National Theatre has staffed their livestream chats with a knowledgeable moderator who gives insight into artists, costumes, and answers general questions from audiences across the world.
Digital theatre isn't new but the constraints we are under are certainly helping it blossom. Market research we conducted at Thespie in 2019 showed that 71 per cent of UK theatre attendees consumed theatre via digital media, with audio recordings of musicals topping the list.
The cadence of new digital programming has been as dizzying as the quantity, making it challenging to sift through options. There have been new weekly offerings from National Theatre at Home; Andrew Lloyd Webber and Sadler's Wells via YouTube; nightly broadcasts from the Metropolitan Opera; and twice-daily live interview and performance sessions with West End and Broadway names via Stars in the House. Tools like our platform, Thespie, are increasingly helping individuals to find what's right for their interests and to discover new ways to engage with theatre online.
Europe emerges from lockdowns across the continent

Show all 19
The next challenge is restarting the theatre economy and offering performances that audiences pay for and which pay the artists involved across physical and digital spaces. There have already been hundreds of online, live productions from home which paid their performers, and more tools need to be developed that make these experiences even richer for audience members and members of the community alike.
Live performances are already in development in formats that can be delivered safely for performers, technicians, audience, and operational staff, but clearer guidance needs to come from the government on how to manage queueing, audience safety and access to sanitary facilities.
People are eager to come together to feel a part of something and want to support our artists, but much of the heavy lifting to get them to attend again in person lies in educating them on the logistics and the emotional experience of the new theatre-going experience. We need to tell them how we will keep them safe, and how we can celebrate a return to delivering person-to-person stories amid new operational constraints.
We don't know how things will look once lockdown ends. But what is certain is that theatre will thrive again. It has survived plagues and political uprisings, technological innovation and increased competition of other activities. It will continue to evolve through innovation, but it will still be theatre, bringing us together and helping us engage with our humanity.
Tyler Stoops is founder of Thespie
Join our new commenting forum
Join thought-provoking conversations, follow other Independent readers and see their replies