My ex-husband was hailed as one of the first people in New York to get the vaccine. There's just one problem: He didn't
Though cameras blasted his face across the country, he wasn't able to actually get the shot because of a complicated system that seemed impossible to navigate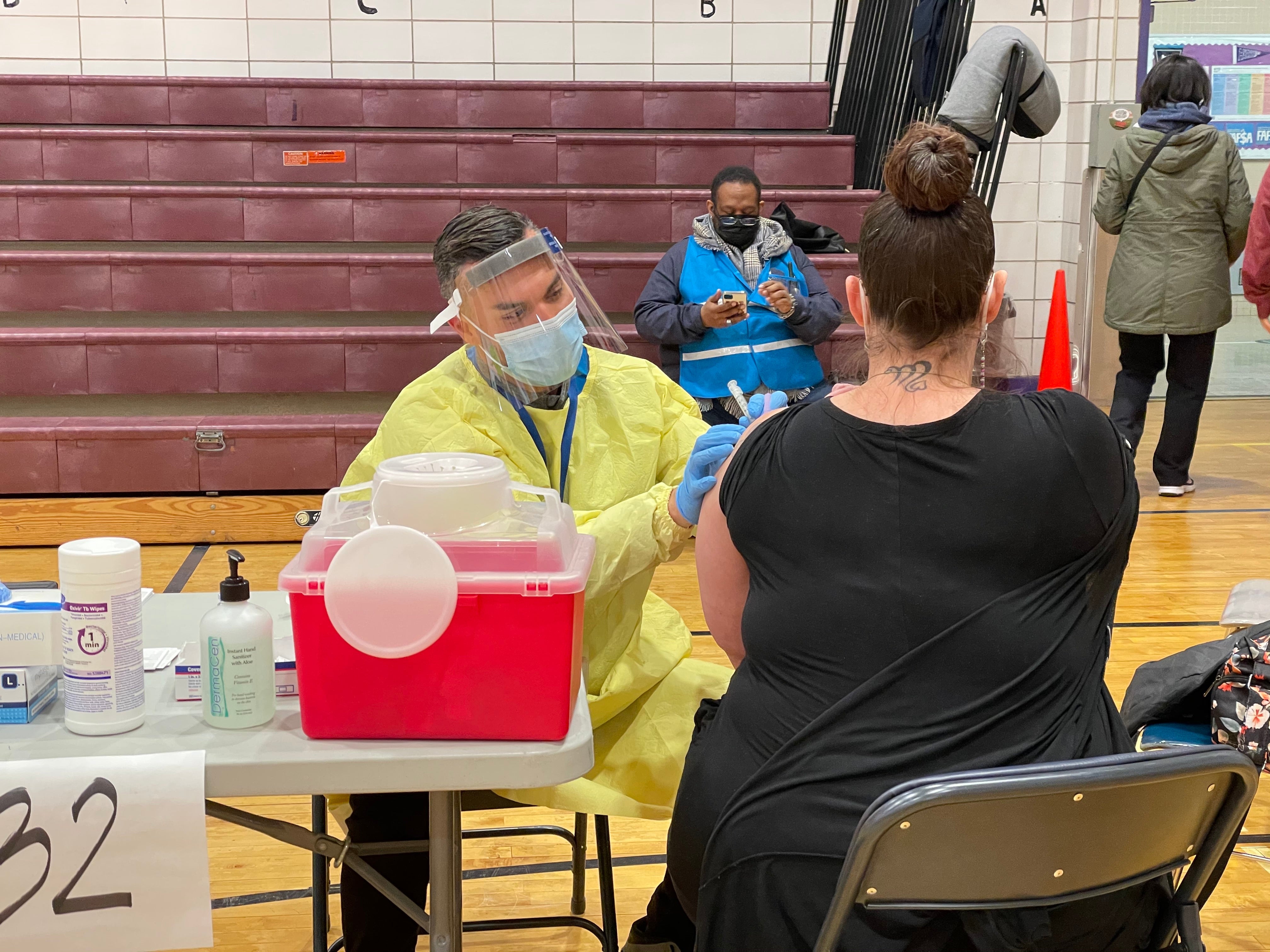 The lights were on, the cameras were rolling, and my ex-husband was appearing on national television, talking about how happy he was to get one of the first Covid vaccines in the country. There was just one problem: He didn't end up getting it at all.

I became close to my ex-husband again when he showed up and stayed to help me after I broke my neck in September 2019. He moved in during the lockdown. If it wasn't for him, I don't think I would have recovered as well as I did from my injury and spinal fusion surgery. The pandemic has given us the opportunity to become firm friends.
 At 79, he was eligible for the first cohort of New York vaccinations, which were being offered to those aged 75 and older. Many years my senior, I knew he'd need some help navigating the process. On Monday January 11, a new vaccination site at the Brooklyn Terminal Annex was opening, and I texted him to let him know. After spending the night at his apartment 10 blocks from the facility in Sunset Park, he woke up early Monday and tried to register online, but couldn't work out how to navigate the impossible website — so he walked over, hoping to be vaccinated when he arrived.

When he arrived first thing that morning, vans with television crews from ABC, CBS, NBC and Fox News had staked out their spots; reporters readied with microphones and lights looked for someone to focus on.  They descended on my ex. In his mask, hat, scarf, and quilted puffy jacket, he was the archetypal man-on-the-street. They wanted his story in light of the opening of the new facility. How did he feel as one of the first to take up this potentially game-changing opportunity?

The first newsperson asked if he came to get vaccinated.  He responded that after frustrating hours on the city's website, he'd walked over for clarification and a spot in line. When asked if he was willing to wait all day if necessary, he responded yes, he would. The woman with the microphone congratulated him on his persistence. Another news reporter asked to follow up with him in a second interview in two weeks, in order to talk through getting the vaccine and any side effects he might experience.

Flattered as my ex was by the media attention, what interested him most was when someone inside the facility finally came outside. Needless to say, it was an anticlimax. The medical professional told him he wouldn't be able to get the vaccine that day after his failure to register, handed him their official flyer with the website to log onto for an appointment, and directed him back toward home.

He returned home to thaw out and log on.  That's when disappointment and frustration set in.  The new website was also confusing and difficult to navigate, with broken links and appointments calendars which led to nowhere. He tried four times to register for an appointment, then gave up.  With NPR as the soundtrack of his current life, he heard them announce that at 4pm there would be a live program on how to get registered. However, when he dialed the number — and waited half an hour in a telephone queue of similarly confused 75-plus-year-olds — someone then came on, took his birthdate and told him someone else would be on the line soon. After waiting an hour, the phone was still silent and he hung up.

During the afternoon into the evening, my landline began ringing continuously. My ex-husband's friends called to say they recognized his distinctive voice and big blue eyes peeking out from his face covering when they watched the television news.  His cousin in the Midwest saw him on Chicago CBS-TV.  My ex momentarily lost his despondence, excited by the flurry of his less than 15 minutes of fame — even if it had come to nothing in the end.

The next day, he contacted his primary care physician.  They gave him a site in the North Bronx and one in Harlem, miles from Sunset Park. He's nearing 80, and it's anyone's guess that he will travel over an hour on multiple subways when he could have walked 10 blocks for a vaccine just days ago. Vaccine availability by borough means that getting a local appointment has only become harder. He called his insurance provider to find him a site in Brooklyn or closer in Manhattan. He's still waiting for a call back. 

We both feel very vulnerable to the virus — and, with age groups expanded, I now qualify for vaccination as well — yet his experience has left me feeling ambivalent about the vaccine. I was exhausted watching my ex's efforts. He is actively persistent, and endlessly optimistic, but such endless bureaucracy can wear someone down.

This is not his predicament alone.  Although everyone eligible is angling to get vaccinated, many are frustrated. The current system is clearly failing. It works for the cameras, but it doesn't work for actually stemming the tide of the pandemic.
Join our commenting forum
Join thought-provoking conversations, follow other Independent readers and see their replies