Criticise Andrea Leadsom for her policies – not her parenting
The idea that using a nanny means someone else is bringing up your children is simply not true, and the not-so-subtle subtext is that Leadsom is failing at being a mother because she works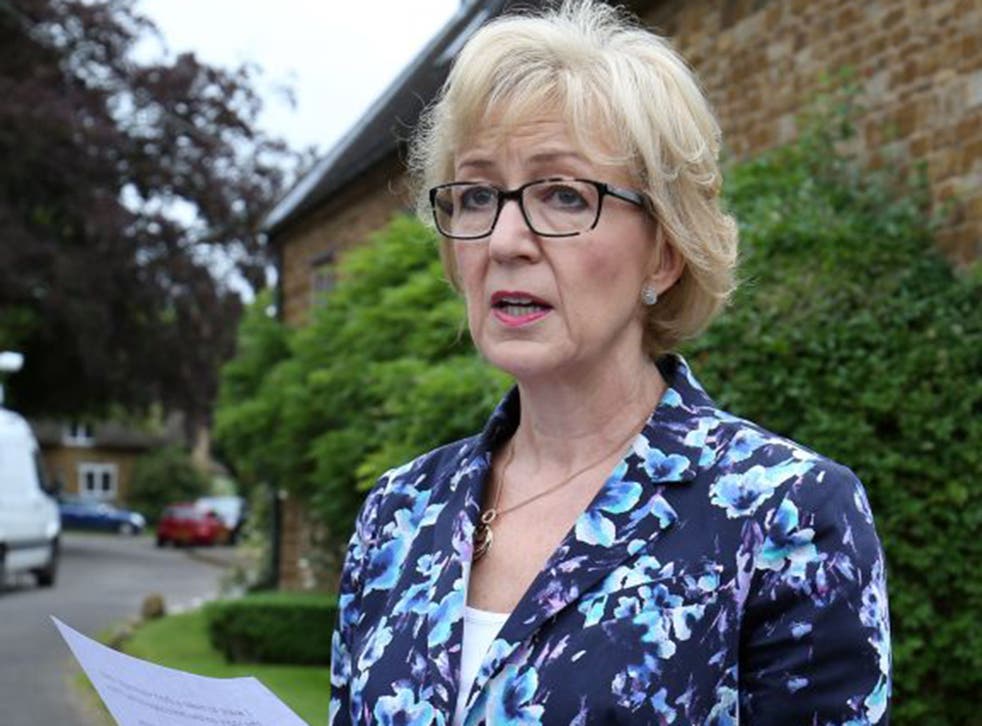 The world is rightly outraged by Tory leadership hopeful Andrea Leadsom's comments about having children. She's suggested that being a mother gives her a stake in the future that her opponent Theresa May lacks, which is a terrible thing to say about any child-free woman, but especially one who has revealed she did want children.
However, Twitter has managed to find the one angle that is as misogynistic and wrongheaded as Leadsom's original comments.
"Don't know why @andrealeadsom crowing so much about bringing up kids. She had a nanny to do that for her," read one tweet, quoting a reference Leadsom had made to her nanny. It has been retweeted hundreds of times.
"No time for the kids but time to play tennis for an hour..." came one reply, referencing the fact that her diary also mentioned taking the time to go for a game.
Theresa May vs Andrea Leadsom - who will be the next PM?
It's easy to understand why people are angry and lashing out at her comments in The Times, it was not a sensible thing to say, especially when couched in sympathy for Theresa. And a nanny is typically a sign of wealth and privilege, so it's also understandable people feel angry about hers, given that Leadsom has repeatedly voted in favour of austerity cuts that have made life much harder for poorer families.
But that's not the message of those tweets and retweets. The idea that using a nanny means someone else is bringing up your children is simply not true, and the not-so-subtle subtext is that Leadsom is failing at being a mother because she works.
Tweets sneering at her for playing tennis carry an even less subtle subtext that she should not be working or having fun, she should be at home bringing up her children. That is something that would never be said about a man in her position.
The underlying message is that no one but the mother should be caring for her children, not a nanny and therefore not a nursery nor a childminder. It's 2016 and yet somehow it still needs to be pointed out that this would not be said about a father.
I should admit an interest here – my family has a nanny. With three children and two working parents it's what works for us and it's a choice that we have made sacrifices to afford. Undeniably we are very fortunate – many parents can't afford that even by making sacrifices. In fact, many two-parent families can't afford for both parents to work because the cost of childcare is just too high. They miss out on one parent's long-term earning potential because one has to stay at home.
The favourites in the Tory leadership race

Show all 5
That's a terrible situation, particularly since it is usually women who are forced to stay off work as a result, harming their pension savings and their independence from their partners. It's not helped by such casual misogyny targeted at a woman running for the highest office in the land.
There's undoubtedly a lot of criticism that could be levelled at Leadsom. Her suggestion that some people should not receive minimum wage or qualify for paid maternity leave is abhorrent, especially when she is in the fortunate position of being able to afford a nanny.
But when the criticism is that she uses a nanny while she works late at a demanding and challenging job, it's time to call it what it is.
It's an insidious suggestion that women who are mothers should not work in high-powered jobs that can't fit around the school run.
Register for free to continue reading
Registration is a free and easy way to support our truly independent journalism
By registering, you will also enjoy limited access to Premium articles, exclusive newsletters, commenting, and virtual events with our leading journalists
Already have an account? sign in
Register for free to continue reading
Registration is a free and easy way to support our truly independent journalism
By registering, you will also enjoy limited access to Premium articles, exclusive newsletters, commenting, and virtual events with our leading journalists
Already have an account? sign in
Join our new commenting forum
Join thought-provoking conversations, follow other Independent readers and see their replies