Cyclists are rude, abusive and uncivil – but they do deserve more protection on our roads
In an urban setting, the relationship between pedestrians and cyclists has become increasingly fractious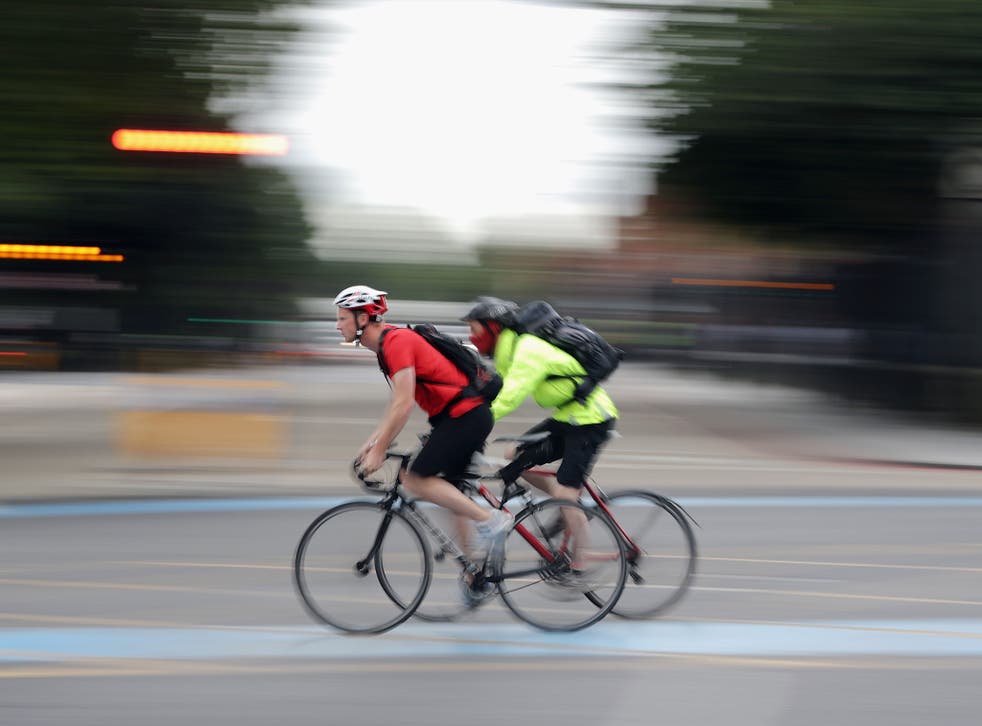 Cycling, like Nicola Sturgeon, is a sacrosanct subject that produces furious reactions. Last year, when I dared to suggest that not all cyclists were considerate road users, that many pedestrians feel threatened by aggressive riders and that the building of special lanes for cyclists had brought traffic in London to a standstill, I received a torrent of abuse which lasted for months.
The cycling lobby is vociferous, single-minded and determined to shout down anyone who can't see that cycling brings you closer to godliness. As far as cyclists are concerned, their bugbears are that pedestrians don't look where they are going, and drivers who resent having to give way to anyone on two wheels.
Increasingly, live cameras are being used by drivers and cyclists as the battle for space on our busy city streets intensifies and collisions and standoffs are commonplace. At the moment, things haven't got so bad that pedestrians feel the need to wear head cams, but I can see that day won't be far off.
UK news in pictures

Show all 50
Last week, the Government announced an urgent review into road safety legislation relating to cycling following the death of mother-of-two Kim Briggs, who was fatally injured when hit by a bike without a front brake as she crossed a road in central London. Currently, no laws apply to death by dangerous cycling, and Charlie Alliston was prosecuted for "wanton and furious driving" using 1861 legislation designed for horses and carriages. Worse, Alliston has shown no remorse, and is said to have lied to the court about his employment record. The illegal bike he was riding was designed for a track, not the road. He was given an 18-month sentence (the maximum would have been two years), completely inappropriate in the circumstances.
The creation of a new law to right an injustice and prevent further fatalities is not necessarily the way forward – once again the Government is desperate to be seen to be doing something, anything, to get a good headline. They have a track record of promising new laws (for stalking and trolling, for example), when the existing ones just need revision and implementing properly. Only two people a year are killed by cyclists, against around 400 fatalities caused by vehicles, so this is not a growing problem requiring a special Act of Parliament.
Scot Mark Beaumont completes round-the-world cycle challenge in record 79 days
Matthew Claxson, a lawyer specialising in serious injuries, would like a more comprehensive approach – a new road safety bill which recognises that cyclists must have greater protection if they are involved in collisions while riding in a designated lane. I agree the current laws are antiquated, and do not reflect the increasing danger to all road users and pedestrians – 100 cyclists were killed in 2015, up 12 per cent on the previous year, and 3,000 were injured.
There are other aspects of cycling which demand attention – it should be a legal requirement to wear a helmet, as drivers and passengers have to wear seat belts. Children under a certain age should not be allowed to cycle on city roads without an adult accompanying them. Bells or horns should be mandatory. Anyone who rents a Boris Bike should have to hire a helmet, and be prepared to submit to a breath or drugs test.
Folding electric bicycles: Simon Calder takes one for a test ride
As for the growth in cycling, the big increase has been in towns and cities, where public transport is costly, crowded and unreliable. There has not been a similar increase in the number of people regularly cycling on narrow country lanes, for very good reason: it's too dangerous, potholes and oncoming traffic are huge hazards. In an urban setting, the relationship between pedestrians and cyclists has become increasingly fractious, fuelled by the huge rise in the use of bike couriers to make deliveries. As we are frequently reminded (by the cuts-opposing police), there are fewer coppers patrolling our streets than ever – and crowded inner-city pavements can be frightening places when cyclists swoop through, never using anything as namby-pamby as a bell, and frequently shouting abuse, re-enacting some weirdo version of Mad Max crossed with The Warriors in their heads.
Prosecutions for riding on the pavement are rare, and have been abandoned by the police is some parts of north London, where they face another new crime as gangs on mopeds and scooters snatch phones and valuables from pedestrians. The pavement is becoming as dangerous as the road – but you'll never hear a cyclist accept any responsibility.
There is a cycle route right outside my house – but posh mums get their kids to cycle to school every morning on the pavement. You can't have it both ways! Cyclists deserve better protection in law, but can they learn a little civility?
Register for free to continue reading
Registration is a free and easy way to support our truly independent journalism
By registering, you will also enjoy limited access to Premium articles, exclusive newsletters, commenting, and virtual events with our leading journalists
Already have an account? sign in
Register for free to continue reading
Registration is a free and easy way to support our truly independent journalism
By registering, you will also enjoy limited access to Premium articles, exclusive newsletters, commenting, and virtual events with our leading journalists
Already have an account? sign in
Join our new commenting forum
Join thought-provoking conversations, follow other Independent readers and see their replies