No, the Dallas police shootings are not the result of 'black supremacy'
Black Lives Matter protestors have been accused of 'race baiting' by those who would rather pretend there is no issue of racism in the US police force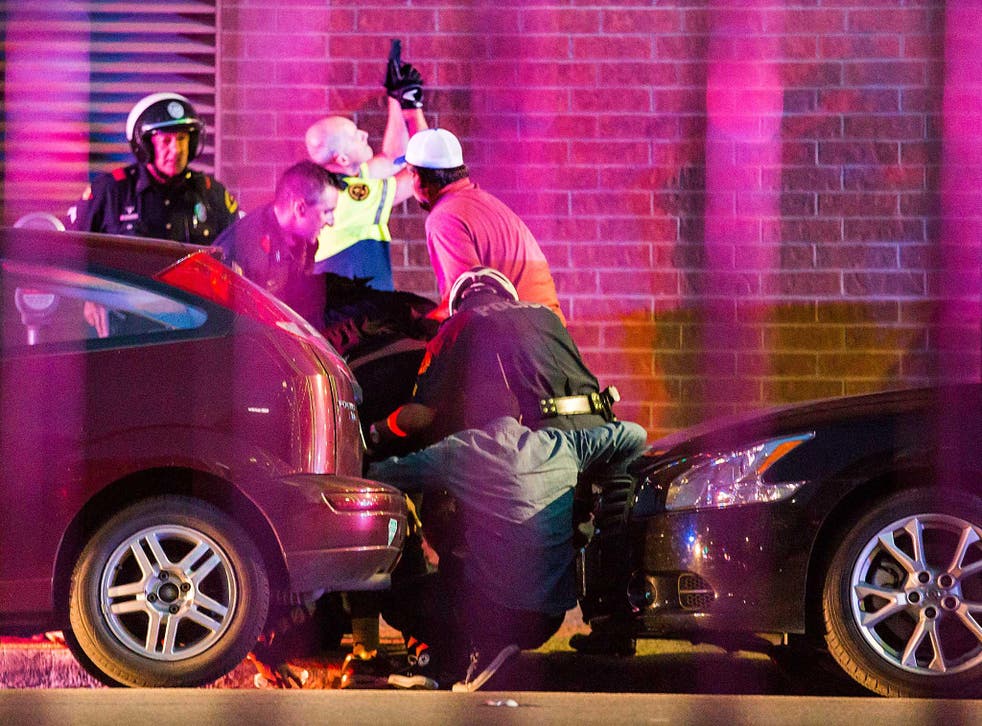 A video emerging from the mass shooting of law enforcement officers in Dallas shows protesters chanting "Hands up, don't shoot!" just before noticing something is wrong and running for cover. That slogan has been a central refrain of the Black Lives Matter protests since the shooting of Michael Brown in Ferguson, Missouri, in 2014. It became a rallying cry to make a simple point: we're not a threat, so don't kill us.
It's a profound sentiment today: it was not the protesters marching for an end to state violence against black citizens who shot Dallas police officers, and it would be unjust to imply that is the case.
Many will be shocked and saddened by the death of these officers, especially police working across the US. This will be a time of grief for the whole city of Dallas, too. Yet already the black community across America is grieving this week.
Dallas gunman wanted to kill white police officers
The shootings of Alton Sterling in Baton Rouge and Philando Castile in Minnesota – only a day apart – have reignited calls to address that black people are being killed by law enforcement at an alarming rate. It was these killings that sparked the protest in Dallas. Sterling and Castile's deaths reminded America that, nearly two years after Ferguson, little seems to have changed. That remains true even after today's events.
Protesters calling for justice often come under heavy criticism, and some have moved quickly to lay blame at the door of Black Lives Matter for this attack on the police today.
Activists standing up for black lives have used civil disobedience in the face of death. The preferred protest tactic of the movement has been to shut things down, whether that is disrupting the meetings of elected officials, closing freeways and shopping malls or, as we saw in Toronto last weekend, halting parades where police march within the community.
This sort of campaigning that has been labelled "race baiting" by those who would rather pretend there is no issue of racism today, least of all among law enforcement. Reports indicate that police in the US have killed 566 people this year alone, and 136 of those people were black (only Native Americans are disproportionately more likely to be killed by police). The urgency that gave birth to Black Lives Matter is still with us; pretending this isn't the case will only ensure race relations in the US deteriorate further – a situation the nation can ill afford.
When people are fighting for their lives, that struggle is crucial. Black Lives Matter starts from the position that the most vulnerable in our society can be disregarded and violently killed. Supporting a movement for black lives is about securing humanity for everyone. Though some have understood this, there has been little effort to bring about the changes needed to the way US police uphold the law.
So now is not the time to undo what little progress has been made during the past two years of campaigning, whatever the fallout of last night's attack. Racists will take the deaths of these police officers as an opportunity to attack a community that has had to mourn constantly for far too long. We will see familiar narratives, telling us that black people as the aggressors just because they raise their voices about the injustice they suffer. Already people have been using terms such as "black terrorism" and "black supremacy" to malign the movement for black lives. No doubt we will also hear calls to increase the militarisation of policing in the US, despite the huge problems this causes for those communities that experience the brutal edge of that enforcement.
Instead of increasing armament we need to look seriously at addressing the problem of racism in US society. Until then, black people taking to the streets will be both inevitable and necessary.
Register for free to continue reading
Registration is a free and easy way to support our truly independent journalism
By registering, you will also enjoy limited access to Premium articles, exclusive newsletters, commenting, and virtual events with our leading journalists
Already have an account? sign in
Register for free to continue reading
Registration is a free and easy way to support our truly independent journalism
By registering, you will also enjoy limited access to Premium articles, exclusive newsletters, commenting, and virtual events with our leading journalists
Already have an account? sign in
Join our new commenting forum
Join thought-provoking conversations, follow other Independent readers and see their replies