I'm a Mexican doctor. On the Day of the Dead, I'll be honouring those we've lost to Covid-19
Día de los Muertos is a chance to celebrate the lives taken in the pandemic. My alter will be dedicated to the health workers who sacrificed themselves for their communities, patients and nations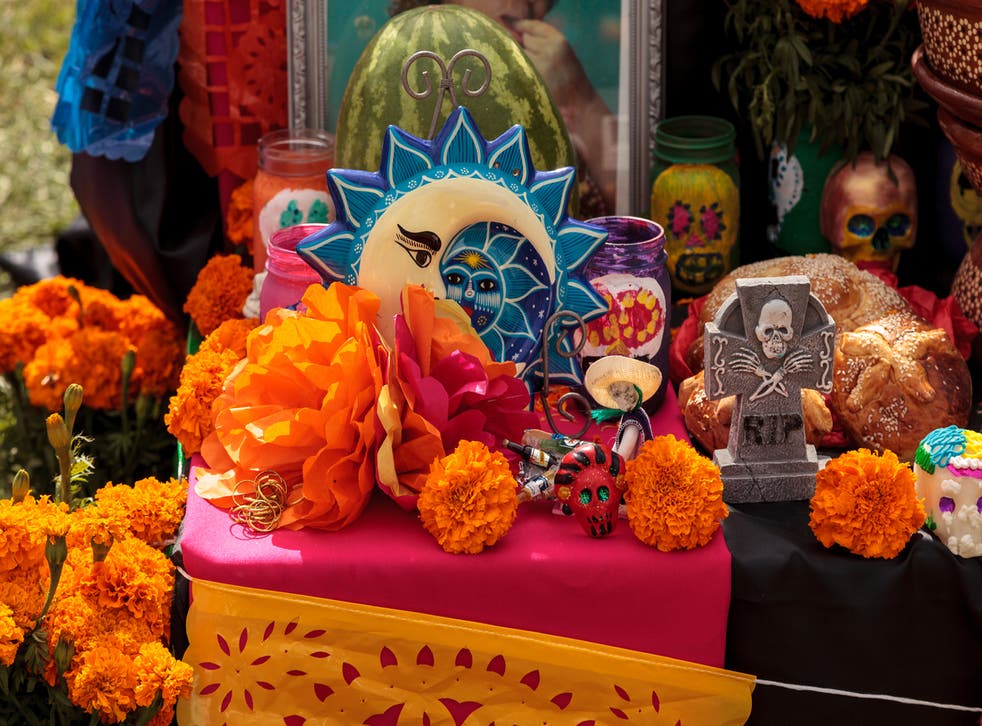 I received the call on a Saturday in June: "Del Rosario, tomorrow you switch to Covid-1 therapy". It took me by surprise. I imagined the worst. I thought of all the images I'd seen of doctors and nurses around the world exhausted and caring for an overflow of patients and colleagues. I've been thinking about death nonstop since March.  
Before March of 2020 I was working as a urologist in the Mexican Navy in the country's second-largest naval hospital, in Veracruz. Like most countries around the world, here we did not have enough emergency medicine specialists and pulmonary specialists when the pandemic hit. I was very fortunate that in the Navy we had access to the necessary PPE, hospital beds and ventilators for treating this highly infectious and deadly disease we were still learning about. As the number of cases and hospitalisations began to rise, it was all hands on deck, and I was put into training and then to care for the sickest patients on ventilators.
Every fourth night I came into my overnight shift to care for patients on ventilators. And almost every fourth night I watched someone die. And although as a doctor I am trained to confront death, as a specialist in urology, it had been a long time since I'd seen so many intubated patients. I watched a doctor from my hospital, who was my age, die on my shift – everyone was rooting for him. I had to call his wife to tell her that her husband had passed.
As a medical student and then as a resident at a major public teaching hospital in Mexico City, I saw death up close many times, all doctors have. The first patient I ever saw die was when I was a medical student and was assigned to pass the night watching over a man with chronic obstructive pulmonary disease as he struggled to breathe until his death in the early hours of the morning the next day. The Covid deaths were different, they were silent and lonely and en masse, some quick and some drawn out over days.
In the place where we medical staff put on the PPE, at the entrance to the Covid intensive care unit, someone had placed an image of the Virgin of Guadalupe with an image of Christ surrounded by health personnel in full PPE hovering over a Covid patient. Behind the image, there was a prayer. Although I am not an overtly religious person, I found myself praying every time I came to work just before entering the designated Covid area – a ritual that comforted me and gave me more courage for the next 10 hours.
In my family we have always quietly celebrated Día de los Muertos. We have an ofrenda, a traditional display of objects honouring those passed. We buy bushels of cempasúchil (marigolds) that come in truck-loads from the small towns of Puebla, Morelos and Oaxaca, among others, and that are harvested especially for the occasion. 
We light candles and place photos, pan de muerto and glasses of water for those that have passed on. It is a way to honor and connect with their spirits and, as people here say, to receive them in our homes for one special day a year. It is a way to celebrate those who passed away in a joyous, festive manner; it is also a celebration of life for those who are still here and a reminder that we too will be remembered on someone's altar, someday, hopefully.
This year, I dedicated my altar to all the health personnel who gave up their lives for their communities, patients and nations – for that greater good that medical professionals commit to upholding. I dedicated my altar to my colleagues who despite this risk, gave everything they had to comfort and cure the patients under their care; their efforts were not in vain.
As a doctor who has seen people die from this disease, who has made calls to spouses and family members to let them know their loved one did not make it through the night – I am obliged to remind readers that our community has been disproportionately affected by this disease and some of that risk is within our control.
Health indicators like high obesity rates, diabetes and hypertension are the other epidemics that were already raging in Mexico and among Hispanic populations in the US. This is a big wake-up call to how we treat our health as a community.
Remember that while your lives are in the hands of medical professionals, our lives are also in yours. We must not drop our guard and continue to follow local health-safety guidelines. There are too many photos of lost loved ones on the ofrendas this year, but it's not too late to curb the spread.
Dr. Marcos Del Rosario Santiago is a urologist in the Mexican Navy, a member of the American Urological Association and a writer
Register for free to continue reading
Registration is a free and easy way to support our truly independent journalism
By registering, you will also enjoy limited access to Premium articles, exclusive newsletters, commenting, and virtual events with our leading journalists
Already have an account? sign in
Register for free to continue reading
Registration is a free and easy way to support our truly independent journalism
By registering, you will also enjoy limited access to Premium articles, exclusive newsletters, commenting, and virtual events with our leading journalists
Already have an account? sign in
Join our new commenting forum
Join thought-provoking conversations, follow other Independent readers and see their replies