The Democratic sit-in over gun control is destined to fail
Paul Ryan dismissed the protest as a 'publicity stunt' – and, though it pains me to say it, he's right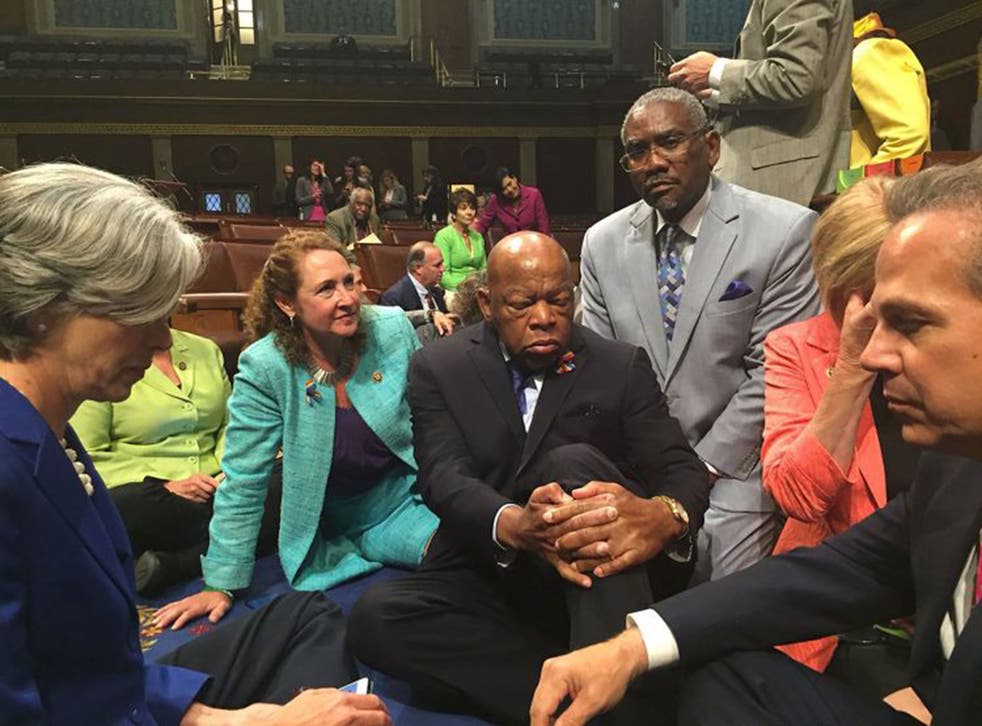 The event has had all the trappings. On Thursday afternoon, the Democratic sit-in on the floor of the House of Representatives, came to an end after almost 26 hours. John Lewis, the veteran Georgia congressman and hero of the 1960s civil rights movement, had led his flock in 'We Shall Overcome" while a noisy crowd outside the Capitol building to lent moral support.
Alas, even this near-unprecedented protest, in the wake of the worse mass shooting in US history, is destined to fail. There will be no significant new gun control legislation this side of the November election, and in all probability none thereafter.
Democrats Occupy House of Representatives and Hold Sit-In on Gun Control
Paul Ryan, the Republican Speaker, sent the chamber into recess until after the 4 July holiday, insisting there will be no vote on any measure that infringes an American's constitutional right (reaffirmed in a series of Supreme Court rulings) to own and carry firearms. He dismissed the entire sit-in as a "publicity stunt."
It pains one to say it, but he's right. What's happened on Capitol Hill after the Orlando massacre has been the worst possible advertisement for that already discredited institution. Symbol of just how dysfunctional and hyper-partisan Congress has become, lawmakers could not pass a single modest measure.
Even Donald Trump did not want people on the government's terrorist watch list and the no-fly list to be able to purchase guns (in true Trump fashion, however, he may now be backtracking on the issue). Yet earlier this week the Senate rejected four bills – two sponsored by Democrats, two by Republicans – that would have marginally tightened restrictions. The House will not even hold a vote. It is possible, but unlikely, that the Senate will pass a compromise bill. But almost certainly the House would not take that up either.
Yes, it's understandable that ahead of a general election in which all 435 House seats are at stake, as well as 34 of the 100 in the Senate, neither party is willing to hand the other a victory. However the failure to act also reflects the deeper dynamic of the gun control debate.
No one is talking about banning guns: quite apart from the guarantee laid down in the Second Amendment, how could you get rid of them when 300m or more are already out there, close on a gun per head of the population? But despite the plague of gun violence – or maybe because of it – public sentiment is moving in the direction of the gun rights rather than gun control.
That doesn't preclude a majority of Americans from favouring more thorough background checks, including closure of the loophole exempting guns purchased at gun shows. But ever more states are passing laws that, for example, extend the right to carry a concealed weapon, or take a gun into public places. In part these extensions of gun rights reflect intense lobbying by the National Rifle Association. But the NRA wouldn't wield the power it does without widespread support from ordinary Americans.
The fact is that no significant gun control measure has passed since 1994, when Congress barred assault weapons. That ban expired after 10 years. Since then large-magazine weapons have been used in mass killings, most notably the 2012 massacre of 20 children and six teachers at Sandy Hook elementary school in Connecticut, and now Orlando. An effort to-reinstate the ban failed after Sandy Hook. This time, there has scarcely been any talk of a new one.
In pictures: The world mourns Orlando shooting victims

Show all 30
Instead, the focus is on whether people on the watchlists should be prevented from buying guns (the Orlando gunman Omar Mateen had at one point been on the terrorist watchlist). But such efforts have slammed into a new hurdle. Such restrictions imposed by government, opponents say, would violate a person's constitutional right of "due process."
If gun rights are sacrosanct, the US Constitution is even more so. So deadlock prevails.
"We've crossed bridges," said Mr Lewis on Wednesday night, but "there are other bridges to cross. We are not giving up the fight." But the fight ahead will be long, and maybe hopeless.
Register for free to continue reading
Registration is a free and easy way to support our truly independent journalism
By registering, you will also enjoy limited access to Premium articles, exclusive newsletters, commenting, and virtual events with our leading journalists
Already have an account? sign in
Register for free to continue reading
Registration is a free and easy way to support our truly independent journalism
By registering, you will also enjoy limited access to Premium articles, exclusive newsletters, commenting, and virtual events with our leading journalists
Already have an account? sign in
Join our new commenting forum
Join thought-provoking conversations, follow other Independent readers and see their replies