Only three Democratic candidates turned up to the criminal justice town hall — and like Cory Booker, I'm surprised and angry about it
Beto O'Rourke published his plan to combat mass incarceration just hours before the event, but he didn't show up. Neither did Pete Buttigieg, Bernie Sanders or Julian Castro, who attended a pro-Israel lobbying group's event instead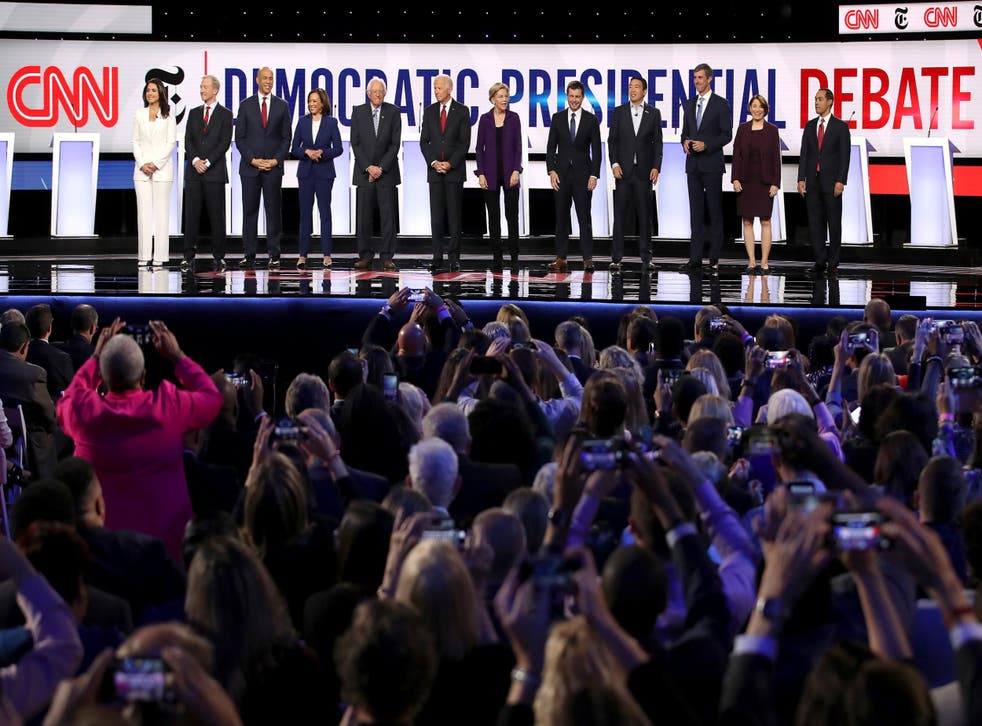 On Monday, a group of formerly incarcerated activists organized a presidential town hall to discuss criminal justice reform with the 2020 Democrats, and you probably didn't hear much about it. This has nothing to do with the herculean efforts of the organizers, and everything to do with the paltry participation. In total, only three candidates showed up.
Senators Kamala Harris and Cory Booker and billionaire Tom Steyer were the three presidential hopefuls who came to Eastern State Penitentiary in Philadelphia — a former prison-turned-historic site — to sit down with MSNBC's Ari Melber and various moderators in front of an intimate audience of formerly incarcerated people brought together by Voters Organized to Educate. The candidates addressed their stances on everything from private prisons, voting rights for currently and formerly incarcerated people, mandatory minimums, and their personal records on criminal justice. It was a wide-ranging conversation with potential implications for millions of Americans, and yet it didn't rise to the level of importance of, say, the Iowa State Fair.
Booker called the absence of his fellow candidates "unacceptable" and said he was "surprised and angry" this event wasn't a priority for them. And rightfully so. All 10 candidates who qualified for the September presidential debate were invited, according to an event spokesperson, and candidates who didn't qualify but reached out proactively were considered. That means eight candidates were invited and didn't make it their business to be at the first-of-its-kind event.
Here are some stats, per the event organizers, to underscore just how many people are impacted by our unrelenting "justice" system: approximately 2.3 million people are held in US prisons and jails, giving our country the highest incarceration rate in the world; more than 10 million people pass through the nation's jails each year; nearly five million Americans are under the control of the criminal justice system through parole and probation; half of all American adults has had a family member in prison; five million children have experienced the incarceration of their residential parent.
But the point of the Justice Votes forum was to remind us that incarcerated people and their families are more than just numbers: they're individual human beings whose lives have been forever changed by a system that focuses almost entirely on punishment, and too little on restoration and forgiveness.
In her onstage remarks, Andrea James, the founder and executive director of the National Council For Incarcerated and Formerly Incarcerated Women and Girls, who herself spent two years in prison, made stark how little attention Americans pay to the historic and ongoing human toll of mass incarceration. Referring to the many recent protests to the Trump administration's family separation policy at our southern border, James said, "When we as a country stand up and recognize the atrocities of separating mothers and families from children [at the border], yet we don't recognize in this country that we have done this since slavery, and continue to do it every single day, and the harm that it has caused communities, [that] is just something that is criminal in itself."
The Democrat challengers to Trump in 2020

Show all 25
And when the people vying to hold the highest political office in the country aren't actively recognizing this painful history and continued destruction of families, it can be difficult to feel like there's an end in sight.
Late last week, another presidential forum on criminal justice reform made headlines after Harris initially backed out because one of the sponsors presented President Trump with an award for his criminal justice efforts. (Harris agreed to participate in the forum at Benedict College — a historically black college — after the controversial sponsor pulled out.) While she may face added scrutiny for her record as San Francisco District Attorney and California Attorney General, Harris clearly isn't shying away from directly facing the people who may have been impacted by her pre-Senate career.
Coincidentally, former Congressman Beto O'Rourke published his plan to end mass incarceration just hours before the forum, in which he mentioned meeting with incarcerated individuals in California and formerly incarcerated people in Chicago. Former Secretary of Housing and Urban Development Julian Castro also met with currently incarcerated people in Washington, DC, on Monday. These efforts, while noted and appreciated, still don't excuse the candidates' absence.
South Bend, Indiana Mayor Pete Buttigieg released his criminal justice plan on Saturday, but instead chose to attend the annual conference of pro-Israel lobbying group J Street, along with Senator Bernie Sanders, Senator Amy Klobuchar, Senator Michael Bennet and Castro. Video messages from Former Vice President Joe Biden, Senator Elizabeth Warren, O'Rourke, Andrew Yang and Marianne Williamson were played at the gathering.
As the event wrapped up, James walked briskly through the drafty hallway outside the event space leading to one of Eastern State's old cell blocks. As she did, she braced her arms and shuddered, remarking, "It's like being back in prison!" Though she said it with a smile and quick laugh, it's hard to take it as a joke.
This past winter in the midst of a "polar vortex", Brooklyn's Metropolitan Detention Center — a jail for mostly pre-trial inmates who haven't been convicted of a crime — experienced a week-long power outage. People were locked in cells without heat while temperatures outside plunged below freezing. They banged on their windows and shouted, while protesters outside (including me) demanded the facility do something. "Animals get treated better," the wife of one of the men detained at the time told the Huffington Post.
Currently and formerly incarcerated people deserve much more than simple dignity and respect. As those unfortunate enough to most acutely understand what mass incarceration does to individuals and families, they should have multiple seats at the table when 2020 candidates envision a more humane criminal justice system. But when most of the candidates can't even show up for one afternoon with them, it can make them feel invisible.
As one of the event organizers Norris Henderson put it, "If they can't show up for us in October of 2019, we won't show up for them in November 2020."
Join our new commenting forum
Join thought-provoking conversations, follow other Independent readers and see their replies