Do you avoid talking to disabled people like me because it's awkward? Here's an idea: try harder
We are portrayed us as either Paralympian super humans who bring a tear to the eye with their inspirational stories. Or we're poor little lambs who just need a big hug. Or we're filthy scrounging benefit cheats, who get special privileges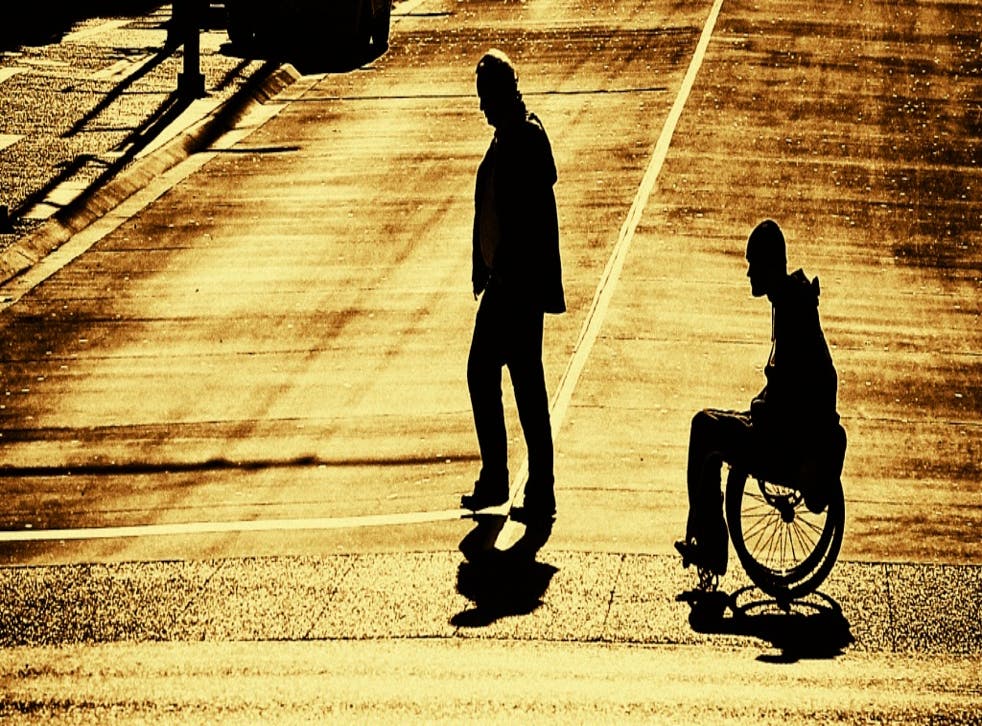 "Would he/she like sugar with that?"
I wonder how many Paralympians will get asked that when they go out for a coffee with friends and family once they get home from Rio.
It's still a fairly common occurrence for those in the disabled community who are not among Team GB's Paralympian "super humans".
Small wonder, then, that so many people who are able to hide disabilities do so.
Scope, the disability charity, has just released some research that seeks to quantify it. It has been released to mark the third year of its "End the Awkward" campaign.
It found that two in five disabled people say they hide their impairments as a result of poor attitudes and awkwardness, rising to a staggering two thirds of 18-34-year-olds.
Top court approves Russia's ban from Rio Paralympics
As I recently reported, convictions for disability hate crime are rising. While only a small number of twisted people perpetrate them, a much larger number react to disability as if it is some sort of plague.
Some 34 per cent of non-disabled Britons who responded to the survey said they avoided disabled people. The polling exercise unearthed some revealing stories such as the person who said they ducked out of serving a regular disabled customer because they "couldn't understand them".
Here's an idea: try.
Another person felt awkward when they asked a deaf colleague to answer the phone. Many fretted about talking to disabled people for fear of sounding patronising. Here's an idea: try just talking to us like you would anyone else. It really isn't that hard.
Some felt nervous about causing offence. That one always amuses me. If they heard the way I and some of my fellow wheelchair basketball players talk to each other, they'd soon lighten up.
They'd find we're actually pretty hard to offend in an informal situation. Come to think of it, they might find it's us doing the offending.
A friend of mine used to get terribly upset when I used the word "cripple" to describe myself (although pejorative it's technically correct given I was crippled as a result of a road traffic accident).
However, words like that can have power when you reclaim them, and that can be attractive when you feel powerless.
I usually prefer to utilise that word against people who behave badly, like the elderly gentlemen who suggested that "handicapped" people like me be confined to the slow lane at our local swimming pool.
The irony was that I'd crashed into him because he was moving along at a snail's pace. It was he that should have been in the slow lane. I tried to apologise but that wasn't good enough for this Mr Angry, who then went on to abuse the leisure centre's general staff. So it wasn't just me.
If you're not like that – and I sincerely hope most people aren't – there should be no reason for you to have any problem talking to disabled people.
Of course, I can see where the problem comes from. Lots of people have difficulty in seeing disabled people as ordinary people because of the prevailing societal and cultural attitudes.
Paralympics: Five British athletes to watch

Show all 5
These portray us as either Paralympian super humans who bring a tear to the eye with their inspirational stories. That one is being reinforced in the media right now. Or we're poor little lambs who just need a big hug. Or we're filthy scrounging benefit cheats; undeserving scroungers who get given special privileges that we don't deserve through going to the doctor with a bad back.
The latter, a particularly pervasive meme, was put about by the Government and its friends in the tabloid press despite rates of fraud associated with disability benefits being lower than 1 per cent. But hey, don't let the facts get in the way of a good (bad) story.
The way to address these myths so people don't feel they have to hide either their disabilities, or hide themselves in their homes if they can't, is, as I have written on several occasions, to normalise disability. To do that we need to increase the visibility of disabled people in the media, and in other spheres, outside of events like the Paralympics. That way more disabled people might feel more confident to be seen themselves and no one would feel awkward about talking to them for ridiculous reasons.
Of course, once out of the house there are, for many, a whole new set of challenges to deal with. My brother recently pointed me to a video by William Pike, who was injured during the 2008 terror attacks in Mumbai. A wheelchair user, it shows him trying to get into high street outlets such as Caffe Nero and American Apparel, without success. He's set up a petition on change.org in the hopes of changing that.
As ever, I guess it's a case of two steps, or two pushes, forward, and one back. But progress of any kind would be welcome. Scope's survey would suggest that it is rather desperately needed.
Register for free to continue reading
Registration is a free and easy way to support our truly independent journalism
By registering, you will also enjoy limited access to Premium articles, exclusive newsletters, commenting, and virtual events with our leading journalists
Already have an account? sign in
Join our new commenting forum
Join thought-provoking conversations, follow other Independent readers and see their replies