The Independent's journalism is supported by our readers. When you purchase through links on our site, we may earn commission.
If you think Donald Trump is scary, take a look at his kids
Donald Trump Jr just compared Syrian refugees with a bowl of Skittles and not even Ivanka Trump can convince college-educated women to vote for her father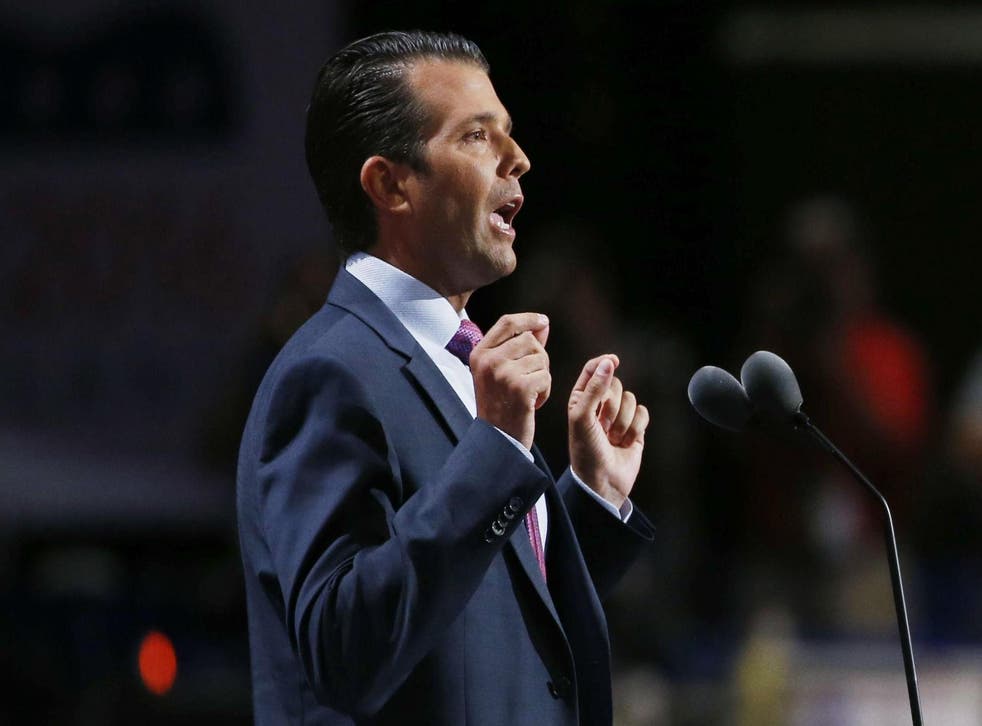 They say that the apple doesn't fall far from the tree, and so it is with Donald Trump and Donald Trump Jr. The son of the Republican presidential hopeful and his first wife Ivana Trump has got himself into a spot of trouble by using a bizarre Halloween-urban-legend-esque allegory to compare Syrian refugees to a bowl of Skittles. "If I had a bowl of Skittles and I told you three would kill you, would you take a handful?" read an image he tweeted, with a picture of a big bowl of the popular sweets for emphasis. "That's our Syrian refugee problem."
Apparently America should put itself first, and not undertake its humanitarian responsibilities to offer sanctuary to those (normal Skittles) fleeing from a seemingly unending civil war, because in every batch of refugees there lurks an Isis attacker or three (poisoned Skittles).
It's not the first time Trump Jr has mimicked his father's loose way with words. Last week, the Patrick Bateman lookalike said that if Republicans lied in a fashion similar to Hillary Clinton's campaign then the media would be "warming up the gas chamber right now". He later denied that he was making a Holocaust reference, though he did say that it was "a poor choice of words" and that he was in fact referring to a mode of execution still used across the United States. If this is the case, it's a pretty niche reference, since only 11 executions in the US have been carried out using a gas chamber since 1976. Either way, the reference to genocide or his Mastermind-level subject knowledge of capital punishment methods is rather worrying.
Diagnosing a narcissist with Donald Trump
Trump Jr's previous right-wing views are well documented; in fact it is become de rigueur in his role as Team Trump's ambassador to the alt-right. He has out-righted his father by saying that all undocumented workers should have to leave the country if Trump is elected. Conversely, in a recent attempt to soften his image, Trump Sr has suggested that some would be able to stay.
Trump's firstborn also posted an image to Instagram in the past that showed his face superimposed on to an image of The Expendables, alongside "Pepe the frog", the white supremacists' meme of choice. He has appeared on a radio show hosted by white supremacist James Edwards and retweeted the "the neo-Nazi movement's favourite academic" Kevin MacDonald, who believes that Jews have an evolutionary strategy to destabilise American white society by supporting immigration policies designed to undermine American values.
Donald Trump's most controversial quotes

Show all 14
This is all rather worrying from a man who shares his father's political hopes of running for office. Trump Jr has expressed his desire to one day run for Mayor of New York, although his father did admittedly tell Fox News, "I don't see that happening." Sometimes whatever you do just isn't good enough for your parents.
And Daddy Donald hasn't outsourced his campaigning to Trump Jr alone. As a perfect complement to her brother's appeasement of the far right, Ivanka Trump has been tasked with "woman-washing" her father's campaign: helping him to appeal to the female voters with whom he remains notoriously unpopular. College-educated women in particular have become the Trump campaign's Achilles' heel, and could end up being the deciding factor in a victory for Hillary Clinton. Trump's eldest daughter has helped to craft a childcare policy for working women, offering tax deductible childcare and six weeks of paid maternity leave for any mother whose employer does not provide the benefit.
However, sometimes fathers set you up for tasks that they know you will fail at, because adversity is character-building. Ivanka was recently forced to cut short an interview with Cosmopolitan after being asked to defend her father's comment that pregnancy is just "an inconvenient thing for business". She also oversold the Trump Organisation's maternity leave policy. Rather than the eight weeks stated during an interview with Good Morning America, the organisation in fact does not offer any maternity leave and only offers the federal sick and vacation leave.
Luckily enough, we need not worry too much about the rest of the clan. Eric Trump seems to be relegated to uttering classic little brother "Yea, what he said!" comments, having publicly supported his father's controversial remarks on workplace sexual harassment, waterboarding and the vilification of a fallen Muslim soldier. Tiffany Trump has a killer Instagram account to maintain and Barron William Trump, AKA the Mini Donald, is too focused on his suits (seriously, check them out) and generally being a 10-year-old to worry about politics.
Judging by Donald Jr and Ivanka's attempts, I'd recommend they stay out of it.
Register for free to continue reading
Registration is a free and easy way to support our truly independent journalism
By registering, you will also enjoy limited access to Premium articles, exclusive newsletters, commenting, and virtual events with our leading journalists
Already have an account? sign in
Register for free to continue reading
Registration is a free and easy way to support our truly independent journalism
By registering, you will also enjoy limited access to Premium articles, exclusive newsletters, commenting, and virtual events with our leading journalists
Already have an account? sign in
Join our new commenting forum
Join thought-provoking conversations, follow other Independent readers and see their replies