I'm a relationship therapist — this is how Jill and Joe Biden's marriage compares to Donald and Melania Trump's
Watching Jill Biden's speech about her husband at the Democratic National Convention last night was illuminating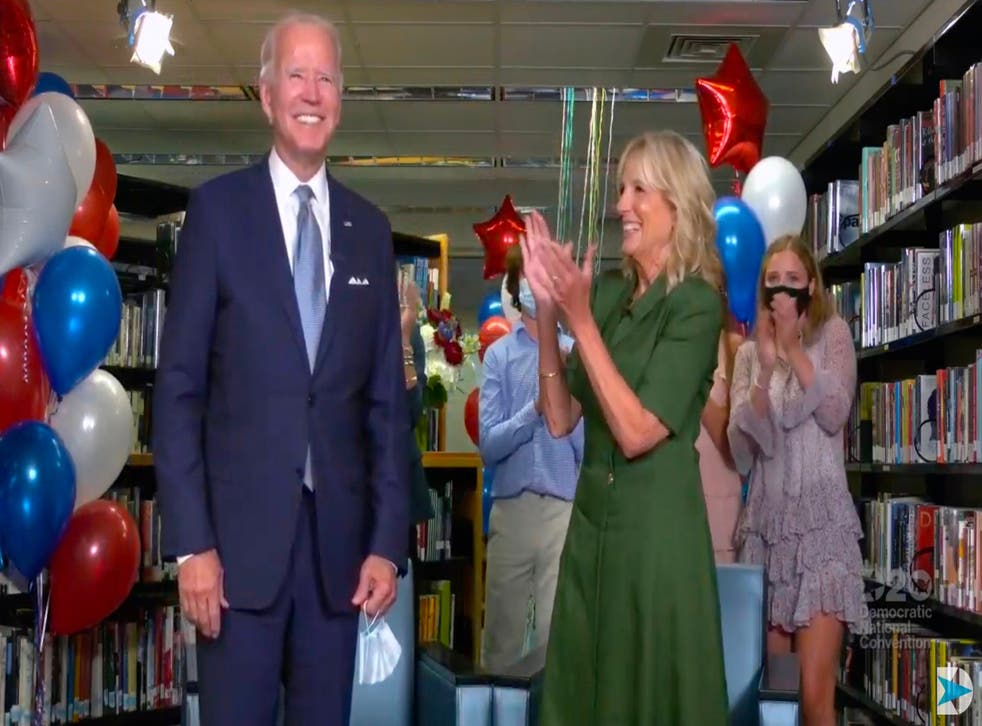 Watching the Democratic National Convention on television, it was refreshing to see the Bidens are relatable as a couple with a love story to match. As a newly single, 53-year-old Manhattan-based psychotherapist, I hope I'll be lucky enough to find that best-friend-got-your back kind of love the second time around, like Joe and Jill did.
Seeing patients, I've learned that the healthiest romances are those in which the partners are "securely attached." The two questions that define a securely attached connection are "Can I count on you?" and, "Can I trust you?" At an event in March in Los Angeles, Jill blocked a protestor from rushing her husband. She literally had Joe's back. Many wives might instinctually do the same, but when Jill speaks about Joe, it's evident that besides being his romantic partner, she is also his best friend.
When she met him as a 30-year-old widowed senator, 26-year-old Jill, though enamored, thought long and hard about accepting his marriage proposal because she did not want his sons to experience additional loss if it didn't work out. They married and reached for each other when times were tough, talking frankly about the shared pain of losing their 46-year-old son to cancer in 2015. Joe said of that experience, "We can be completely open and let our grief show."
Losing a child is one of the hardest things a couple can endure. The trauma that ensues often causes them to either split apart or do just the the opposite: bond together in a deeper way than they ever imagined.
Much like the Bidens, Michelle and Barack Obama's marriage is successful due to their mutual admiration and respect. They went towards each another when faced with hardships like miscarriage and infertility. Another sign of secure attachment is the ability to share feelings when things get tough — and in her memoir, "Becoming," Michelle shared the loneliness she felt due to Barack's busy schedule and how they learned in therapy to discuss it in a way he could understand. Both the Obamas and Bidens are openly affectionate and playful, qualities ranked high by couples.
Donald and Melania Trump's 15-year marriage also has some hallmarks of secure attachment. In her biography of the First Lady, "The Art of Her Deal," Mary Jordan said, "She's the first call he makes after a speech, because he trusts her — he doesn't trust many people." Secure attachment, however, must include mutual trust. When Melania learned of Trump's betrayals, she refused to ride in the same car as him. Jordan shared that when Melania is cross, "the way she shows that she is upset with Trump is to walk away, to be invisible, and he doesn't like that."
In contrast to the Obama and Biden relationships, the Trumps spend a lot of time apart, sleep in separate rooms, and find this level of distance mutually agreeable. Melania opted to stay in New York instead of moving immediately to Washington at the beginning of Trump's presidency, as a way to renegotiate her prenuptial agreement, according to Jordan. This behavior might indicate them being more avoidantly attached. Couples like this are very independent and often feel "suffocated" when spending too much time together. The more avoidant partner can appear to be more focused on themselves (hmm), preoccupied (by tweeting?), and anxious.
Jill Biden gives speech from classroom at DNC
When asked if she will be an advisor to the president if elected, Jill Biden said, "It's a marriage, you listen to one another, you talk things out with one another." The way we do intimate partnership is often a microcosm for how we do life, and, for Joe Biden, how he may lead our nation. Perhaps the way thrice-married Donald Trump does intimacy could have predicted and even prevented how we got here, mid-pandemic, but let's not go there.
Being able to support one another emotionally the way Joe and Jill do leaves each feeling less isolated. Being able to show compassion and empathy as a leader will help us, as a nation, feel less alone. In a way, when I vote for Joe Biden, I'll be voting for how he does his union, not only with Jill, but with all of us. If Joe Biden shows the same skills he uses to work things through with Jill when leading our nation, his presidency could put us back together again, the way Jill Biden did with his family when they met.
"How do you make a broken family whole?" Jill Biden asked. "The same way you make a nation whole. With love and understanding, and with small acts of kindness. With bravery," she said, adding, "With unwavering faith."
Join our new commenting forum
Join thought-provoking conversations, follow other Independent readers and see their replies