Think things are bad for Palestinians right now? Wait until Trump and Netanyahu cosy up together
Since the President's rise to power, Israel's government has been drunk with power and impunity. It has dropped its thin mask of supporting the two state solution, moving at a dizzying speed to build as many settlements as possible in the occupied Palestinian territory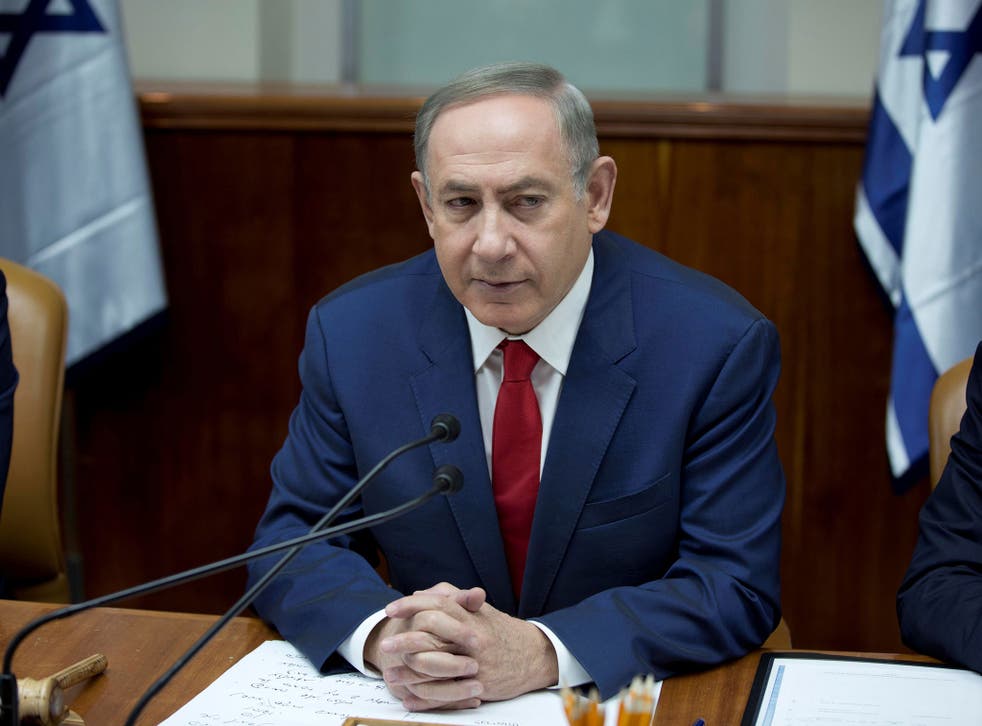 When President Donald Trump receives his most ardent fan, Israeli Prime Minister Benjamin Netanyahu, at the White House later today, many Palestinians will be deeply worried. Israel's far-right government hopes to obtain - in return for its passionate embrace of Trump - an explicit US green light to build more settlements.
"If they are bulldozing entire Palestinian communities in Israel even before this meeting," a Bedouin-Palestinian colleague recently asked me, "what should we expect after the meeting?"
She was referring to Israel's recent destruction of most of Umm al-Hiran - a Bedouin village in the Negev whose residents are Palestinian citizens of Israel - to establish a Jewish only settlement on its ruins. Israeli forces gave Palestinian families barely any notice to gather their furniture, photos, books, or children's toys before bulldozing their homes and livelihoods.
In 90 seconds: Trump and Trudeau differ over border control
Far from being an exception, Umm al-Hiran is the norm. Since Trump's rise to power, Israel's government has been drunk with power and impunity. It has dropped its thin mask of supporting the so called two state solution, moving at a dizzying speed to build as many settlements as possible in the occupied Palestinian territory.
Israel's Minister of Education Naftali Bennett declared Trump's victory "a tremendous opportunity for Israel" to announce that "the era of the Palestinian state is over." On the ground, Israel's parliament has not only ignored the recent UN resolution that reiterates the flagrant illegality of all Israeli settlements; it just passed a law to retroactively legalize settlements built on confiscated, privately owned Palestinian land.
US Senator Dianne Feinstein, a staunch supporter of Israel, has denounced this law as a "brutal" land grab, while the Israeli President Reuven Rivlin has warned that it could make Israel "be seen as an apartheid state".
The controversial orders Donald Trump has already issued

Show all 9
I do not take lightly the prospect of Israel's shift to an even more extreme, irrational right, in tandem with Trump. As a human rights defender, I have faced an Israeli travel ban and the threat of "targeted civil elimination" – a euphemism for civil assassination – for my role in the Palestinian-led Boycott, Divestment and Sanctions (BDS) movement. Israel's repression of and lawfare against our nonviolent movement will get much uglier in the Trump era.
The serious challenges we face are intertwined. Trump and his team have used Israel's discriminatory laws and policies to justify his own wall, anti-immigrant and anti-refugee fervor, and ethnic profiling in the US.
Netanyahu has endorsed Trump's plans to build an even larger wall on the border with Mexico and bragged how Israel's own wall, declared illegal by the International Court of Justice in 2004 for being largely built on occupied Palestinian land, was a great success. Mexico and immigrant communities in the US have unsurprisingly not taken that well.
Yet, just as Americans are using the time-honored tactic of boycott to oppose Trump's racist agenda – with artists and members of Congress boycotting his inauguration and consumers pressuring department stores to drop Ivanka Trump's fashion line – Palestinians and our supporters around the world will continue to use these same tactics to pressure Israel to end its denial of Palestinian human rights.
In fact, four prominent NFL players – Michael Bennett of the Seattle Seahawks, Kenny Stills of the Miami Dolphins, Justin Forsett of the Denver Broncos, and Martellus Bennett of the New England Patriots – have opted against an Israeli government sponsored propaganda trip, with some explicitly refusing to be "used" to whitewash Israel's system of injustice.
Already in 2014, a poll showed that almost half of non-Orthodox Jewish-American men under 40 support boycotting Israel to end its occupation. According to a late 2016 Brookings Institution survey, 46 per cent of Americans, and 60 per cent of Democrats, support imposing sanctions or taking tougher measures against Israel to stop its illegal settlements.
And this is only the beginning. As Israel becomes more openly associated with the rising far-right around the world, particularly in the United States and Europe, and as it is more widely considered to be among the "belligerently intolerant, faith-driven ethno-states," more people, grassroots movements, and progressive institutions will feel the moral imperative to join in efforts like BDS as the most effective form of solidarity with Palestinian rights and as one of the facets of the growing global resistance to the far-right.
Omar Barghouti is a Palestinian human rights defender and co-founder of the Boycott, Divestment and Sanctions (BDS) movement for Palestinian rights. He is a founder of the Palestinian BDS National Committee (BNC), the largest coalition in Palestinian civil society.
Register for free to continue reading
Registration is a free and easy way to support our truly independent journalism
By registering, you will also enjoy limited access to Premium articles, exclusive newsletters, commenting, and virtual events with our leading journalists
Already have an account? sign in
Join our new commenting forum
Join thought-provoking conversations, follow other Independent readers and see their replies