Trump's speech to African American voters wasn't fooling anyone
The Republican Presidential candidate's exhortation to black people while campaigning in an all-white working class town is the US equivalent of standing in the middle of Anfield trying reach out to Manchester United supporters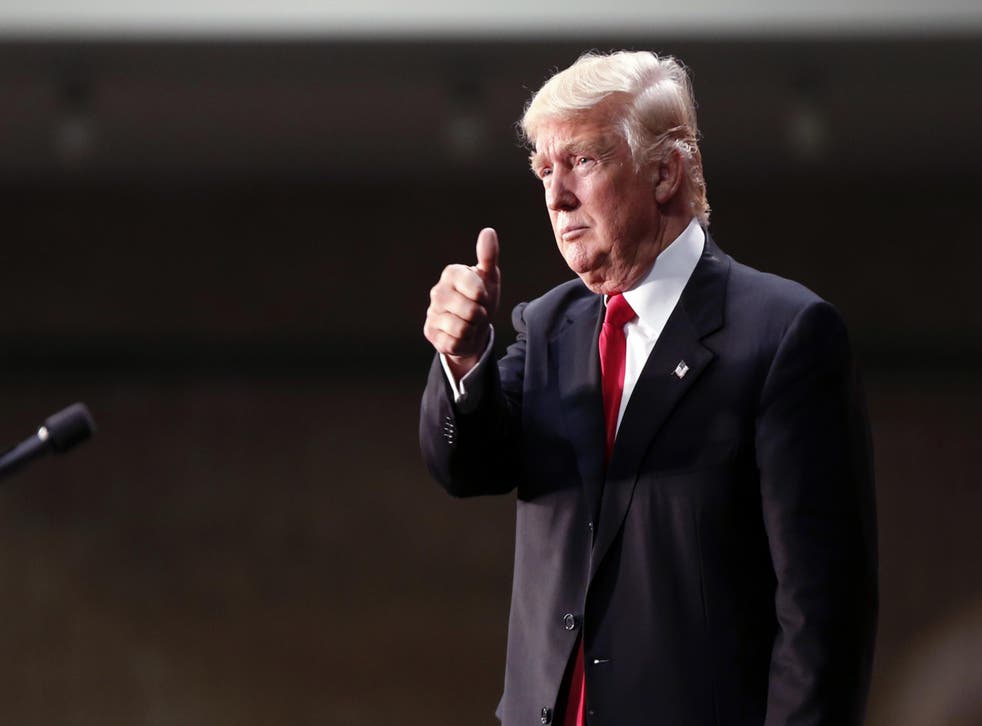 "You're living in poverty, your schools are no good, you have no jobs! Fifty-eight percent of your youth is unemployed! Give me a chance. What the hell do you have to lose?" Donald Trump yells to a largely all-white crowd urging African-Americans to vote for him.
When a TV anchor gently enquires with Trump's advisor as to why the Republican presidential candidate isn't speaking to black audiences about black issues, the reply is: "Ok, maybe it would have been nice if he went and had a backdrop with a burning car."
By all of the metrics most professionals use to determine possible voter turn-out Trump rates something like 0-1 per cent among likely African-American voters. This phenomenal rating has not been achieved since 1948 and needs some kind of Hall Of Fame all to itself.
Donald Trump blamed for stoking Islamophobia after imam and assistant shot dead
The Republican Presidential candidate's exhortation to black people while campaigning in an all-white working class town is the US equivalent of standing in the middle of Anfield trying reach out to Manchester United supporters. To be kind it's what's called in the US a "rookie error".
But it's yet another reason, as one friend told me "why more black folks will turn out to vote against Trump, than voted for Obama".
For that working class white audience who had come to hear their plight being addressed and their issues articulated, this must have been peak "wtf".
That he managed to disrespect two groups of marginalised voters at the same time has to be some sort of milestone in US presidential candidate hustings.
Now I'm as far away from being a Trump supporter as anyone can be, but even I have to sit back and marvel at what's going on.
Donald J Trump has just turned seventy years old. He would have grown up in 60s New York City – the most cosmopolitan city in the country, where all of the country's cultural and political issues collided. He didn't grow up in some small town.
Donald Trump's most controversial quotes

Show all 14
So why has Trump turned down invites and failed to return calls to speak to black constituencies – even the ones from conservative circles? It's just not a great strategy, especially if you listen to African-American talk radio and hear the people who want an alternative to the Democratic Party. It's sad because Donnie just won't give them a break.
Could it be that he's so surrounded by "yes" men and women and his cocooning family, that he can't see or get beyond any other world-view? Does this tycoon see black people as either down-trodden or menaces?
His track record so far gives us some indication: he's attacked the Khans, the Muslim-American Gold Star parents; called immigrant Mexicans "rapists"; campaigned on what he calls "extreme vetting for Muslims" which could ban many from entering the US and a host of other things.
Still, I wouldn't count Donald Trump out. To do that is not only dangerous, it's stupid. The American electorate is in a restive mood, and you can count on the pro-Trump people turning up at the polling stations in their droves. There could be a "Brexit" surprise in the small hours of 9 November.
If Trump continues to poll with African Americans the way he is now, and former Secretary of State Clinton gets 92 per cent of our vote as projected, in the words of one political forecaster "It'll be game over for Donald Trump".
Join our new commenting forum
Join thought-provoking conversations, follow other Independent readers and see their replies