This is what Al Gore really thinks of Donald Trump and climate change
Referring to how long Trump has been in office the former vice president told the audience at the screening of his latest film: 'Some experiments get terminated after six months for reasons of ethics'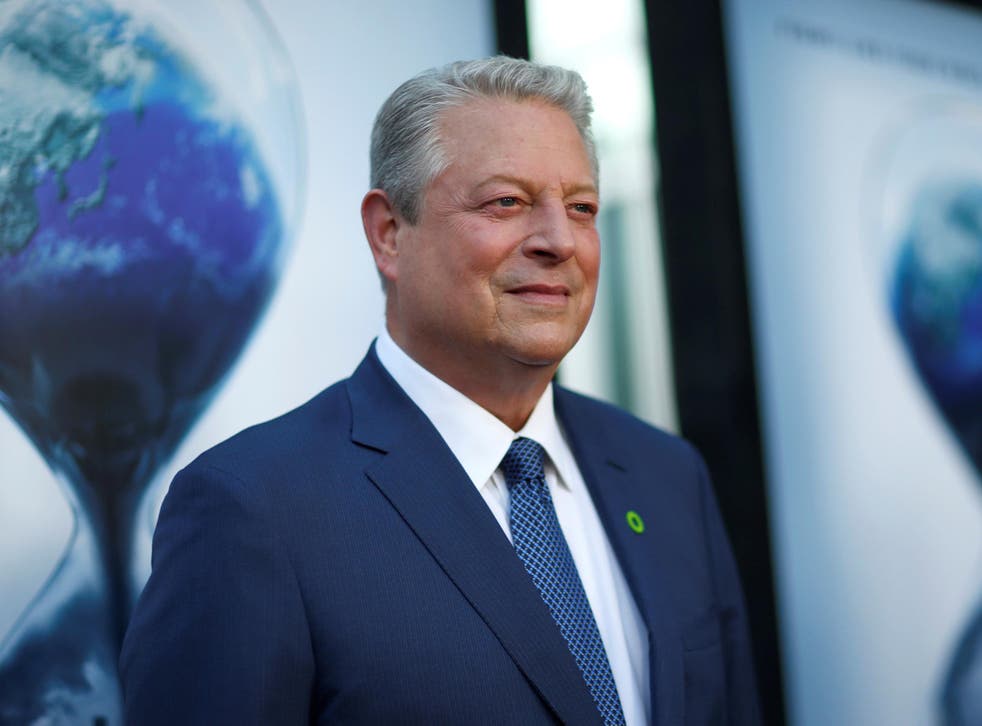 So what does Al Gore think of Donald Trump? Ever since the US president announced he was pulling America out of the Paris Agreement I've had the image in my mind of the former vice president and climate change campaigner with his head in his hands.
An Inconvenient Sequel: Truth to Power (the follow-up to Gore's Oscar-winning 2006 documentary on climate change, An Inconvenient Truth) is sprinkled with clips of Trump the Denier.
Now we all know the man's got a brass neck. But to see Candidate Trump, as he was then, berating President Obama for "wasting his time" by attending the Paris talks is up there with some of his worst utterances.
This was a conference on the future of the planet which virtually the whole world attended, and where everyone agreed to work together to achieve net zero greenhouse emissions.
Not necessarily a pledge that will save the planet, but a step in the right direction nevertheless.
So you can imagine the dismay when, not only did Candidate Trump not only win the White House, but also follow through on his threat to pull out of the Paris agreement.
First episode of 'Trump TV', Trump's own 'real news' channel
After all, America is supposed to be the country leading the world forward on climate change, not taking everyone back.
It's been suggested that Gore and his friends never expected Trump to beat Hillary Clinton and the first edit of the film has been described as "anachronistically optimistic".
So when Trump won the presidency it had to be hastily re-edited to accommodate reality and insert some of those Trump denials.
While never losing hope the film does convey a sense of despair that corporate interests have "hacked our democracy" and the battle is far from won.
So I was very interested to hear what Gore might have to say about Trump when he turned up at the first British screening of his new documentary last night.
Referring to how long Trump has been in office the former vice president told the audience: "Some experiments get terminated after six months for reasons of ethics".
Realising he had gone too far he quickly added: "I probably shouldn't have said that", but then shrugged his shoulders as if to say: "Well, I've said it now so too late!"
Like all good politicians, Gore also offered a solution. Which is to go round the president.
He said he had been worried that when America pulled out of Paris that other countries might use that as an excuse to follow suit, but he was heartened when the world actually came out and renewed its pledge to what had been agreed.
He reminded everyone of that wonderful moment when Trump said: "I was elected to represent the citizens of Pittsburgh, not Paris" – only for the Mayor of Pittsburgh, Bill Peduto, to issue an executive order saying the city still followed the Paris Agreement.
When he insisted there are members of the Trump administration who are climate change believers a member of the audience quipped: "Yes, but for how long?"
To which Gore responded: "Well, hopefully his family will be the last to get fired" – a reference to Trump's daughter, Ivanka, being a climate change believer.
Donald Trump's international Presidential trips

Show all 22
His tone is messianic comparing the climate change fight to the titanic struggles which America and the world have fought and won – civil rights, gay marriage, women's suffrage, the anti-apartheid movement. All movements that triumphed after years of those in power saying "No".
And, rather than everyone listening to him drone on, he said Mother Nature was doing his job better than he ever could.
Everywhere you look there are fires, floods, storms and droughts turning the planet into something "like the Book of Revelations".
After An Inconvenient Truth Gore was mocked for suggesting that climate change could one day lead to New York's Ground Zero being flooded.
So it's not surprising there is a riposte to this with footage of Hurricane Sandy causing the sea to pour into the memorial site in Lower Manhattan in 2012.
The trouble Gore has is he doesn't need to convince the people watching his film. Unless they stumble into the wrong cinema, everyone who pays to see this documentary has most likely already been won over by the argument.
It's the peddlers of their own fake news he needs to convert. The ones who declare, and believe, without any evidence that Trump's inauguration drew the biggest audience in history, the ones who talk about "alternative facts".
It's they who will talk about An Inconvenient Sequel being a liberal conspiracy peddling false facts and, yes, fake news.
But, as Gore says, only three and a half years to go.
Surely 61 million people can't be so dumb as to give Donald Trump a second term? Or can they?
Register for free to continue reading
Registration is a free and easy way to support our truly independent journalism
By registering, you will also enjoy limited access to Premium articles, exclusive newsletters, commenting, and virtual events with our leading journalists
Already have an account? sign in
Join our new commenting forum
Join thought-provoking conversations, follow other Independent readers and see their replies