Spare me the calls to 'free Melania' – she knew what she was getting into when she married the tangerine tyrant
I wouldn't free Melania because she is no one's captive. She locked herself in this gilded cage, leveraging her privilege to build a career and business empire of her own – one that is currently advertised on the White House website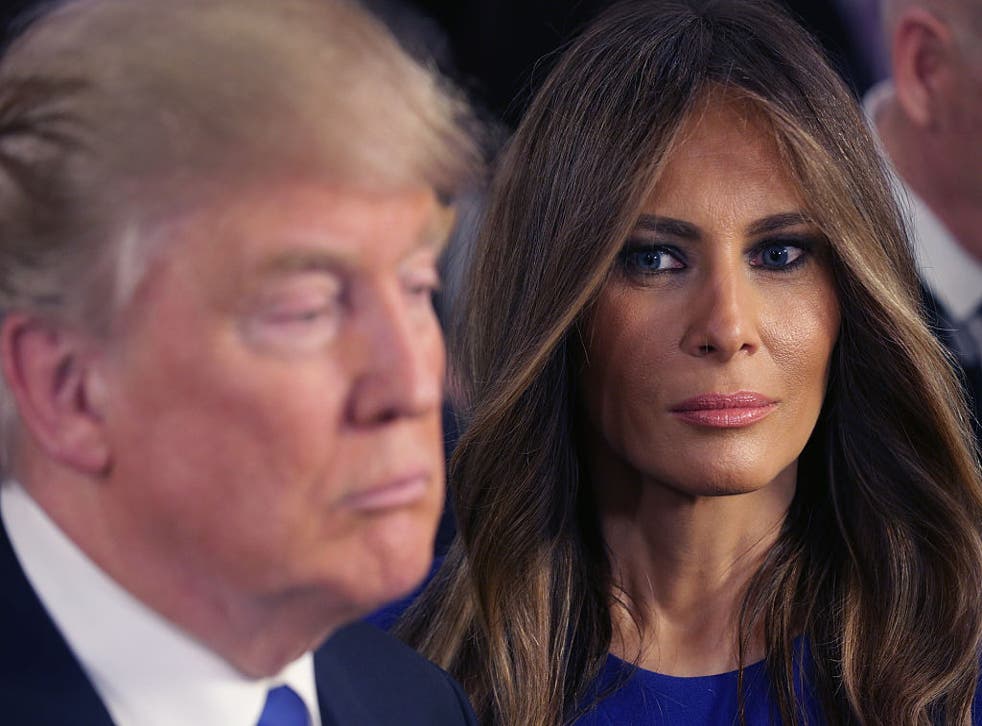 The internet loves a good meme, especially if it's underpinned by faux outrage. Last year it was Harambe, the gorilla shot in his cage to protect a child at the Cincinnati Zoo. This week, the internet is rallying to #FreeMelania.
That would be Melania Trump, America's new First Lady, who looked thoroughly miserable at the inauguration of her husband, The Donald. Photos began circulating of Melania grimacing, frowning, and apparently being cruelly rejected as her husband ignored her, walking several steps ahead of her and leaving it to the outgoing President and First Lady to gently guide her into the White House.
"Poor Melania," the internet collectively said. "How neglected and underappreciated."
Spare me. I have no sympathy for Melania Trump. Yes, she seems shy and reserved. She doesn't always appear comfortable with the role she now occupies. But Melania Trump is a seasoned media performer and co-conspirator in her husband's xenophobia. She has been one of his key surrogates, trotted out in 2011 to defend "birther" ideas about Barack Obama and in 2016 to defend Trump's misogynistic remarks. By all accounts, and from all appearances, she did so willingly, if not always enthusiastically.
Melania's face falls the moment Trump turns away
So no, I wouldn't free Melania. This is a woman who knew what she was getting when she married the tangerine tyrant. She did it anyway. Since then, she has shrugged off his online bullying, while laughably making that her pet issue as First Lady – as if she's trolling us all.
I wouldn't free Melania because she is no one's captive. She locked herself in this gilded cage, leveraging her privilege to build a career and business empire of her own – one that is currently advertised on the White House website.
The #FreeMelania meme strips her of any agency (which is sexist) and undermines her own role in the rise of Donald Trump and the havoc he is set to wreak on American democracy. There is not a shred of evidence that Melania is a battered wife who needs our help. In fact, just as there are pictures of her looking dour and forlorn at the inauguration, there are many photos showing her grinning in delight.
Melania Trump doesn't need your help. She never asked for it. There is not a shred of evidence suggesting she is anything less than pleased, or at least complacent, about her husband and the threat he poses to women around the world. Sympathising with her is like sympathising with Marie Antoinette as she watched the masses starve while living in a golden tower.
There are real women who will need our help under Donald Trump, starting with women in the developing world who will lose access to reproductive healthcare thanks to his anti-choice executive order. I'm worried about the women at home who will lose healthcare by defunding Planned Parenthood or repealing Obamacare. I'm worried about the women whose children will not receive a proper education thanks to Betsy DeVos, Trump's nominee for Education Secretary.
The controversial orders Donald Trump has already issued

Show all 9
I'm worried about the women who will continue making less than men who do the same job. I'm worried about women who have seen sexual assault and misogyny legitimised during a shockingly sexist presidential campaign. If I could free anyone, it would be them.
Instead of worrying about Melania, who is complicit in their oppression, we must focus on the marginalised women who stand to lose the most under this presidency. We can't let Melania Trump off the hook for the role she's played in Trump's ascendance. She is an accomplice in the bigotry with which Trump will govern.
Millions of women and other marginalised communities will suffer under policies created by Donald Trump and endorsed by Melania. She is not a victim in need of rescuing, but a henchman of the greatest supervillain in modern American history. She doesn't need to be saved. She, and her husband, need to be stopped.
Join our new commenting forum
Join thought-provoking conversations, follow other Independent readers and see their replies