The financial markets aren't reacting as badly as predicted over Donald Trump – could his plan work for the economy?
Taxes will be cut, and that will give a boost to the economy. There will be more spending on infrastructure, and that will boost the economy too. The issue will be one of scale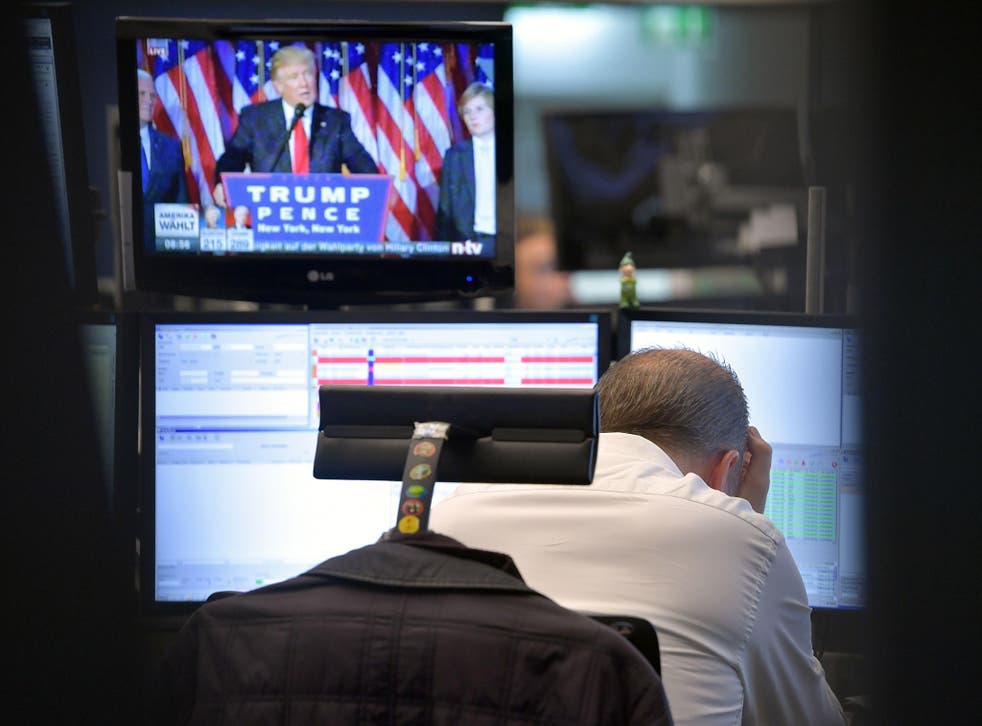 A sudden, strange calm has descended. Instead of there being the chaos predicted by so many "experts", the US share markets opened pretty flat. The dollar was pretty flat. The only sharp market movements were in emerging market currencies, notably the Mexican peso. So is it really business as normal? Or is this this a calm before the storm?
Up to now there has just been a wall of sound. How can we pick out some signals that will tell us not what people think, but rather what will happen in the weeks ahead?
The first thing to look for will be next month: what happens to interest rates? This is of course a decision by the Federal Reserve Board rather than the administration, which will not in any case be in place. But we will start to catch some feeling whether the path of rate rises will be steep or gradual. There has been a suggestion that rate rises will be put on hold in view of the uncertainty, but there are rational reasons to expect the reverse – a faster rise than expected. That would be the case if the economy was to grow at anything like the rate hoped for by Donald Trump.
Putin: Russia ready to restore US relations after Trump win
That leads to the second area of importance, the plan to boost growth. We have learnt in the past 24 hours that people should regard what Trump has said in the campaign as flam. There is also the little matter of Congress. Just because the Republicans control both houses does not mean a Republican president will get everything he wants. But we need to understand more about two policies. One is tax; the other infrastructure.
Taxes will be cut. That will give a boost to the economy. There will be more spending on infrastructure. That will boost the economy too. The issue will be one of scale. There is a great debate going on as to how much spare capacity there really is in the US economy. The unemployment figures, now below 5 per cent, would suggest that there is not much capacity in the labour market and any restrictions on immigration would squeeze that further. On the other hand there are discouraged workers, people who have left the workforce and are no longer looking for jobs. They may return, and older people may simply stay in work after they pass retirement age.
So there may be more capacity to grow than it would seem. We don't know. What we do know is that if you pump up an economy beyond capacity you get inflation. That may well be what we get.
President Donald Trump life in pictures

Show all 16
The final thing to look for will be trade policy. We know that in the campaign Trump was strongly protectionist. My own greatest fear is that that this will be the start of a world-wide retreat from greater freedom of trade and capital movements – a reversal of the 70 years of progress that has given the world the greatest increase in prosperity it has ever known. This will be a slow burn, however. Already international trade is stuck in the sense that it is no longer growing as a proportion of world GDP. If it were to go seriously backward then it would be hard for the world to continue to increase living standards. Yes, these are increasing for roughly 85 per cent of the world's population right now.
So there is the challenge. The grown-up response of the world's financial markets is encouraging. They are saying it is all going to be all right. Calm is better than storm, so we should be thankful for that.
Click here to download your free guide on how to select shares, with Independent Partner, Hargreaves Lansdown
Register for free to continue reading
Registration is a free and easy way to support our truly independent journalism
By registering, you will also enjoy limited access to Premium articles, exclusive newsletters, commenting, and virtual events with our leading journalists
Already have an account? sign in
Register for free to continue reading
Registration is a free and easy way to support our truly independent journalism
By registering, you will also enjoy limited access to Premium articles, exclusive newsletters, commenting, and virtual events with our leading journalists
Already have an account? sign in
Join our new commenting forum
Join thought-provoking conversations, follow other Independent readers and see their replies