Why is the media more concerned with Hillary Clinton's emails than the allegations of child rape against Donald Trump?
After so many women have come out and accused Trump of forcefully groping and kissing them, it's a shame that Jane Doe has to reveal her identity in order for the press to believe her. Jane Doe deserves her privacy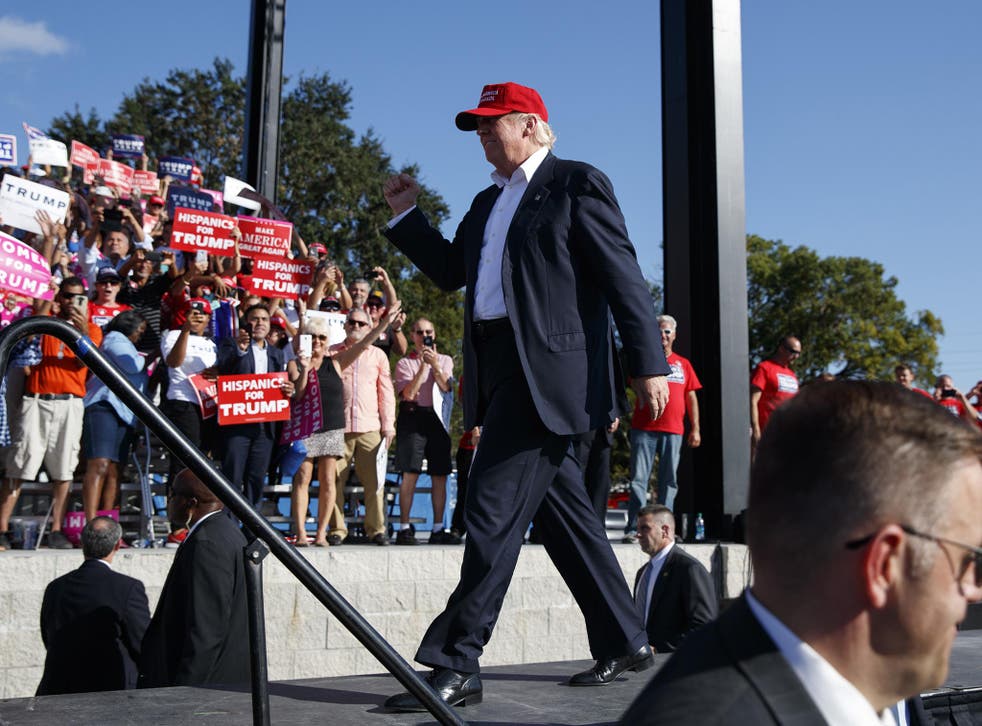 With only four days left until the election, Donald Trump is accused of raping a 13-year-old girl, but only crickets can be heard from the political press.
Instead of reports about the lawsuit filed in a New York court that detail the allegations against Trump, you're more likely to hear pundits speculate and bicker over emails that probably did not belong to Hillary Clinton, but are still somehow damning to her campaign.sh
Yet, it seemed as though Trump's presidential campaign was about to receive a major blow as allegations of child sexual abuse resurfaced when his anonymous accuser was set to make her first public statement on Wednesday.
But Jane Doe, now in her mid-30s, failed to appear before reporters during a Los Angeles press conference. Her attorney, Lisa Bloom, told reporters that Doe was received multiple threats ahead of her appearance and feared for her safety.
Doe alleges in a lawsuit that Trump raped her at a 1994 party at the New York apartment billionaire Jeffrey Epstein. Epstein himself was convicted of soliciting an underage girl for prostitution in 2008. He served a small part of his 18-year sentence.
One would think these claims would send shockwaves through the presidential campaign, and Trump would be on the defensive – especially given the fact that nearly a dozen women have come forward and accused him of sexual assault. All of the allegations essentially corroborate the New York businessman's boasts of grabbing women "by the p*ssy", captured in Access Hollywood tapes leaked a month ago.
Donald Trump's most controversial quotes

Show all 14
While Jane Doe is concerned for her safety, her anonymity could be contributing to the lack of media attention.
"She is living in fear. She has decided that she is too afraid to show her face," Bloom said at the Wednesday press conference. "She has been here all day, ready to do it, but unfortunately, she's in terrible fear."
The lawsuit alleges that Trump threatened Doe, telling her she and her family "would be physically harmed, if not killed" if she came forward.
Trump has vehemently denied the allegations. His attorney, Alan Garten, told The Independent that Doe's claims are a "total and complete hoax".
However, reporters are probably less keen to cover the story without the accuser going fully on the record at this level. The anxiety comes at a time Rolling Stone magazine faces two defamation suits after the discredited story alleging rapes at the University of Virginia.
"It it's something that's this damaging to a candidate, you better be sure, and she's anonymous," a senior national reporter told The Huffington Post. "Look, if she came out and she would do an interview, that would be different, but she's an anonymous plaintiff."
Trump says Clinton 'has no right to be running'
The lawsuit itself has had a tumultuous rollout, as well. Doe first filed the allegations on her own behalf in California. It was tossed out by the court as it found the plaintiff did not provide substantial evidence of violations to her civil rights. It was refiled in Manhattan on 30 September, with the attorney Thomas Meager representing the plaintiff. Now Bloom is her counsel.
Not to mention the shadiness of two men – "Never Trump" activist Steve Baer and TV producer called "Al Taylor" – who have tried to get media to pick up the story.
Additionally, multiple journalists have been unable to confirm the allegations put forward by Trump's accuser, who went by "Katie Johnson" in the first filling of the lawsuit. One reporter for Revelist actually landed an interview with "Johnson" and said she was "more confused than ever" after the meeting.
But Lisa Bloom, who has taken on Jane Doe as a client, believes that the allegations are credible given Trump's behaviour coupled with past accusations. In a Huffington Post column, Bloom cites the under oath testimony of Ivana Trump and the allegations of a former business associate, Jill Harth.
It is perfectly understandable that journalists want to tread this territory with caution. But there is something to be said about the protection of the accuser's anonymity – especially as they make such strong allegations against a man like Trump, whose supporters are known for their violent attacks on activists, black people, Muslims, and immigrants. His own former campaign manager and now-CNN commentator Corey Lewandowski faced assault charges when he allegedly manhandled a female reporter for the Trump-friendly conservative news site, Breitbart. Those charges were ultimately dropped.
After so many women have come out and accused Trump of forcefully groping and kissing them, it's a shame that Jane Doe has to reveal her identity in order to be believed. Jane Doe deserves her privacy.
With the election in less than a week, it is crucial that political press cover this case. The allegations exist and they are in the public record.
There is still the presumption of innocence for Trump; it will be for the courts to decide whether or not he is guilty – but the case will not go before a judge until well after the election. And it is certainly in the public interest to at least know that the presidential candidate of a major political party is accused of raping a child.
Should the allegations be disproven, so be it. That will be part of the story covered by the press.
Nevertheless, significant airtime is devoted to what may or may not exist in emails that may or may not incriminate Hillary Clinton. We know what the allegations are against Trump, and it is about time we in the media paid attention to them.
Register for free to continue reading
Registration is a free and easy way to support our truly independent journalism
By registering, you will also enjoy limited access to Premium articles, exclusive newsletters, commenting, and virtual events with our leading journalists
Already have an account? sign in
Register for free to continue reading
Registration is a free and easy way to support our truly independent journalism
By registering, you will also enjoy limited access to Premium articles, exclusive newsletters, commenting, and virtual events with our leading journalists
Already have an account? sign in
Join our new commenting forum
Join thought-provoking conversations, follow other Independent readers and see their replies