Donald Trump's victory put the final nail in the mainstream media's coffin
Pollsters, the markets and bookies all got it wrong, as did the upper echelons of both of America's political parties. If the media is guilty of an oversight, then so is pretty much everyone else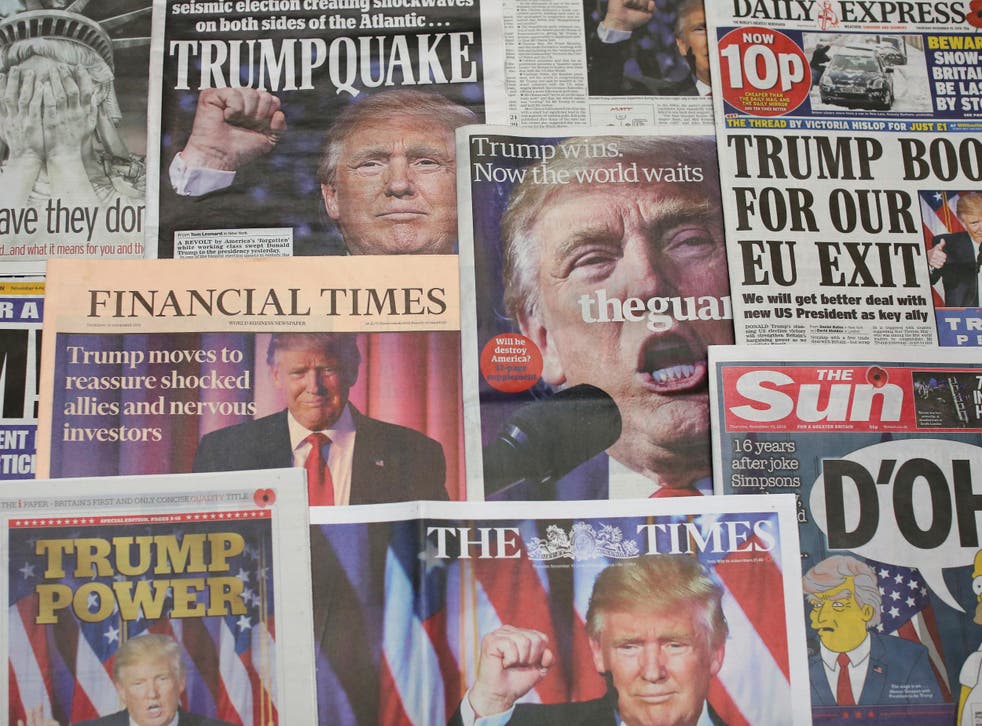 Ever since the race began to win the Republican Party's presidential nomination, Donald Trump has been written off. When he announced his candidacy, most assumed he would be an also-ran; when he emerged as one of the main contenders we were assured by those in the know that eventually he would fall behind Ted Cruz or perhaps Marco Rubio. And when at last the Republican nomination was secured, commentators everywhere concluded that Hillary Clinton was a shoo-in.
Now, in the aftermath of America's greatest ever political shock, many are left wondering how on earth we didn't see Trump's victory coming. With Breitbart, and other "fringe" outlets of the right, in "told-you-so" territory, the mainstream media is under the microscope for not having predicted the election's outcome. Indeed, its failure to do so is presented as further evidence of the degree to which the "MSM" is out of touch with the reality experienced by many ordinary people.
There may be something in this. Equally, it has to be said that the media was hardly alone in its collective belief that Hillary Clinton was poised to be the next president. Pollsters, the markets and bookies all got it wrong; as did the upper echelons of both of America's political parties. If the media is guilty of an oversight, then so is pretty much everyone else. The only people who called it right were, for the most part, people acting on a hunch. Even Trump never seemed genuinely confident, as was demonstrated by his refusal to confirm that he would accept the election result, whatever the outcome.
Nigel Farage the first UK politician to meet Trump since election
But if blame can be shared, that nonetheless does little to explain how so many arrived at the wrong prediction. One answer lies in Trump's status as a non-politician, which put him outside the experience of seasoned election watchers and the political establishment. Instead of recognising that this put him at an advantage, too often Trump was judged against the same criteria which would usually apply in any analysis of a would-be president. As such, commentators noted that his policies were ill-thought-out or contradictory and assumed that would put off voters. Likewise, when Trump expressed admiration for Vladimir Putin and appeared to encourage Russian computer hackers to find Hillary Clinton's missing emails, many observers assumed it would cast the Republican candidate in an anti-American light and dent his popularity.
Even on immigration and homeland security, which were always likely to be strong suits, Trump's pronouncements were thought to be overdone. As for his comments about women, and the allegations of sexual misconduct made by several individuals against him, they were surely career suicide for a man running for America's highest office. With hindsight, it is clear that Trump was utterly immune to criticisms that would have fatally harmed almost any other politician.
This explains perhaps why so many of his followers were unwilling to admit to polling companies that they planned to vote for him, and why therefore the strength of Trump's support was underestimated. Some have argued that journalists would have garnered a better understanding had they got out and about more, instead of remaining pinned behind desks, watching social media feeds. Yet it isn't clear why voters might have been any more inclined to tell their secrets to journalists than to pollsters – both professions having been widely dismissed by the Trump camp as establishment stooges. And in any case, serious media outlets again and again produced qualitative snapshots from America's industrial heartlands which showed how anger against globalisation, the establishment and the government were stoking the fire of Trump's potential success. Yet even then, it was assumed that an alternative course would prevail.
The truth is in online forums; in tweets by MSM-hating trolls; in comments below the line; on radio phone-ins; in media features about the decline of industrial communities; in academic analyses; on far-right news and conspiracy websites; and in the contorted faces of Trump's most visceral supporters: anger, frustration and hatred have been plain to see. What many of us failed to recognise was that those sentiments were bigger and more important than the fallible character of Donald Trump – and could thus propel him to the White House in spite of his many flaws.
Maybe it's easier to understand people's hopes and fears from the fringes. As Breitbart becomes part of the establishment, with the appointment of its executive chairman as Trump's chief strategist, the ex-mainstream media is about to find out.
Register for free to continue reading
Registration is a free and easy way to support our truly independent journalism
By registering, you will also enjoy limited access to Premium articles, exclusive newsletters, commenting, and virtual events with our leading journalists
Already have an account? sign in
Register for free to continue reading
Registration is a free and easy way to support our truly independent journalism
By registering, you will also enjoy limited access to Premium articles, exclusive newsletters, commenting, and virtual events with our leading journalists
Already have an account? sign in
Join our new commenting forum
Join thought-provoking conversations, follow other Independent readers and see their replies