This is what it's really like inside a Donald Trump election rally
Donald Trump's campaign is concentrating on white, Republican Americans – and that's why he'll lose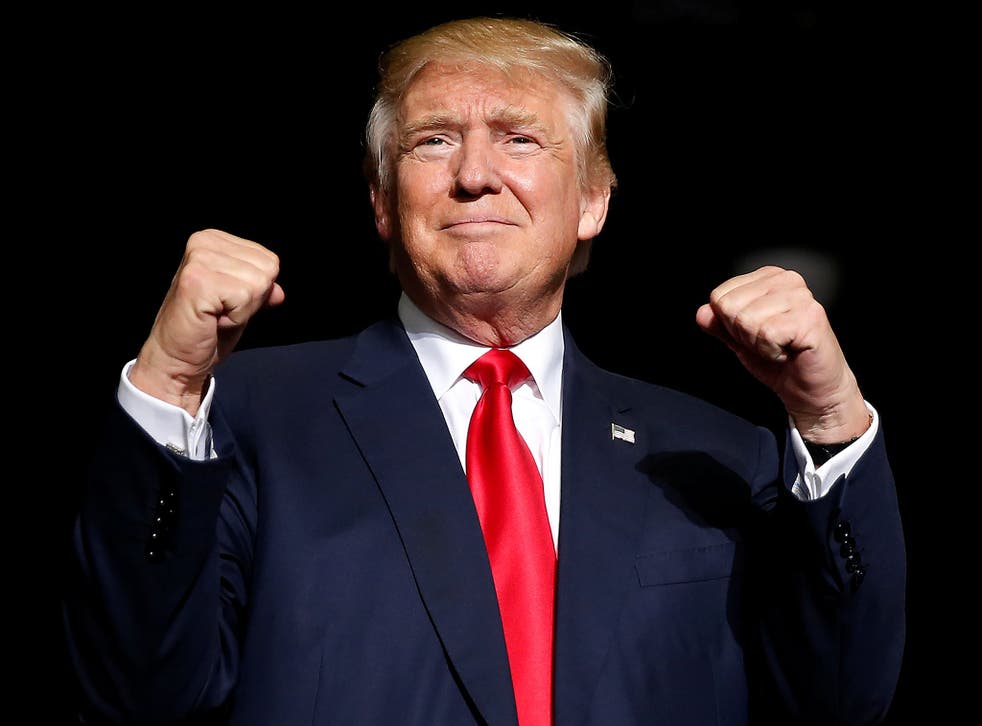 Behind two bobbing placards – "WOMEN FOR TRUMP" – I saw The Donald speak in Virginia. He didn't see me. Tired, hoarse, grouchy – as if he was about to step off backstage and begin yelling "why do I even f***ing bother" – he didn't seem to be enjoying himself.
I had come expecting to see the Apprentice Führer. But Donald Trump, barely able to smile and reading from a teleprompter, had the crinkled face of defeat. As his theme songs played, on repeat – You Can't Always Get What You Want – he seemed almost wistful, nostalgic for the fun of primaries.
And then he was gone.
In the three hours I waited for Trump to turn up, his speakers blaring Pavarotti, I got to a handful of the thousand-odd supporters who had turned up. I had come ready for the mood of the Munich beer hall. But that was just not the vibe. Smiley, friendly, comfortably off, this crowd was Mom and Pop; just a slice of your regular white American middle class.
Donald Trump says US 'should just cancel the election' and call it in his favour as Hillary Clinton leads polls
They were not particularly hateful, nor were they particularly excited. There were some gross placards, some anti-Hillary chanting of "Lock Her Up", but at the end, when Trump called on his supporters to shout – Trump! Trump! Trump! – to the cameras, most of them were turning back, laughing to their companions as they yelled at CNN.
That morning I had driven through fall colours out of Washington DC. Seen from Capitol Hill, Trump feels like a tear from classic Republicans: on Russia, on Wikileaks, on NATO, on free trade. The atmosphere of horrified apprehension of a Trump win exceeds anything conjured up in the Cold War spy thriller The Manchurian Candidate. But seen from this crowd in Virginia, in the eyes of regular middle-class Republican voters, Trump looked like more of the same than a marked change from classic Republicanism.
Every woman to make sexual assault claims against Donald Trump

Show all 16
A big break with Bush? They don't see it. This is why 82 per cent of Republicans are voting for Trump (as compared to 91 per cent of Democrats for Clinton).
Why Trump, I asked the crowd in Virginia. Were they here to stand up against "globalist elites"? Almost everyone I spoke to said they were there for red meat Republican issues: guns, God, abortion, taxes and bombing the hell out of the terrorists.
I spotted a man in a conspiracy site InfoWars t-shirt, but this was not a gathering in real life of Twitter trolls. Trump's followers here were typical Republicans, and that's exactly how they saw him in return.
Outside DC, where the voters might struggle to place Ukraine on a map or tell the difference between Nafta and Nato, they don't why Trump is different. Foreign policy treason? Forget it. What they see is a tough guy promising to build up the navy and bomb Isis to smithereens. To the crowd in Virginia he sounded just like Bush.
The longer I spent in the crowd, the more I realised they were so at ease with Trump because that which is supposedly so radical about him is, in fact, just Republican tradition.
Ranting about "corrupt" Washington? That builds on decades of attacks on "corrupt big government". Endless dog-whistle class and dog-whistle race? This goes right back to Richard Nixon. I met with a lot of anti-Hillary ranting, but that is nothing new either. This election is the result of a 25-year Fox TV-driven delegitimisation campaign, where dozens of hacks have made careers convincing audiences that the Clintons could even be murderers.
Back in DC, it started to feel obvious that American conservatives are in denial about two things. First, that Trump represents a natural, logical continuity with decades of Republican rhetoric. Second, that most Trump voters are just like the people I met in Virginia: middle-class white Americans.
The same goes for his core support. The average pro-Trump household, supporting him in the primaries, earns $72,000 (£59,000) a year. The national average is $56,000. This is mainstream America.
Hillary Clinton email probe: Donald Trump hails decision to investigate new emails
Look at the data: Trump is polling at 51 per cent of the white American vote according to YouGov. Break this down between those with and without a college education and you discover Trump is polling 36 per cent and 55 per cent respectively, according to a recent ABC poll. Trump supporters are not all rednecks and rust belters, but in white America, they are all around you.
There has been an "othering" of Trump supporters as rust-belt hillbillies. Statistically, this doesn't add up – there are just not enough of them to have him polling 41 per cent. Nor have post-industrial whites really fuelled his support. Despite putting jobs and industrial "outsourcing" as the top line of his speeches, they have not added much to his ratings.
Trump wanted to flip Ohio, Wisconsin and Michigan to overturn Obama's electoral map. But Trump is only outpolling Mitt Romney in these states between 1 and 2 per cent.
Trump's 51 per cent of white America is not coming from there. But Donald's Brexit-levels of support in white America are no longer enough to clinch it for him. What was telling about the Trump rally I saw in Virginia was the extent that did not look like the nearby town Virginia Beach – or indeed real America at all. It was, I guessed, more than 99 per cent white. I spoke to the odd Korean or African American, but minority groups (now so influential in US election history) were conspicuously absent.
The nearby town was only 64.5 per cent non-Hispanic white, and the crowd Trump had drawn was entirely in line with recent polling too. According to YouGov, Trump is only polling 1 per cent of the African-American vote and 22 per cent of the Hispanic vote. If he loses, this will be why.
Ronald Reagan, with an electorate 87 per cent white, could campaign with only them in mind. No American president can be elected on that ticket today – some 30 per cent of voters in this year's election are expected to be non-white.
White America can't always get what it wants.
Register for free to continue reading
Registration is a free and easy way to support our truly independent journalism
By registering, you will also enjoy limited access to Premium articles, exclusive newsletters, commenting, and virtual events with our leading journalists
Already have an account? sign in
Join our new commenting forum
Join thought-provoking conversations, follow other Independent readers and see their replies