Obama had Beyonce at his inauguration. Trump couldn't even convince someone who lost the X Factor to Matt Cardle
From Paul Robeson to The Special AKA, there is a long and eloquent history of artists using their music to make important political points. This inauguration finds a whole generation doing it with the sound of silence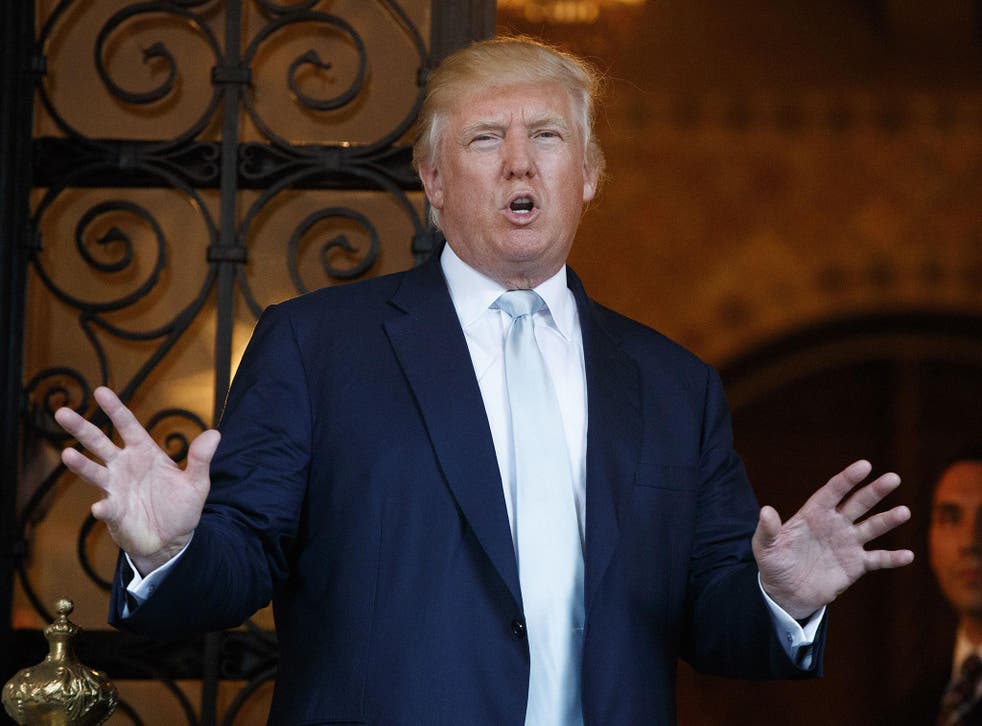 Fittingly for someone who never touches a drop of drink, Donald Trump will usher in a fun new form of prohibition when he is sworn into office on 20 January.
Admittedly, it won't require constitutional amendments to introduce and repeal it. This prohibition will be voluntary, brief, and largely limited to Joe and Joanna Six Packs, college frat kids and anyone else partial to drinking games. Because anyone partial to the traditional game whereby they down a shot whenever they recognise a performer at Trump's inauguration will remain as dry as a Methodist lay preacher at a funeral.
Just over a fortnight before humanity's worst mescaline-fuelled nightmare officially morphs into stark reality, the talent line-up remains magnificently obscure.
All the artists who have publically refused to play Trump's inauguration
Many musicians have been approached, and offered huge money, to herald the 45th prez in song. And all but one has declined. One leading refusenik is our own Sir Elton John. Pointing out that he is not "in a million years a Republican", Elton added: "Why not ask Ted F****** Nugent?"
That always seemed the most obvious booking. Along with Kid Rock, the Confederate flag-waving eighth wit, the insanely right-wing guitar-thrashing Nugent seemed the only recognised artist who would play the inauguration without one of his own many guns pressed to his skull.
Why Messrs Rock and F******-Nugent haven't been booked is unknown at this time. But reported targets who won't be doing their thing in DC on 20 January include Celine Dion, Bruno Mars and – God knows why anyone approached her, what with her recent cameo as a professional Hillary campaigner – Katy Perry.
Donald Trump's most controversial quotes

Show all 14
Ice T says he was rung about it, but declined to take the call and then blocked the number. Even Kanye West's jackassery doesn't extend to playing this gig.
Amusingly, the committee even set its sights on Aretha Franklin, who sang movingly at Obama's first inauguration in 2008.
Andrea Bocelli is usually content to mark a miraculous against-the-odds triumph in song. You may recall his Nessun Dorma at the King Power the May afternoon Leicester City were handed the Premier League trophy. But for whatever reason – fear of career death, plain good taste, a chest cold he pencilled in for 20 January back in November – the Italian tenor pulled out.
So it is that Trump looks to reality TV to plug holes in the schedule. Given that his presidency is the ultimately monstrous creation of that televisual Frankenstein, this too is fitting.
So far, the headline singing act is a certain Jackie Evancho, a now 18-year-old soprano who finished second on America's Got Talent eight years ago. Why has no one warned the poor girl off? We've all done stupid and crazy things as teenagers. But next to this, joy-riding around Buckingham Palace in a nicked police car playing the Sex Pistols' "God Save the Queen" on a boombox while off your chump on crystal meth looks like a trivial misjudgement.
Not satisfied with Jackie Evancho, the Donald now casts his gaze across the Atlantic towards our home-bred products of Simon Cowell's limited imagination. Rebecca Ferguson, a soulful X Factor runner-up from Liverpool, has been approached. She mischievously says she will only accept if she can perform "Strange Fruit", a song protesting vicious racism recorded by Billie Holliday in 1939, but banned as too contentious due to its bizarrely negative take on lynchings. You assume the President-elect who merrily picked Jeff Sessions for his Attorney General will dodge Rebecca's satirical bullet.
To recap: where Obama's second inauguration featured Beyoncé lip-synching "The Star Spangled Banner", his successor has been implicitly rejected by someone beaten to the poisoned chalice Syco recording contract by Matt Cardle.
'This isn't Woodstock' - Trump adviser on inauguration
And Trump may not have hit rock bottom yet. What price a pleading eleventh-hour phone call to Wagner (the Brazilian novelty crooner, not the late German opera fiend; although given the earlier Wagner's muscular proto-Nazi politics and a Ouija board...)?
Might Same Difference sprinkle the magic of their sibling double act on Trump's parade? Could a large fee tempt DJ Talent to reprise his lyrical tour de force ("I say Britain. You say talent. Britain's got talent. It's the DJ Talent") from 2009's Britain's Got Talent? And how many more rejections before the weary cry of "All right, guys, we've put it off as long as humanly possible, but does anyone have a number for Jedward?" goes up?
From Paul Robeson to The Special AKA, there is a long and eloquent history of artists using their music to make important political points. This inauguration finds a whole generation doing it with the sound of silence.
Trump insists he couldn't care less; that the last thing such a celebrity-phobic man of the people would want is a bunch of megastars celebrating him as he embarks on the road to making America great again. But it will seriously vex his thin-skinned little self that his first moments as President of the United States will see him illuminated, for the eyes of the entire world, as a pariah in his own land.
There may still be time to salvage the event with one big-name signing. I've a hunch that Green Day might agree to perform so long as Trump lets them play "American Idiot".
Register for free to continue reading
Registration is a free and easy way to support our truly independent journalism
By registering, you will also enjoy limited access to Premium articles, exclusive newsletters, commenting, and virtual events with our leading journalists
Already have an account? sign in
Register for free to continue reading
Registration is a free and easy way to support our truly independent journalism
By registering, you will also enjoy limited access to Premium articles, exclusive newsletters, commenting, and virtual events with our leading journalists
Already have an account? sign in
Join our new commenting forum
Join thought-provoking conversations, follow other Independent readers and see their replies