Donald Trump's UN speech risks turning Iran into a rogue state again
Trump has brought to international relations the same mode of thinking that left a trail of destruction during his years in business – he goes by the notion that there are only winners and losers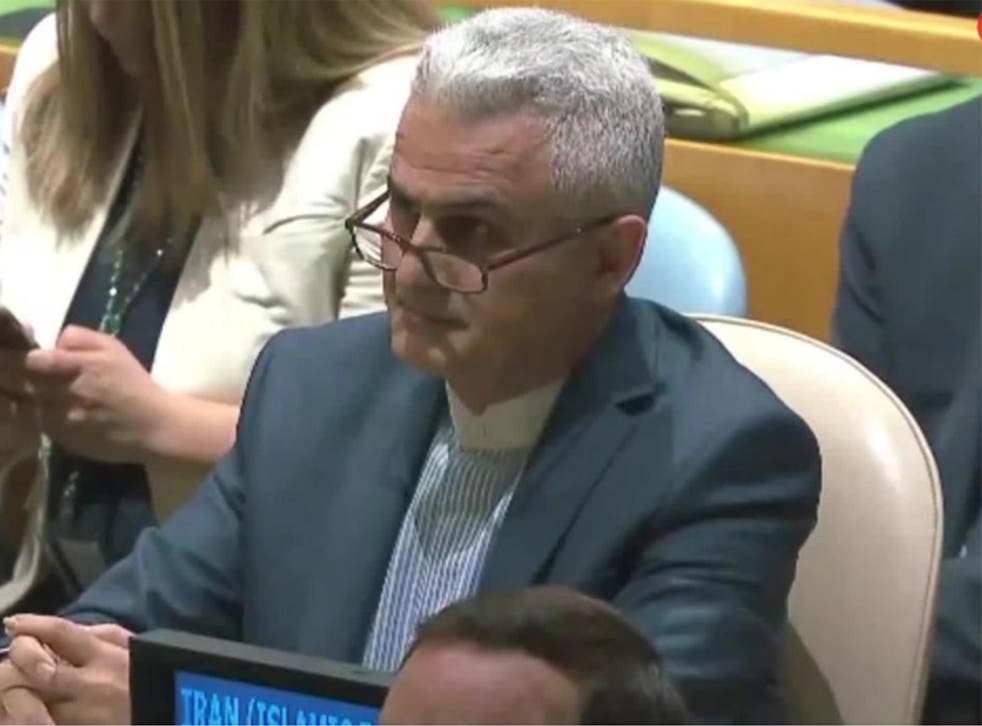 You'd be forgiven for experiencing déjà vu yesterday during Trump's UN speech in which he blasted North Korea and Iran, attempting to rally the world for war against a "small group of rogue regimes". 15 years earlier President Bush stood at the same podium to warn of the "axis of evil" before launching a calamitous war in Iraq, based on the false premise of weapons of mass destruction, a war that plunged the region into chaos and the effects of which are still being felt today.
Yet in spite of Trump's best efforts to lump North Korea and Iran together, it's pretty obvious to anyone with a basic grasp on foreign affairs that the two cases couldn't be more dissimilar. While North Korea increasingly isolates itself from the rest of the world in relentless pursuit of its nuclear weapons programme and repeatedly flouts UN resolutions, Iran decided to engage with the international community in 2015, signing a nuclear deal that in exchange for the lifting of sanctions meant that Iran would roll back its nuclear programme by eliminating it's stockpile of medium-enriched uranium, reduce its centrifuges and would only enrich uranium up to a certain percentage.
Donald Trump receives laughs in the UN chamber after talk of socialism
The Joint Comprehensive Action Plan, as it is formally known, was referred to by Trump yesterday as an "embarrassment". Never mind that Obama had managed to stop Iran turning into a nuclear armed state or that the UN's nuclear inspectors have reported that Iran is sticking to its side of the bargain. Trump wants us to ignore all of this, just as he wants us to ignore the fact that his administration is responsible for certifying to Congress that Iran is keeping its side of the deal every three months, which Trump has done so on two separate occasions already because there exists no evidence whatsoever that Iran has broken the deal.
So much so for it being an embarrassment that the President is willing to add his name to it.
Undoubtedly Iran's human rights record along with its threats and meddling in the affairs of neighbouring countries in the Middle East ought to be condemned. Deplorable as such acts are, they are not in gross violation of the nuclear agreement that Trump is so keen to jettison.
Trump: US will 'totally destroy' North Korea 'if forced to'
Yet none of this matters much to Trump. It is, after all, more about his way of doing things. He has brought to international relations the same mode of thinking that left a trail of destruction during his years in business – he goes by the notion that there are only winners and losers, plain and simple, no in between, no room for compromise, just the total capitulation of the opposing side. In international relations however, such an approach won't work as states negotiate and compromise with one another for the sake of keeping the peace.
At the same time Trump's approach to Iran is one about geopolitical power, about ensuring that Iran stops frustrating US allies in the region, like Saudi Arabia, a state notorious for beheadings and other human rights violations that Trump conveniently left off his list of rogue nations whilst attacking Iran for its lack of democracy. Threatening to cancel the deal will not help resolve these other matters. Once America walks away from the deal and seeks to re-impose sanctions, it will only embolden Iran, now free from any external constraints to pursue its nuclear ambitions while sending a strong signal to other states like North Korea that America will not stick to an agreement.
Walking away from the nuclear deal will sure enough embolden Trump, who fans the flames of his own ego through not honouring a pledge, while at the same time undoing much of Obama's work. But it would also mean the first step in Iran becoming a problem just like North Korea. It wasn't the Iran deal that was an embarrassment yesterday, it was the President of the United States himself.
Register for free to continue reading
Registration is a free and easy way to support our truly independent journalism
By registering, you will also enjoy limited access to Premium articles, exclusive newsletters, commenting, and virtual events with our leading journalists
Already have an account? sign in
Join our new commenting forum
Join thought-provoking conversations, follow other Independent readers and see their replies