Donald Trump is painting a new image of himself - and it may just secure him the presidency
There was Trump on the world stage, saying the right things at the joint press conference afterwards, the personification of diplomacy and politeness. Heavens, one thought, maybe he wouldn't be so bad after all, maybe he wouldn't press the nuclear button at a perceived insult during an international summit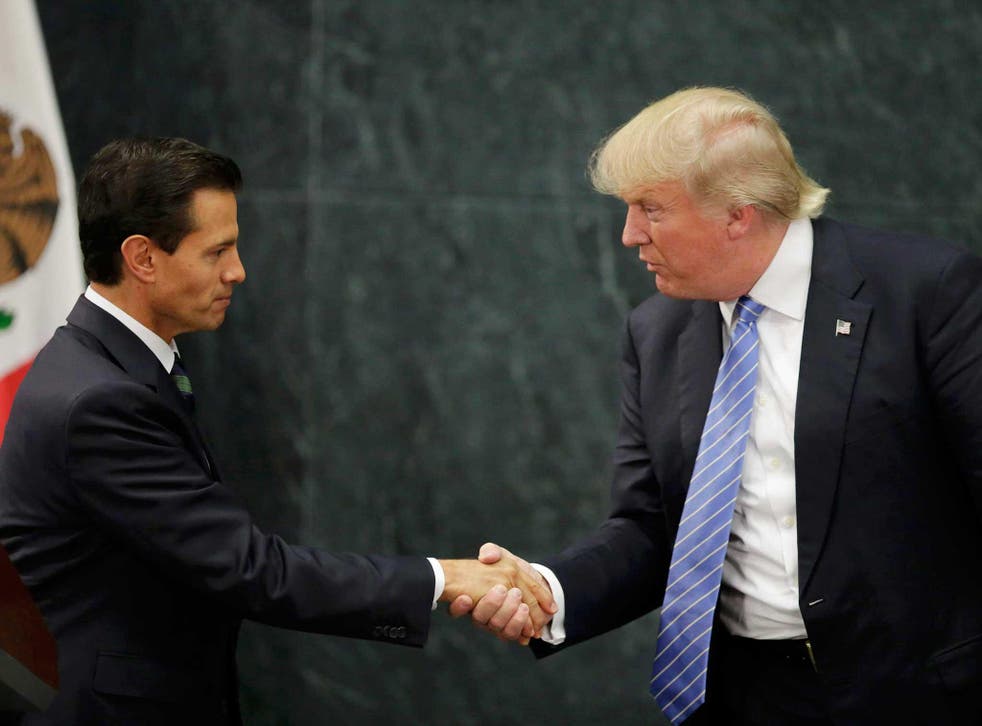 A new Donald Trump? It can't be. The arrival last month of the right wing iconoclast Steve Bannon as his new campaign chief was held as proof of a reversion to the "Let Trump be Trump" formula that had annihilated every opponent in the Republican primaries. A definitive end, surely, to the efforts of Paul Manafort – the man Bannon replaced – to house-train the Manhattan businessman in the ways of conventional politics?
And this theory was only vindicated by the snarling immigration speech Trump delivered in Arizona on Wednesday, studded with his trademark lies (or "factual inaccuracies" as they are known) and in which he extolled deportation task forces and vowed to build his beautiful wall, paid for "100 per cent" by Mexico, to keep the illegals out. Look a little closer however and a new method may be emerging from the madness.
A few hours earlier Trump had been in Mexico City, neatly upstaging Hillary Clinton, as he held talks with the Mexican president Enrique Pena Nieto. Admittedly he was helped by a stunningly feeble performance from his host. But there was Trump on the world stage, saying the right things at the joint press conference afterwards, nodding sagely at points made by his interlocutor, the personification of diplomacy and politeness. Heavens, one thought, maybe he wouldn't be so bad after all, maybe he wouldn't press the nuclear button at a perceived insult during an international summit.
Trump Vows Again That 'Mexico Will Build That Wall'
Yet, back in Phoenix, he seemed his old self – behaving, it could be argued, like the classic bully: fawning when on foreign soil and out of his comfort zone, but hectoring, mendacious and vicious when safely returned to home turf, addressing his adoring followers.
However forget the presentation. Forget too the playing fast and loose with facts (no amount of fact-checking will overcome the eternal human truth that people believe what they want to believe.) Instead, parse the speech more closely. Set aside the Mexican-financed wall, and Trump's policies are not so different from those of Barack Obama, the supposed immigration softie who in fact has deported or prevented from entering the US more people than any president before him. Like Obama, Trump would focus on criminal elements, leaving the fate of the 11m illegals who pursue a law-abiding if precarious existence for a later date.
In essence, Trump is not ruling out the bargain at the core of various attempts at immigration reform on Capitol Hill over the last few years: a truly watertight border, coupled with de facto amnesty and a path to citizenship for those who are already here – and without whom, everyone knows, swathes of the US economy would cease to function.
Or take the economy, by far the most important consideration for ordinary voters (for all Trump's fulminations, only 8 per cent of Americans regard immigration as the election's most important single issue). He's had plenty to plenty to work with these last few months: feeble growth, still stagnant earnings and a pervasive feeling that things are not as good as the employment statistics imply.
Naked Donald Trump Statue Appears Across The States

Show all 11
But previously he's blown it. At the end of July, the government announced some pretty lousy GDP news, a bare 1.2 per cent annual growth in the second quarter, which any self-respecting Republican candidate would have leapt on. And where was Trump? Bogged down in a disastrous, unwinnable quarrel he had picked with a Muslim-American couple whose son had died fighting for the US in Iraq.
On Friday, when some uninspiring August unemployment figures were released, Trump didn't make the same mistake. He responded instantly with a tweet blaming the "Obama-Clinton" administration for failing to create jobs and boost pay in American industry.
A small detail, but a sign perhaps of a new Trump focus. It all adds up to the best week Trump's had since the conventions. Admittedly that's not saying much. With Hillary Clinton largely confining herself to lavish summer fundraisers among her friends in the Hamptons, he's had the field pretty much to himself. Yet he still trails her by several points overall and – more important – by larger margins in most of the swing states where the election will be decided. In terms of money and state-by-state organisation Clinton leads by a country mile.
Nonetheless, on the eve of the Labor Day holiday that traditionally marks the start of the general election campaign proper, Trump has clearly narrowed the gap since the dark days of early August, when a Democratic landslide looked on the cards. Finally, things are moving in the right direction.
But is it too late? In this bizarre campaign, nothing is certain. Last week Clinton's approval rating sunk to an unprecedented low, underlining the miserable paradox that underlies this contest between the great unloved. Clinton, given all her baggage, is probably the only Democratic candidate Trump has a chance against – while he, even more flawed, is probably the only Republican she could be confident of beating.
But for Trump the bottom line hasn't changed. He and his advisers still appear to believe that victory lies in turning out in record numbers America's white silent majority, the "forgotten people," trampled on by globalisation and diversification, the people who attend his mass rallies. But that ignores the huge numbers of white women, and white people with university degrees, who can't abide him, not to mention Hispanics and black people.
Somehow, he's got to allay fears. Trump must persuade voters to give him a second look, to turn at least some "Never Trumpers" into "Well, Maybes," without upsetting true believers by toning down his message. Hence the apparently conflicting messages on immigration: the red meat in Phoenix, the projection of moderation and statesmanship in Mexico City. And thus, the Steve Bannons of this world calculate, a New Trump, who hasn't changed, but who's perhaps not so bad after all. After everything Trump has said and done these last 12 months, it's a long shot. But barring some terrible new revelation about Hillary or the Clintons, it's the best shot he's got.
Register for free to continue reading
Registration is a free and easy way to support our truly independent journalism
By registering, you will also enjoy limited access to Premium articles, exclusive newsletters, commenting, and virtual events with our leading journalists
Already have an account? sign in
Join our new commenting forum
Join thought-provoking conversations, follow other Independent readers and see their replies