Donald Trump may be filling his team with military generals, but that doesn't mean they'll encourage his hawkish ways
The President-elect's advocacy of carpet-bombing Isis and other terrorist groups – 'I'd bomb the s*** out of them' – is strategically inept, as many commanders have pointed out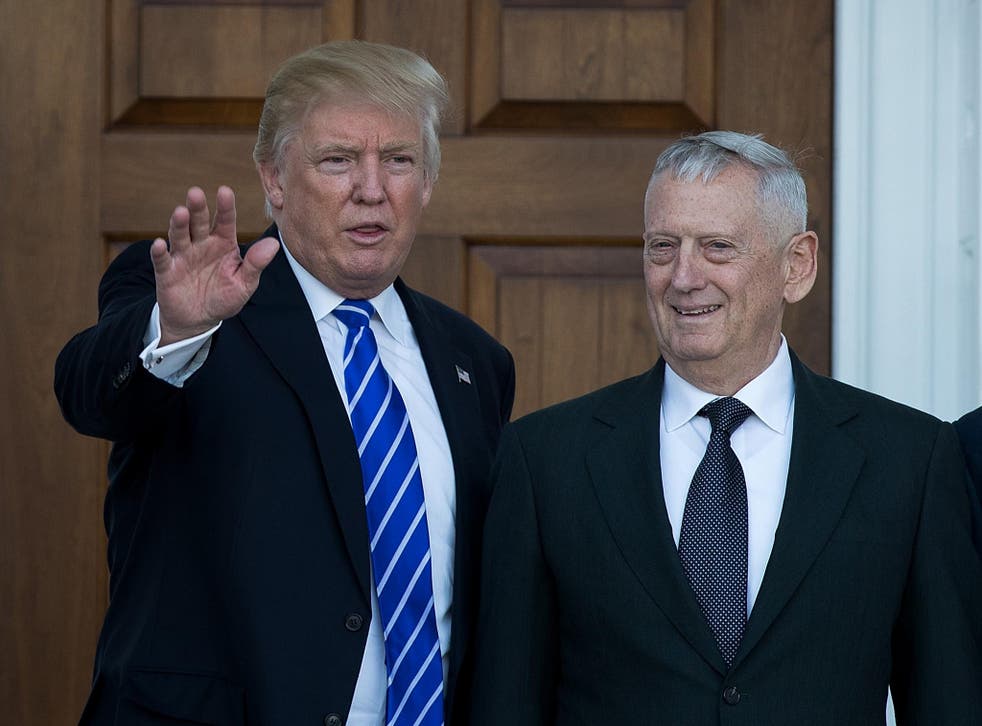 "Be polite, be professional, but have a plan to kill everyone you meet". This is the advice General James Mattis used to give to the US Marines going on a mission. They thought the commander, who they had affectionately nicknamed "Mad Dog", was just great.
Gen Mattis has been made Defence Secretary by Donald Trump, who has also appointed Lieutenant General Michael Flynn as his National Security Advisor. Two other generals, David Petraeus and John Kelly, have been seen by the President-elect for possible jobs in his administration.
This infuses a distinct military hue to the people the President-elect is gathering around him. It may be that reality TV star Trump, who dodged the Vietnam draft, has a fascination for men of action. But it has given rise to the thought that his presidency may be intrinsically hawkish on a number of policies. This may not necessarily be the case: the presence of the commanders may actually moderate the stance of the coming Presidency on a number of important issues.
Secret Service may intervene in Trump's twitter use
During his election campaign Trump vowed to bring in methods that extended "far more than waterboarding" because "torture works, OK folks". Gen Mattis, however, has made it clear that he opposes waterboarding and other forms of mistreatment – a view that "surprised" the President-elect who says he was "impressed by that answer" and it has made him reconsider his own position on the matter.
Generals Petraeus and Flynn have both, in the past, spoken out strongly against the use of torture. Gen Flynn was accused of equivocation on the matter while acting as security advisor to Trump in the campaign; but his friends say that his basic opposition to it has not changed.
Similarly, Trump's advocacy of carpet-bombing Isis and other terrorist groups ("I'd bomb the s*** out of them") is strategically inept, as many commanders have pointed out. War planes alone cannot defeat an insurgency; one needs boots on the ground to do so. It is also the case that the "collateral damage" of civilians being killed in air strikes creates anger and acts as a recruiting sergeant for guerilla groups.
Gen Stanley McChrystal, who at one stage was mooted as a possible running mate for Trump in the presidential race, imposed strict limitations on air strikes when he was in command of American forces in Afghanistan. Missions were cut in numbers and when the planes did fly, they would more often than not carry out a "show of force" - basically flying low with great noise rather than carrying out bombings. I have been in operations with British and American troops when requests for air support resulted in these "shows" rather than strikes. As we watched this while pinned down by hostile fire, the troops would groan: Taliban fighters, who knew the score by then, would taunt and jeer. But exercising restraint was the right thing to do.
World reaction to President Trump: In pictures

Show all 29
Gen Petraeus, who took over from Gen McChrystal in Afghanistan, slightly loosened the rules on air strikes, but the strictures on avoiding civilian casualties remained in force.
There are objections to Gen Petraeus, a former CIA director, serving in the new administration from the Republican right-wing, and especially the gun lobby. He is part of the Veterans Coalition for Common Sense which has urged for more control on private ownership of assault weapons to try and stop the urban massacres which have repeatedly claimed lives in the US. The Coalition was co-founded by retired astronaut Captain Mark Kelly, the husband of Gabrielle Giffords, who was shot and severely wounded in 2011 when, as a congresswoman, she was meeting constituents. Six others, including a nine-year-old girl, were killed in the attack.
Gen Petraues is not the only military man to back the call for more gun control. Other members of the Veterans Coalition for Common Sense include Gen McChrystal, former US Air Force General Michael Hayden, and former chief of Nato forces General Wesley Clark.
A petition organized by the Firearms Policy Coalition, part of the gun lobby declared "Having a Secretary of State (the position Trump is said to be considering him for) who openly advocates for more gun control and who has the ability to reinterpret regulations without Congressional oversight, would be disastrous for gun owners, hobbyist gunsmiths and manufacturers."
There will be much scrutiny on the influence of the former commanders on Trump's foreign policy. Gen Flynn had taken an anti-establishment line on a number of issues when he ran the Defence Intelligence Agency.
In the Spring of 2014, as the US administration and Western European states were putting together sanctions on Russia after the annexation of Crimea, Gen Flynn announced that he intended to go ahead with an intelligence-sharing visit to Moscow and also planned to invite Russian officials to Washington to discuss information on Islamist extremists.
The General's superiors blocked both moves and he was dismissed from his post a few months later by President Obama. The General claimed it was because he had ruffled too many feathers. Administration officials said it was simply because he had failed to provide leadership at the DIA.
Now, Gen Flynn's stance towards the Russians two years ago is in sync with the views of Trump, who has expressed admiration for Vladimir Putin. There is already a degree of intelligence-sharing with the Russians in Syria; and there are growing calls in a number of European countries for sanctions against Russia to be eased, calls which will become louder as right-wingers come to power on the continent.
Iran, it is felt, would be the most likely arena of confrontation for the Trump administration. The President-elect has called the agreement on the country's nuclear programme "the worst deal ever negotiated" and Republican hardliners have long called for its repeal. Both Gen Flynn and Gen Mattis have accused Tehran of promoting terrorism.
But Gen Flynn has shown he is capable of carrying out U-turns on his views. He had, for example, initially voiced support for last Summer's coup plotters in Turkey only to declare later that Recep Tayyip Erdogan was a great friend of the US and Fethullah Gulen, accused by Ankara of orchestrating the coup, should be extradited to Turkey.
Gen Mathis has stressed recently that "there's no going back [on the deal]...I don't think we can just say we're not going to live up to our word on this agreement." Instead, he said the priority would be to ensure Iran does not abandon its commitment on the nuclear deal to curb its support of insurgencies in the Middle East.
Unilateral imposition of sanctions by the US will not be particularly effective, Gen Mattis pointed out, and the other states that signed the deal – Russia, China, Britain, Germany and France – are broadly happy with it. And then there are Trump's business instincts; abandoning the agreement would, he had mused publicly, simply let other countries benefit from trading with Tehran. The aggressive rhetoric on Iran may not, at the end, turn into aggressive acts.
Join our new commenting forum
Join thought-provoking conversations, follow other Independent readers and see their replies