It's been an extraordinary 48 hours for Trump even in this extraordinary presidency
Rob Astonio, a long-term friend of the President, described Hope Hicks as 'one of the people he really, really trusted. So with her leaving, there is only a handful left; he is going to feel like he is on an island'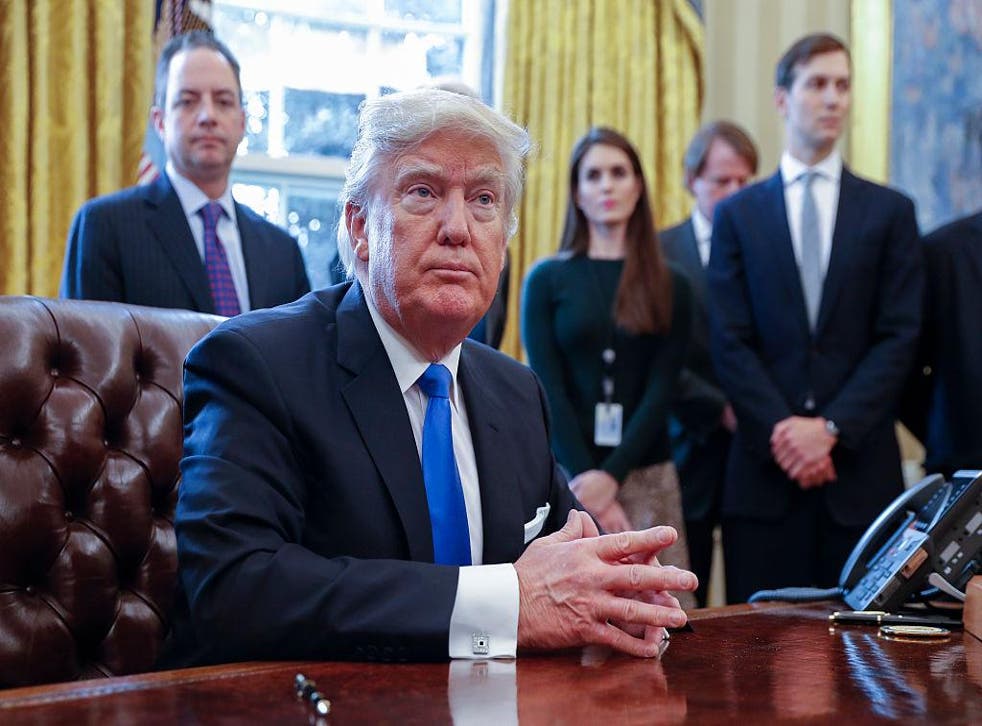 The focus, understandably, has been on Donald Trump's supposed volte-face on guns, calling for greater checks and controls and firing a very surprising broadside at the National Rifle Association. We have to wait to see whether his supposed Damascene conversion does actually result in strong laws to try and curb the annual American carnage.
But behind the scenes, the investigations into the US President's Russian links continue to gather momentum with a rising level of fallouts. An extraordinary 48 hours has seen Hope Hicks resign as White House communications director after telling "white lies" on behalf of Trump, Jared Kushner, Trump's son-in-law see his security clearance downgraded and Trump's threats to fire attorney-general Jeff Sessions become part of Robert Mueller's inquiry.
It is, however, another extension of Mueller's net which is likely to pile on more trouble for Trump. The special counsel, it has emerged, has started to question witnesses on Trump's business activities in Russia before he ran for the presidency and whether the Kremlin may hold compromising material which could have made him the Muscovite Candidate for the White House.
Donald Trump's first year: in pictures

Show all 29
This kind of material, "kompromat", is normally about money or sex. The salacious accounts of sex in the dossier produced by former MI6 officer Christopher Steele has been regarded as unconvincing even as so many of the other claims made have turned out to be true. Trump, according to Steele's report, hired prostitutes to perform a "golden showers" routine at the Moscow Ritz-Carlton hotel, defiling the presidential suite bed where the Obamas, who he hated, had slept.
No evidence has appeared to back this up. Trump's bodyguard and aide Keith Schiller, who has now left in part of an exodus of Trump staff, told the House Intelligence Committee that he rejected a Russian offer to send prostitutes to Trump's room during a visit to Moscow for the Miss Universe pageant in 2013. But Mueller's team is now said to have shown interest in hotel rooms used by Trump in Russia and who may have had access to them.
However, the main focus of the questioning over Trump's past Russian connections has been about money, with the financing of the Miss Universe contest of 2013 of particular interest. Trump's partners in the project were property developers Aras Agalarov and his son Emin who was also a pop star. Their publicist Rob Goldstone arranged the New York meeting in June 2016 between Donald Jnr, Kushner and then Trump campaign manager Paul Manafort with a Russian lawyer, Natalia Veslnitskaya, who had offered "damaging information" about Hillary Clinton. Manafort has since been charged by Mueller with conspiracy, money laundering and lying about lobbying for a foreign power.
Two years after the Miss Universe pageant, Trump's personal lawyer, Michael Cohen, visited Moscow to begin negotiations to build a Trump Tower. The project brought in Cohen's childhood friend Felix Sater, alias Felix Sheferovsky, a Russian-born criminal once jailed for stabbing a man in the face, a former associate of gangsters as well as Trump and once an FBI informant who supplied information on the mafia and al-Qaeda. Sater was convinced that Vladimir Putin would help Trump to get to the White House and he and Cohen would receive the due credit for this. "Can you believe two guys from Brooklyn are going to elect a president?" was one excited email sent to Cohen at one stage.
The Mueller team has, it is said, been questioning witnesses about the Trump Tower project. Trump has repeatedly declared that he has had nothing to do with Russia and denied that Moscow holds any compromising material on him.
The business dealings of Kushner have also long been under scrutiny, with the latest account, in The Washington Post, raising questions on whether he is susceptible to blackmail or manipulation by foreign governments. Kushner is also being blamed for some of Trump's worst decisions including the hiring of Manafort and firing of FBI director James Comey, a move Trump's former chief strategist, Steve Bannon, described as "the biggest mistake in modern political history" – one that directly led to the appointment of a special counsel with sweeping powers.
Trump's son-in-law has seen allies and associates heading for the exit as his troubles rise. Among those who have left are Josh Raffel, his spokesman and Reed Cordish, who has been working with him on the administration's IT overhaul.
But it is the White House which has seen an astonishing number of departures, with almost the entire senior staff at the White House at the start of the Trump presidency, with the exception of Ivanka Trump and Jared Kushner, now gone. This includes Steve Bannon, Michael Flynn, Katie Walsh, Sean Spicer, Reince Priebus, Gary Cohn, Dina Powell, Rick Dearborn and Keith Schiller. There are now persistent reports that General John Kelly, the national security advisor, may not last much longer.
But even given this exodus, Hope Hicks's resignation, say Trump's allies, is a bitter blow. Rob Astonio, a long-term friend of the President, described her as "one of the people he really, really trusted. So with her leaving, there is only a handful left; he is going to feel like he is on an island". And circling the water, as Trump sits alone and isolated, is the shark he believes is out to get him, Robert Mueller, the special counsel.
Join our new commenting forum
Join thought-provoking conversations, follow other Independent readers and see their replies