Donald Trump's running mate thought HIV funding could be better spent on gay conversion therapy – time to put the rainbow flag down
Trump also admitted getting speech-writing assistance from a man who once described gay people as paedophiles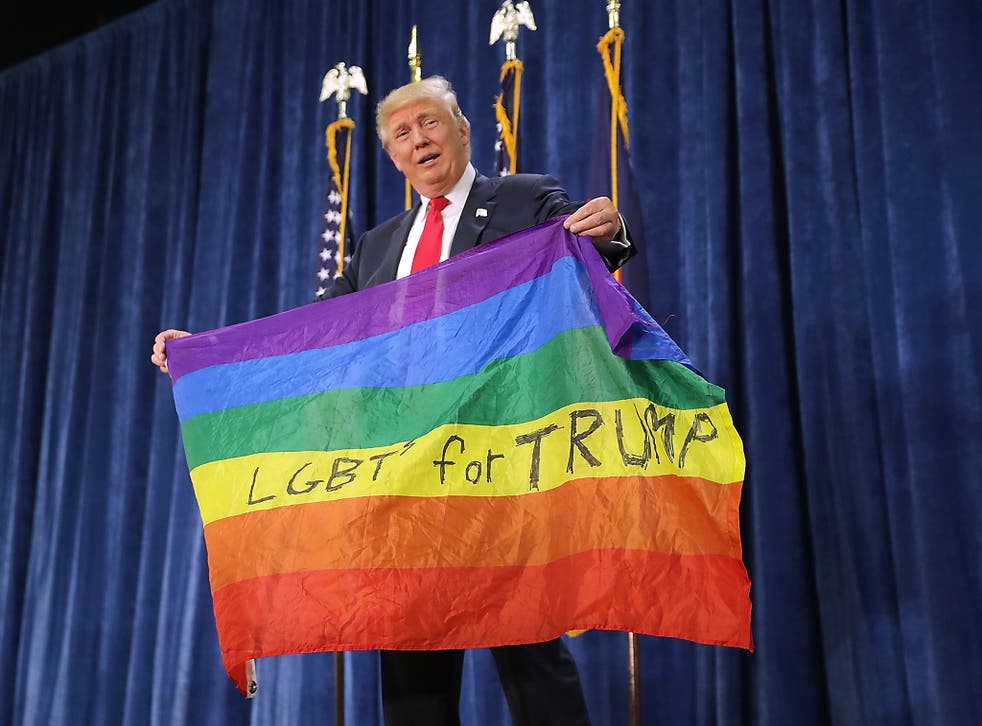 This week, at a rally in Colorado, Republican presidential nominee Donald Trump waved a rainbow flag on stage before a speech that had no mention of LGBTQ+ issues. The flag, seemingly held at a comfortable distance away from him was displayed to the rally attendees as he nodded and smugly smiled as if he had just done something revolutionary.
Ironically, the presidential candidate waved the flag upside down, an international code of distress, which is how many LGBTQ+ people feel when it comes down to a potential Trump presidency.
You don't have to be an expert on US politics to work out that Trump is far from the queer ally he regards himself as: A country ruled by the ex-Apprentice judge wouldn't be worth living in for the American LGBTQ+ community.
Trump v Clinton: US Election forecast - November 2
This man will easily wave our flag without taking responsibility for what that means. This is a man who dismissed the deaths of LGBT people following the horrific Pulse Nightclub shooting that left 49 dead and 53 injured to promote his own Islamophobic agenda. "Appreciate the congrats for being right on radical Islamic terrorism", he tweeted, without taking any consideration for the symbolic importance of what occurred on that night in June. If Trump fails to see how paying his respects to those LGBT people who tragically died that night and the significance of a gay club being singled out for an attack, he didn't understand that Pulse was a sanctuary for a certain group of people. It proves that he's never had to worry about fearing to hold his partner's hand in public.
That's not all. In the hope of winning the evangelical vote, Trump declared he would consider appointing conservative Supreme Court justices to repeal same-sex marriage and has openly supported a bill that would allow and pardon homophobic discrimination if it is justified on religious grounds. He also admitted to receiving speech writing assistance from a man who has apparently described gay men as paedophiles.
Donald Trump's most controversial quotes

Show all 14
When it comes to Trans bathroom laws, both Trump and his Vice Presidential nominee Mike Pence have confirmed their desire to dismantle the Obama administration's directive that allows transgender students in US public schools to use bathrooms according to their gender, so that "the transgender bathroom issue can be resolved with common sense at the local level".
Pence's LGBT record doesn't get much better either. On his website in 2000 he suggested that money used to support those with HIV should be directed to organisations "which provide assistance to those seeking to change their sexual behavior." That's right ladies and gentlemen, Pence supports gay conversion therapy.
Pro-Trump gay groups do, somehow, exist across the US. "Gays for Trump" and "Twinks for Trump" formed of mainly young, middle classed and, quite obviously, white gay men. It's hard to determine whether these people are parodying themselves by supporting a villainous duo that go against everything these supporters are or they actually believe in Trump – and will allow their hatred for supposed bad immigrants, Clinton and the Democrats mean that they are willing to sacrifice some of their own right. Either way this man is not their ally.
Trump - waving a flag does not get you the gay vote. Do not mock us with your fake support of our community. You are not the leader for us.
Register for free to continue reading
Registration is a free and easy way to support our truly independent journalism
By registering, you will also enjoy limited access to Premium articles, exclusive newsletters, commenting, and virtual events with our leading journalists
Already have an account? sign in
Join our new commenting forum
Join thought-provoking conversations, follow other Independent readers and see their replies