There may be sensible method to the madness of team Trump's approach to North Korea
Trump's team appears to be moving to isolate the regime diplomatically and Rex Tillerson called on Friday for UN members to implement sanctions on North Korea or downgrade diplomatic relations with the country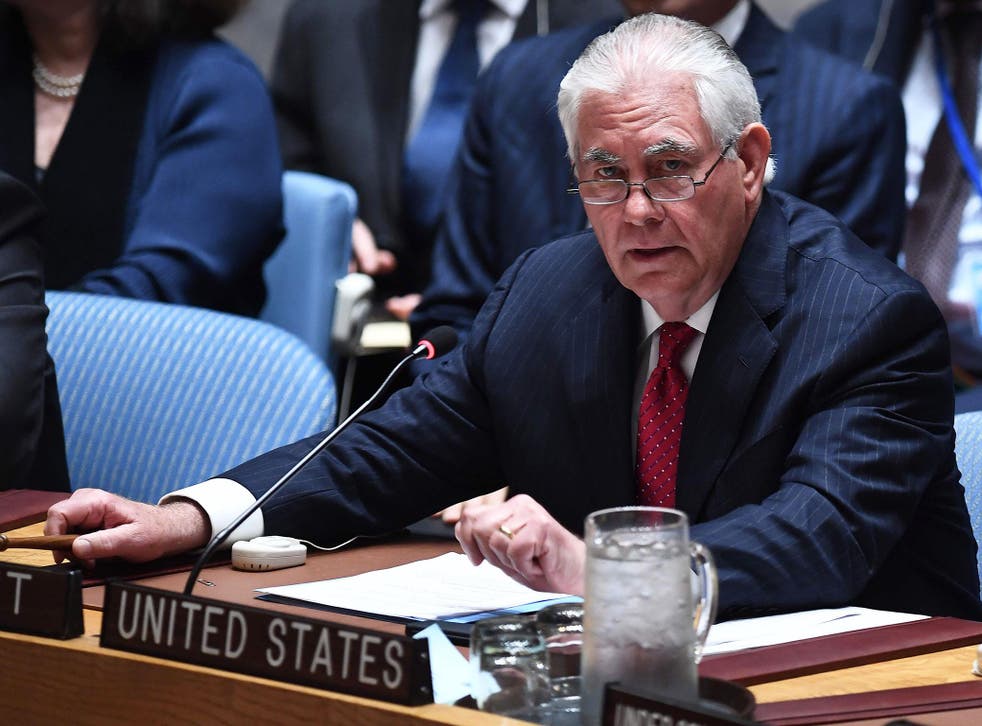 US Secretary of State Rex Tillerson said on Friday that Washington is willing to open direct negotiations with North Korea aimed at removing nuclear weapons from the country. Tillerson's intervention, at the UN Security Council, came as he warned that the threat of Pyongyang launching an atomic attack is "real".
Tillerson's gambit comes as he confirmed that the two-decade long US policy of "strategic patience" towards Pyongyang is over, with all options now on the table. While this includes military force, the Trump team appears to be moving first to isolate the regime diplomatically, and Tillerson called on Friday for UN members to implement sanctions on North Korea or downgrade diplomatic relations with the country.
His intervention builds on that of US President Donald Trump earlier this month – just prior to his meeting with Chinese President Xi Jinping. Speaking in his occasional blunt, raucous rhetoric, Trump said that if Beijing "is not going to solve North Korea, we [the United States] will".
Donald Trump's first 100 days: in cartoons

Show all 33
While there appears to have been a significant warming in the relationship between Xi and Trump since that meeting, their talk appears to have resolved little on North Korea. After the session, the USS Carl Vinson aircraft carrier was sent to waters near South Korea. Meanwhile, Xi reportedly sent a Chinese envoy to South Korea.
The fact that security tensions on the Korean peninsula have no easy resolution has been discovered by consecutive US administrations which have all grappled with responding to not just missile launches by Pyongyang, but also its nuclear tests – of which the next could come soon. Last year, the Obama team talked tough on multilateral sanctions, but found China reluctant to take comprehensive, sweeping measures against its erstwhile ally. This dialogue culminated in November, with the UN voting to tighten some sanctions in response to Pyongyang's fifth nuclear test.
Despite its frustration with North Korea, the key reason Beijing has differed with Washington over the scope and severity of actions largely reflects the fact that it does not want to push the regime so hard that it becomes significantly destabilised.
From the vantage point of Chinese officials, this risks North Korea behaving even more unpredictably, and/or the outside possibility of the implosion of the regime which would not be in Beijing's interests. It could lead to instability on the North Korea-China border, and ultimately the potential emergence of a pro-US successor nation.
Donald Trump warns 'major, major conflict' with North Korea is 'absolutely' possible
Recent US rhetoric has also given Beijing heightened concerns that Washington might now be thinking, much more seriously, about a pre-emptive strike on Pyongyang's nuclear capabilities. This is one reason why Foreign Minister Wang Li asserted last month that "China's priority now is to flash the red light and apply the break to both [the US and North Korean] trains" to avoid a collision.
Beijing is very concerned about the recent escalation of tension on the peninsular, which coincided this month with the North Korean regime's failed missile test following its celebration of the 105th anniversary of the birth of its founder with a huge military parade in Pyongyang. The latter event, which unveiled what appear to be new inter-continental ballistic missiles, has ratcheted up the war of words between Pyongyang and Washington, highlighted by North Korean Deputy UN ambassador Kim In-ryong's assertion that that "thermonuclear war could break out at any moment".
Beijing's concern here is, however, also with what it asserts is the United States fanning the flames by beginning last month's deployment of the controversial Terminal High Altitude Area Defense missile system (THAAD) in South Korea. China vehemently opposes THAAD, which it fears could be used for US espionage on its activities as much as for targeting North Korean missiles.
Taken overall, a decisive breakthrough in the North Korea stand-off appears unlikely in the immediate term, despite China's efforts at de-escalating tensions. Instead, sometimes-heated rhetoric from Pyongyang and Washington is likely to continue as the Trump team assesses, with key allies, the full range of its diplomatic and military options in the peninsular.
Andrew Hammond is an Associate at LSE IDEAS at the London School of Economics
Join our new commenting forum
Join thought-provoking conversations, follow other Independent readers and see their replies