As an obstetrician who just moved to America, I fear how far Donald Trump will take his anti-abortion stance
I've seen the reality of women choosing to have abortions firsthand – and what's happening in the Supreme Court seems to imply that Roe v Wade could soon be under attack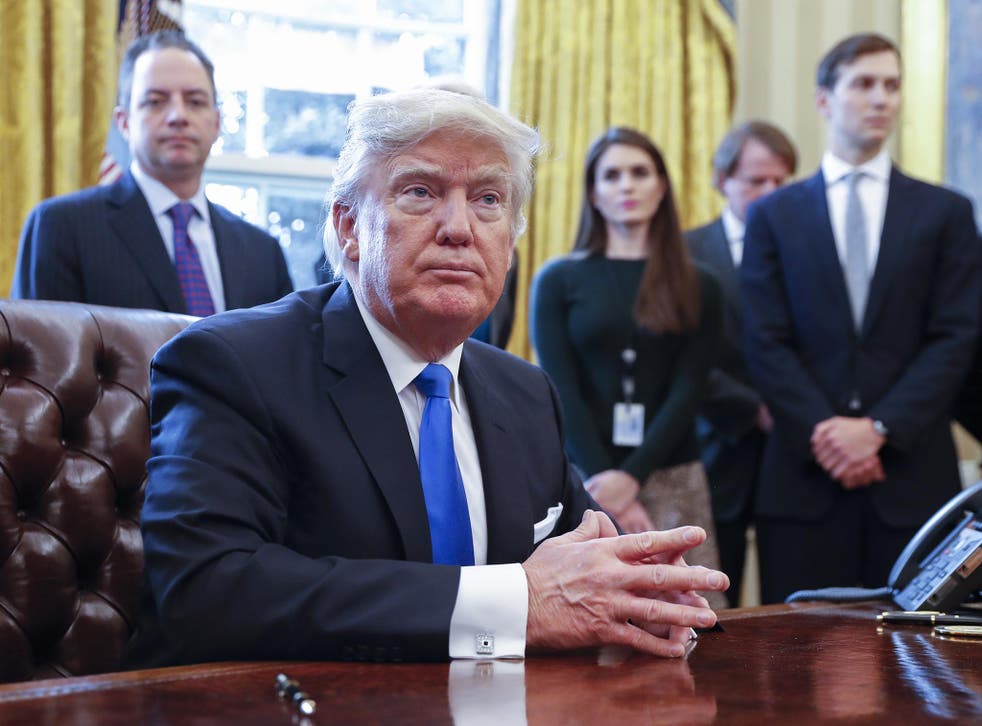 It is not even a week since the US inaugurated its 45th President but already we have a striking indication of the nature, intention and course this administration is likely to follow. The inauguration address strongly appealed to the nationalist agenda and promised to deliver "America First".
President Trump flexed his muscles this week by showing exactly how serious he is about this – not only did he sign executive orders pulling out of national trade deals but also reinstated the "global gag rule" which prevents any US funding to NGOs which aid access to reproductive health and contraception services. It even prohibits the use of any health professional engaged in providing preventive services to either perform or actively promote abortion as a method of family planning in other nations, since this risks the loss federal funding.
It was noteworthy that when signing this order, President Trump was surrounded by seven people, none of whom were women. Watching seven old white men make decisions about what women can do with their reproductive organs doesn't exactly make for the most inspiring photo from 2017.
At the White House Press Conference, Sean Spicer (who had earlier this weekend come under fire for the use of "alternative facts") made clear that the Trump presidency had a "pro-life" stance and would continue to "stand up for all Americans, including the unborn", intimating that future policies would reflect this.
The reality is that by withdrawing $600m (£476m) dollars from international development efforts to ease access to contraception services and family planning, Donald Trump has effectively restricted millions of women in developing and war-torn countries access to safe abortions, which the WHO estimates leads to almost 13 million deaths worldwide. As one of the richest economies in the world, this is staggering – the money saved is miniscule – but the message it sends to women is stark: you are on your own.
Sean Spicer: Trump to reinstate global abortion funding ban
As a woman, an obstetrician and someone who has recently moved to the States, this was a horrifying edict of the man who effectively legitimised grabbing women without their consent in the now infamous Access Hollywood audiotape. In the UK, it is almost 50 years since 1967 Abortion Care Act was passed, providing safe and legal access to abortion services. This law does not allow women to end a pregnancy just because they want to – instead, it allows doctors to exercise their clinical discretion to decide whether there are medical grounds to support a woman's request for abortion which can threaten her physical or mental health or that of her other children.
In my personal experience of women that have undertaken this difficult decision, it is rarely taken lightly: it hurts, it is painful and it lingers. But the decision is the woman's, and my role as a health professional is to guide her through the process with compassion, information and, most importantly, with no judgement. The fact that we can do this in the UK safely is an incredible achievement when we look across the Irish Sea and see women who are not quite so fortunate.
The recognition that this hard-won right in the UK is not easy has led the Royal College of Obstetricians and Gynaecologists to lead a campaign in Africa aiming to strengthen the competence and raise the standard of family planning and abortion care professionals. This work is necessary as it protects women who have experienced a pregnancy and are unable to continue with it. It prevents women from seeking illegal services or methods and also provides women with the ability to take control of their reproductive choices by using contraception – because more unintended pregnancies lead to more abortions. Aiding access to abortion does not increase it; it allows women to make informed choices.
President Trump's actions in the US set a very worrying precedent. In the past 40 years, there have been many attempts to overturn the rights afforded to women by the act which came into being after Roe v Wade. During the election campaign, Trump stated his "pro-life" stance and we know that Vice President Pence is vehemently anti-abortion. The Supreme Court in America is a lifetime appointment and there has been a vacancy since February 2016 because Republicans refused to confirm ex-president Barack Obama's nominee.
In pictures: Women of the world march against Trump

Show all 32
President Trump is expected to nominate a new justice to the court who has a conservative pro-life agenda. This by itself is unlikely to overturn Roe v Wade; however, there is concern that that Trump may get to appoint additional justices during his tenure as president, since three of the liberal justices are all in their late seventies or early eighties. This in turn puts the act – and access to abortion for women in America – at risk.
While 40 years of case law and precedent would be hard to undo, there is a legitimate fear that if the ruling was overturned, abortion regulations would be decided by individual states. Those in more liberal states would continue to have the same access to abortion, but women in more rural and conservative states might have to travel long distances or consider unsafe or illegal means to end a pregnancy. This is not acting for all Americans – this is just the opposite.
A pro-choice stance is not pro-abortion; it is something very different. It values autonomy for women and recognises that it is a woman – not the men around her – who has control over her body and what happens to it. Without that, we face very dark times ahead indeed.
Join our new commenting forum
Join thought-provoking conversations, follow other Independent readers and see their replies