Stop raging at Theresa May for congratulating Trump – there's good reason to believe his presidency will benefit the UK
It's now time to accept the facts – important ones, such as Trump rebuffing Obama's claim that the UK would be at the 'back of the queue' when it comes to making a new trade deal with the US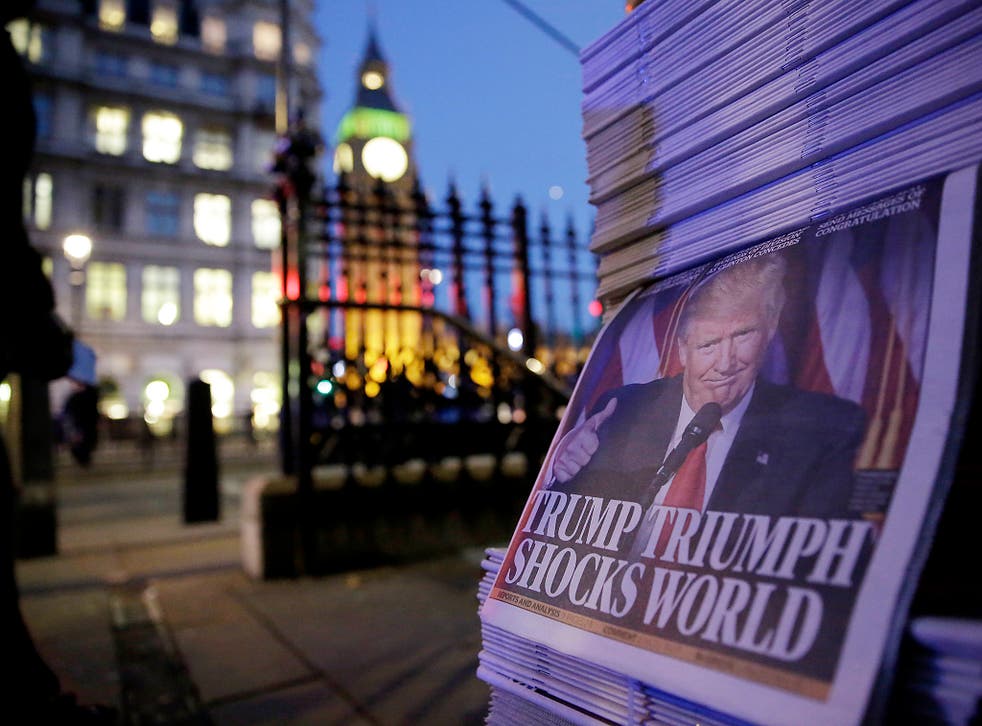 "Divisive, unhelpful and wrong," were Theresa May's words in December 2015, when she criticised Trump's call for a ban on Muslims entering the United States. Those words quickly turned to an offer of friendship, in a statement made just a few hours after major news outlets reported the shocking result that Trump had become President-elect: "Britain and the United States have an enduring and special relationship based on the values of freedom, democracy and enterprise. I look forward to working with President-elect Donald Trump, building on these ties to ensure the security and prosperity of our nations in the years ahead."
"Of course she welcomes Trump, she's a Tory," many have commented, linking the Prime Minister's support for the Republican candidate with Brexit rhetoric (despite the fact that May herself backed Remain). Slamming right-wing politics is not productive, when it is what we must learn to accept in a political climate that must be carefully negotiated after a year of upheaval. It is clear that May needs to swallow her previous condemnation of Trump, align the Brexit Britain she has promised to deliver with the new President as much as possible, and foster a fresh UK-US relationship.
Instead of becoming bogged down in hatred for every political outcome of 2016, it may be time to accept the facts – important ones, such as Trump rebuffing Obama's claim that the UK would be at the "back of the queue" when it comes to making a new trade deal with the US. Like it or not, May is Prime Minister, and Trump is the newly elected President. It is Trump's words that we must listen to now, and accommodate.
The stark change in UK and US political climates offers an opportunity. Trump wants to scrap a free trade deal with the EU in favour of "individual deals with individual countries". May has said that Parliament must accept the referendum result and deliver Brexit, which would involve what the new President-elect advocates. This is exactly why May is extending an offer of friendship to Trump.
Theresa May 'looks forward' to working with Donald Trump
There are ways post-Brexit Britain can work with Trump's US. For example, it is worth considering Trump's positive relationship with Putin, especially in light of MI5's comments that Russia is becoming "increasingly aggressive" and willing to use "propaganda, espionage, subversion and cyber-attacks" against other countries, including the UK. Associating positively with a US leader who has the power to build what Putin describes as "a constructive dialogue between Moscow and Washington" is the best way to improve the West's current icy relations with Russia, in light of EU sanctions following the annexing of Crimea.
When May first became Prime Minister, the British government arranged a call between Boris Johnson and his Russian counterpart, where both countries welcomed the prospect of normalised relations. Now Trump is taking a similar tack, real bridges could be built and international stability secured.
Policies on trade also show promise. Britain is the fifth largest economy in the world, and strong trading links can be maintained by negotiating treaties on an individual basis. Now is the time for May to engage in talks with Trump and come up with a plan that will benefit UK business. Trump has ties with the UK – his mother emigrated to the US from the Isle of Lewis, and he owns two golf courses in Scotland; such factors will make him more amenable to negotiation.
World reaction to President Trump: In pictures

Show all 29
There is a chance for Britain and the US to improve business for both nations by negotiating trade deals that satisfy both parties. We must not forget that Trump stated in his call for Britain to leave the EU: "You have to make your own deal. Britain's been a great ally. With me, they'll always be treated fantastically."
Trump made calls to nine other world leaders before speaking to Theresa May this afternoon. That's in line with his previous words: "I'm not going to say [Britain will be] front of the queue but you would certainly not be back of the queue, that I can tell you." There are ways that the special relationship can be built upon. It is time for personal opinion to be swept aside, however sad we might feel, and for a working relationship to be developed.
Register for free to continue reading
Registration is a free and easy way to support our truly independent journalism
By registering, you will also enjoy limited access to Premium articles, exclusive newsletters, commenting, and virtual events with our leading journalists
Already have an account? sign in
Register for free to continue reading
Registration is a free and easy way to support our truly independent journalism
By registering, you will also enjoy limited access to Premium articles, exclusive newsletters, commenting, and virtual events with our leading journalists
Already have an account? sign in
Join our new commenting forum
Join thought-provoking conversations, follow other Independent readers and see their replies