Why Trump's potential access to nuclear weapons has 50 Republican national security experts terrified
A foreign policy expert giving Trump a national security briefing has been disturbed that 'three times he asked about the use of nuclear weapons' in the hour they were together. One of the questions was 'if we have them, why can't we use them?'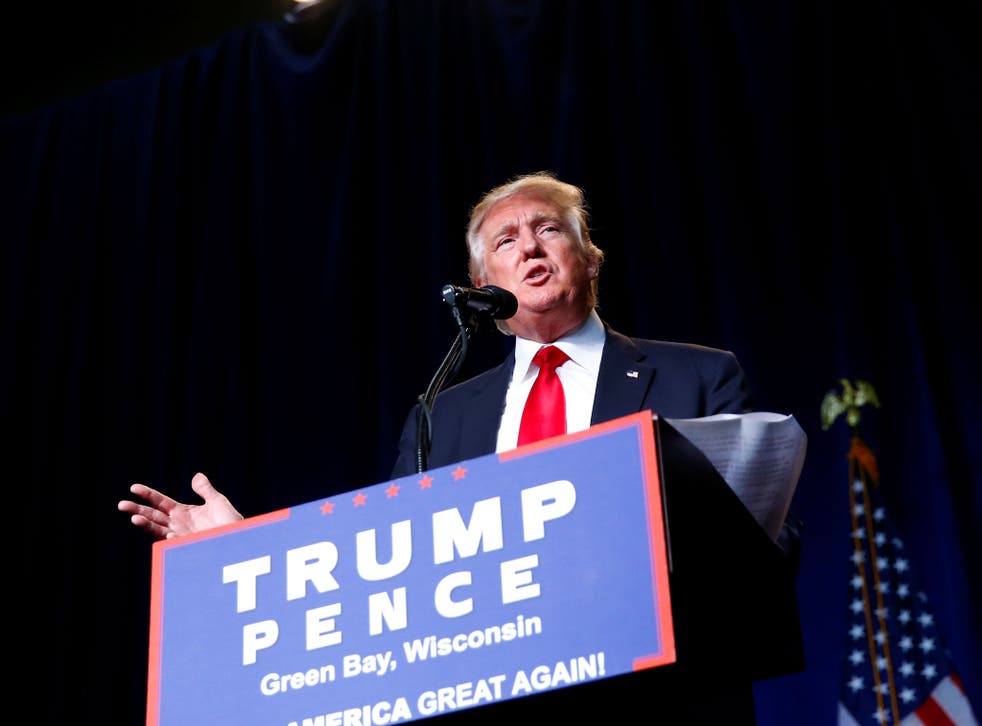 Henry Kissinger was said to have been hurt by reports that the film character Dr Strangelove, the swivel-eyed Teutonic accented proponent of America carrying out a nuclear strike, was based on him. Stanley Kubrick, the director of the masterpiece, attempted to mollify President Nixon's hawkish secretary of state by saying that it was an amalgam of Hitler's scientists who had been spirited to the US from Germany after the Second World War.
"Dr Strangelove or How I Learned to Stop Worrying and Love the Bomb", to give the film its full title, was released in 1964. In 1989 The United States Library of Congress picked the black comedy about the Cold War as one of a select group of works for preservation in the National Film Registry. On 6 August, 2016, the world marked the 71st anniversary of the day that America became the first and only nation to use the Atomic bomb, dropping it on Hiroshima.
In just three months, America will be voting in an election in which the Republican candidate, Donald Trump, has held, more than once, that using nuclear weapons is a viable option in a political crisis.
Trump's statements on nuclear strike have been overshadowed by all the other extraordinary things he had said in his extraordinary campaign. But the fact remains that the man who may yet become the world's most powerful head of state has been asking why America's military commanders have not used their nuclear weapons of mass destruction since Japan.
Trump speech concludes Republican Convention
In an interview with MSNBC last March, asked about nuclear strikes, Trump responded "Somebody hits us within Isis, you wouldn't fight back with a nuke?" He refused to rule out using nuclear weapons in Europe, saying "Europe is a big place, I'm not going to take my cards off the table". Defence strategists who have been called in to advise the Republican candidate say he is genuinely puzzled why using the bomb is not more part of current combat doctrine. He wants to be "unpredictable" about what he may or may not do with nuclear weaponry.
Perhaps the special relationship Trump wants to forge with Vladimir Putin and his warning that he may not act to protect the Baltic states from any future Russian aggression will mean that an American nuclear strike will not be necessary in Europe. But Trump also appeared to be ignorant of the history of deterrence and, while he has, like other right-wing Republicans, castigated Barack Obama over the Iran nuclear deal, he seems sanguine about nuclear proliferation, saying that he would have no problem with Saudi Arabia, South Korea or Japan getting the bomb.
Trump holds that nuclear weapons and the ramification of their use is a pretty simple matter. "It would take an hour and half to learn everything there is to learn about missiles...I think I know most of it anyway," he has declared. Hilary Clinton has, naturally taken advantage of all this. She asked voters to "Imagine him in the Oval Office facing a real crisis. A man you can bait with a tweet is not a man we can trust with nuclear weapons."
But it was a conservative Republican talk-show host, Joe Scarborough, who has been among the first to raise the issue and express his concern. It was he who revealed that a foreign policy expert giving Trump a national security briefing had been disturbed that "three times he asked about the use of nuclear weapons" in the hour they were together. One of the questions was "if we have them, why can't we use them?"
Donald Trump's most controversial quotes

Show all 14
Fifty Republican national security experts have just warned in a letter that Trump "would be the most reckless president in US history", someone who "lacks the character, values and experience" to be in the White House. The Republicans will remember how Lyndon Johnson, in his 1964 presidential campaign against Barry Goldwater, the candidate of the Republican right, broadcast a TV ad showing a little girl counting flower petals as mushroom cloud envelops the screen. The ad was shown just once, but was seen as having a major impact in securing Lyndon Johnson's victory.
Henry Kissinger, whose name was not on the letter condemning Trump, apparently never fully accepted that Dr Strangelove, who was played by Peter Sellars, was not, at least partly, based on him. Sellars also played the part of the US president, Merkin Muffley in the film. At first he made the character a comic one, but then decided that was inappropriate. The leader of the 'free world' should be portrayed, he decided after speaking to others, as a "responsible and stable character" in the drama.
In his show, Joe Scarborough had recently asked former CIA director Michael Hayden, one of the signatories of the Republican letter, whether there were checks and balances to ensure that if Trump "gets angry, he can't launch a launch a nuclear weapon", given the perception that he might not be "the most stable guy". Hayden replied "The system is designed for speed and decisiveness, it's not designed to debate the decision. He is inconsistent, and when you're the head of a global super power, inconsistency, unpredictability are dangerous things. They frighten your friends and they tempt your enemies. And so, I would be very concerned."
Register for free to continue reading
Registration is a free and easy way to support our truly independent journalism
By registering, you will also enjoy limited access to Premium articles, exclusive newsletters, commenting, and virtual events with our leading journalists
Already have an account? sign in
Join our new commenting forum
Join thought-provoking conversations, follow other Independent readers and see their replies