Trump's war of words with Puerto Rico is masking the true scale of the disaster
Upon arriving in San Juan, President Trump himself appeared to use the low death toll to suggest the disaster was not as bad as all that. Nothing like Hurricane Katrina in Louisiana, he piped up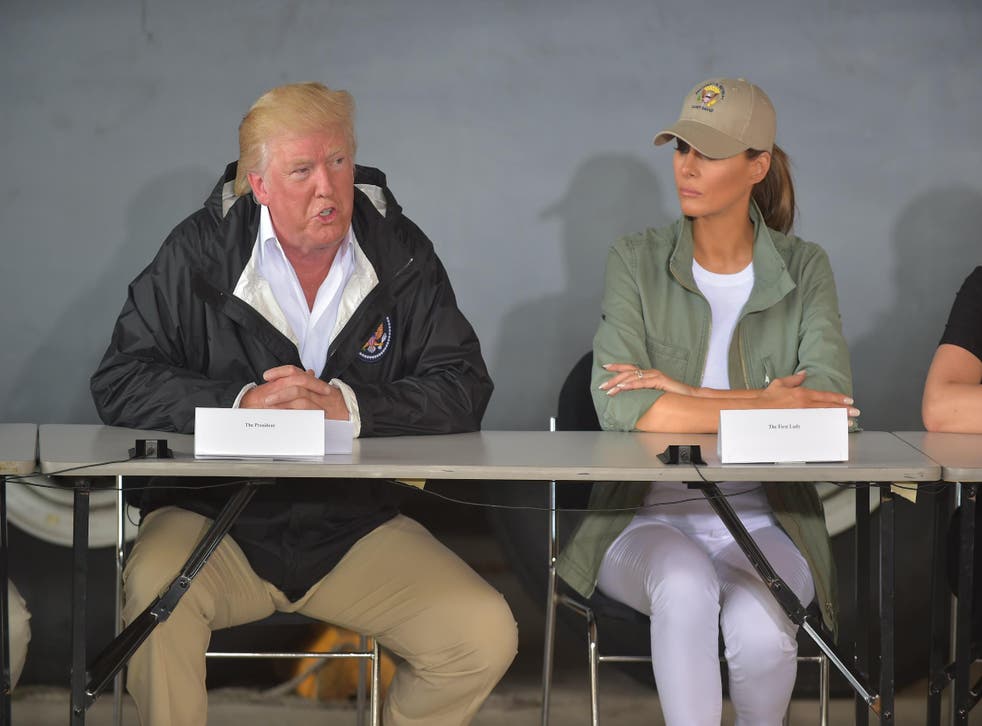 The blame-sharing for the treacle-slow start to the federal government's recovery efforts in Puerto Rico will not end soon. Even before leaving Washington for San Juan on Tuesday, Donald Trump was again congratulating himself on "what a great job we've done" and suggesting it was time that the "truck drivers start driving trucks". As if they weren't already.
That Trump continues to speak in such divisive terms to the Puerto Ricans is inexcusable. It does him no favours politically. And it certainly doesn't help the people of the island. All they need to hear is that the United States cares about them and will bring them aid and comfort.
The confrontational back and forth, especially between Trump and the spirited mayor of San Juan, Carmen Yulin Cruz, is meanwhile obscuring many of the truths lying behind what went wrong in the early days of the crisis. Why, for example, the USNS Comfort, one of the Navy's two hospital ships, docked at the port in San Juan only on Tuesday when it could have arrived days ago if the Pentagon had grasped complicating factors behind the catastrophe a little faster.
World news in pictures

Show all 50
One is that Puerto Rico is an island. Trump has been widely ridiculed, notably by Alec Baldwin impersonating him on Saturday Night Live, for mentioning this fact. It did sound a little ridiculous from a country who put someone on the moon. Yet, it clearly makes the logistics of getting aid to the territory much more difficult than it was for Texas or for Florida. For days, the airports were almost unusable. Landing radars were out. Terminals were without power and so on.
The President moreover forgot all empathy, suggesting the island itself had fallen short in getting things moving. Again, though, the point had some legitimacy, even if it didn't have to be aired. Governor Ricardo Rossello has not been long in office. He is 36 years old with an inexperienced staff. He would surely admit he was not entirely prepared for the scale of devastation. To put Maria in perspective, past hurricanes have cost Puerto Rico millions of dollars. Irma, which hit days earlier, did damage of about $30m. The damage from Maria will run into the billions.
Trump says Puerto Rico's disaster has 'thrown our budget a little out of whack'
And consider this. On the morning after the storm, trees had to be chainsawed in pieces before Rosselló could even leave his residence in Old San Juan. The same went for the island's emergency director's office. He too was blocked in. His headquarters was in ruins also and all operations were moved to the San Juan Conference Centre where they remain.
Then, perhaps most important of all, there was the death toll. It wasn't in the tens of thousands or even in the hundreds. It was and remains, as far as anyone has said so far, in the twenties. Like it or not, we tend to use death toll numbers to assess the scope of a disaster. This goes for the media too. A hundred dead and we will deploy reporters. Otherwise, no. Same goes for governments and spending emergency response money.
Upon arriving in San Juan, President Trump himself appeared to use the low death toll to suggest the disaster was not as bad as all that. Nothing like Hurricane Katrina in Louisiana, he piped up. "Sixteen versus in the thousands. You can be very proud of all your people, all of our people working together. Sixteen versus literally thousands of people. You can be very proud."
But this disaster is different and finally everyone is beginning to see it. Speaking to The Independent ahead of Trump's fly-by, Mayor Yulin called what is happening here a "death continuum".
Trump claims Puerto Rico suffered because it was 'surrounded by big water'
"Up to 23 dead [her number] and people say that's not a disaster. But then comes the aftermath. The elderly who are stuck in their homes. No petrol, no diesel. People stuck on the 11th floor and they can't come down, you can't buy food, your medication runs out and you can't get it. Death can also be a continuum. We are dying here when you are without food or water for many days. When you can't get dialysis, you are dying."
To spend just 24 hours in San Juan is to grasp the mess, whatever the death toll. It is a city almost without power. At night, the roads are the Wild West. During the day, the main arteries come to a standstill, in part because those truck drivers are driving their trucks. And without traffic lights, and with ordinary citizens stopping their cars on the shoulder whenever they get a cell signal, everything seizes up.
Leave the city and you encounter a blasted landscape of broken trees that might be an infernal Jurassic Park. Trees stripped of their leaves drape the mountains, a tangle of grey limbs as far as the eye can see. Standing firewood. Agriculture has been decimated, especially arable crops like plantain, have been crushed and wiped from the soil.
This is a different kind of crisis, not one that fits those the US might be used to and better equipped to deal with. One that the US has rarely seen before. Sure, the operation launch was hesitant and inexcusably slow. But there were complicating factors in dealing with it, including it being surrounded by water. It's a shame that Trump's awful way with words is obscuring all of this and indeed the serious lessons that America needs to learn.
Join our new commenting forum
Join thought-provoking conversations, follow other Independent readers and see their replies