Donald Trump is given cause for concern as FBI Special Counsel Robert Mueller follows the money to Deutsche Bank
Probing of the President's accounts sees the Russia collusion inquiry reaching into the very heart of the billionaire businessman's financial life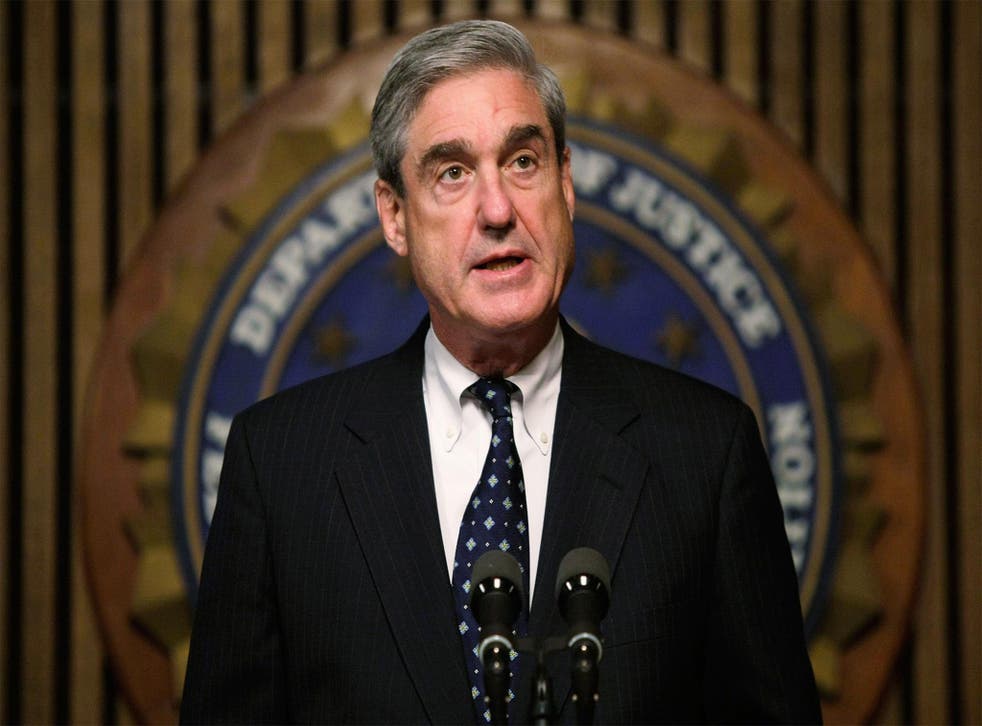 "Follow the money," the source known as Deep Throat told Bob Woodward as he was reporting the Watergate scandal. Today we learn that special counsel Robert S Mueller III is following President Trump's money. Reuters reports:
"US Special Counsel Robert Mueller has asked Deutsche Bank for data on accounts held by President Donald Trump and his family, a person close to the matter said on Tuesday.
"Germany's largest bank received a subpoena from Mueller several weeks ago to provide information on certain money and credit transactions, the person said, without giving details, adding key documents had been handed over in the meantime.
"Deutsche Bank, which has loaned the Trump organisation hundreds of millions of dollars for real estate ventures, said it would not comment on any of its clients."
This may turn out to be no big deal – perhaps Mueller will find that all Trump's transactions with Deutsche Bank were above-board and free of any funny business, and also that nothing he discovers there will lead to evidence of any other misconduct on Trump's part. But the fact that Mueller is looking at Deutsche Bank means his probe is reaching the very heart of Trump's financial life.
Why is Deutsche Bank so important? After a string of bankruptcies and broken promises, pretty much every other major bank stopped lending Trump money some years ago. The one exception was Deutsche Bank, to which Trump owed $364m as of the end of last year. By sheer coincidence, Deutsche Bank recently had to pay $670m in fines for its role in a Russian money laundering plot (though as Bloomberg reports, the bank's internal investigation found no link between Trump and that scheme).
At this point, we don't know exactly what Mueller is looking for in the Deutsche Bank records. Law professor Ryan Goodman suggests that Mueller could be trying to determine if Trump's loans from the bank were guaranteed by Russian interests, which could mean he was indebted to them in ways that could compromise him.
What we do know is that the Russia investigation has led Mueller to Trump's personal finances, which provide a target-rich environment if you suspect financial malfeasance. Trump has a long history of shady dealings – outright scams such as Trump University, refusing to pay vendors who supplied him with goods and services, bankruptcies that allowed him to skate away from huge debts while others were left holding the bag. And he also has deep financial entanglements with alleged Russian oligarchs and mobsters.
This latest news demonstrates that Mueller is proceeding on multiple tracks, all of which could come together in the end:
There's the question of whether Trump or anyone else committed any financial crimes; former Trump campaign chairman Paul Manafort has already been indicted on that score, and there could be more to come.
There's the question of whether the Trump campaign colluded with Russia, for which we already have ample evidence.
There's the question of whether obstruction of justice took place, for which evidence is growing by the day. In a recent tweet, Trump admitted that he knew then-national security adviser Michael Flynn lied to the FBI about his conversations with Russian ambassador Sergey Kislyak when he fired him, which means Trump knew Flynn had committed a crime when he asked then-FBI Director James Comey to lay off investigating Flynn. (Trump's lawyer denies he meant the tweet this way, and Trump denies Comey's account of their conservation).
That last one was just one piece of a broad campaign Trump undertook to hinder the Russia investigation in general and the investigation of Flynn in particular, which reportedly included asking top officials in the intelligence community to pressure the FBI to shut it down and pressing Republican senators to end their own investigation. And that's not to mention the fact that Trump said on national television that he fired Comey to shut down the investigation, and told the same thing to the Russian ambassador and foreign minister.
In that tweet about Flynn, Trump closes by saying, "There was nothing to hide!" That has indeed been a consistent line from Trump himself, the White House and the President's defenders: nobody did anything wrong, all the contacts with Russians were just routine, and there's nothing to hide.
But if that's the case, why do so many Trump associates keep getting caught lying about Russia?
Flynn lied to the FBI about the substance of his conversations with Kislyak.
Jeff Sessions repeatedly told Congress that neither he nor anyone else on the Trump campaign had any contact with Russians, which we now know was false; not only did Sessions have multiple contacts with Kislyak, he was aware of contacts George Papadopoulos had with Russians.
The biggest names involved in the Trump-Russia investigation

Show all 17
On Tuesday The New York Times reported that while national security aide K.T. McFarland told Congress she was unaware of the nature of Flynn's dealings with Kislyak, newly released emails show she had detailed knowledge of those dealings, which strongly suggests she lied to Congress.
Donald Trump Jr, in a statement personally dictated by President Trump, lied to the public about that notorious meeting with a group of Russians offering dirt on Hillary Clinton.
That's a whole lot of people around Trump who are acting like they have something to hide. And nobody has more to hide than the president himself; he didn't withhold his tax returns because he's so modest about how wealthy he is. If Mueller is getting deep into Trump's finances, we may well find out just what he's been working so hard to keep the public from finding out.
The Washington Post
Register for free to continue reading
Registration is a free and easy way to support our truly independent journalism
By registering, you will also enjoy limited access to Premium articles, exclusive newsletters, commenting, and virtual events with our leading journalists
Already have an account? sign in
Register for free to continue reading
Registration is a free and easy way to support our truly independent journalism
By registering, you will also enjoy limited access to Premium articles, exclusive newsletters, commenting, and virtual events with our leading journalists
Already have an account? sign in
Join our new commenting forum
Join thought-provoking conversations, follow other Independent readers and see their replies