Trump's visit to the UK highlights how even the most powerful women are still considered inferior to their male counterparts
The 'optics' do matter, and surrounding Trump with successful women has its own pleasure, but what matters more is a shift in narrative, a change in the way we view men as inherently powerful and women as little more than decoration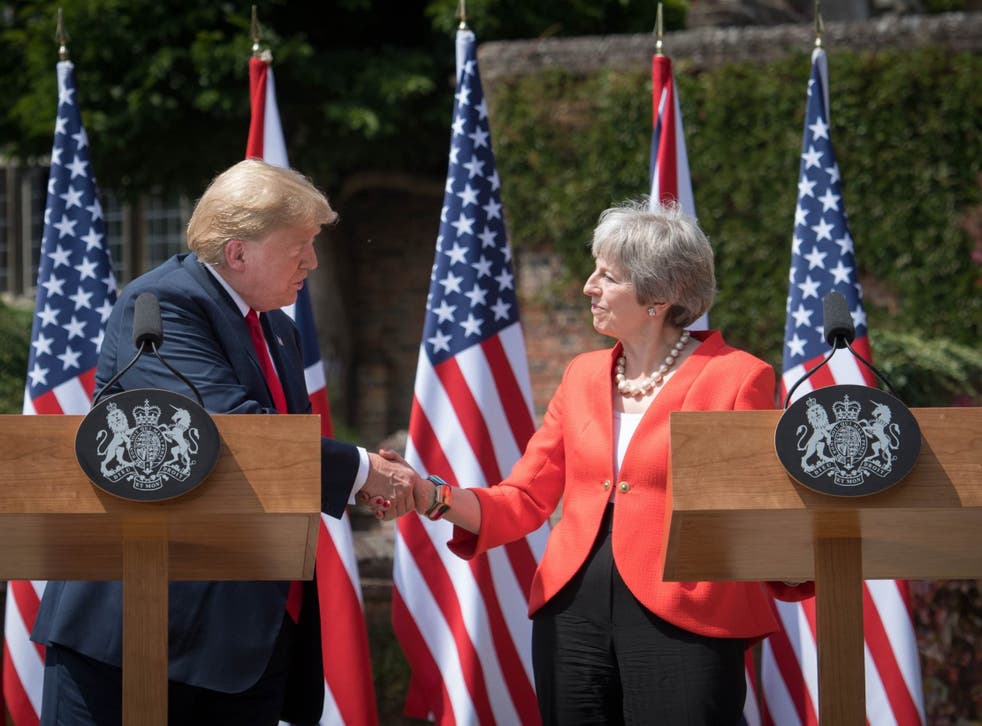 It's rare that I feel particularly proud of British politics, but seeing Donald Trump – chauvinistic pig that he is – come to the UK and be faced with the prospect of meeting multiple powerful women was quite charming.
The Queen, Theresa May (with whom he apparently had breakfast, lunch and dinner!) and, now that he's golfing in Scotland, avoiding Nicola Sturgeon, who he apparently "hates". Quite an endorsement for her, I would think.
There's nothing more satisfying than quietly showing a misogynist what women being in power looks like, and his strange, childish namecalling, tantrum-throwing demeanour just makes everyone around him look all the more dignified and professional – something of a redemption for May after the chaotic week she's had.
The "optics" do matter, and surrounding Trump with successful women has its own pleasure, but what's more important is a shift in narrative: a change in the way we view men as inherently powerful and women as little more than decoration – something we are still far off from achieving. Nothing showed this more starkly than the responses to Theresa May over the past few days.
For some reason, Trump felt not only that he should give May presumably unsolicited advice on how to do her job, but also publicly berate her for not taking it.
"I told her how to do it, but she didn't listen," he told The Sun. Bearing in mind that he consistently seems to misunderstand and contradict his own policies, the fact that he thought wading into one of the most complex diplomatic negotiations in recent history was a good idea shows the extent of his arrogance – but it also begs the question of whether he would have been offering "suggestions" and "advice" to a male prime minister.
Readers may roll their eyes and tell me that Trump is just a narcissistic not-very-clever man-child with an inflated ego, who would think he's better than men and women alike.
But study after study shows that women are given a harder time at job interviews, interrupted more, respected less in business settings and consistently belittled in a work environment. Any woman who has worked in a male-dominated (read: well paid and/or well respected) industry will have experienced this on some level: when people talk to their more junior male colleagues presuming that they are in charge, when they are given tasks which are considered less important, and that crucial one – when they are told how to do their jobs by men who know little about it.
There is a reason "mansplaining", as a term, has become part of the vocabulary – it's a real thing. It is not mansplaining when a man explains something to a woman; it's mansplaining when men tell women how to do something that they already know, and are probably more qualified to do (this Twitter thread is an excellent collection of examples): how to pronounce your own name, how to raise your own children, or in Trump's case, how to keep the country you run afloat in extraordinary times.
It stems from the ingrained belief that women cannot possibly be as competent as men. Such a belief can only be dismantled if we consciously choose to stop holding men and women to a different standard.
Yesterday the internet was awash with comments on Theresa May's choice of outfit on Thursday evening for her state dinner with Trump at Blenheim palace. He wore a suit, and of course no one commented, but May's dress was criticised for everything from its colour (red) and its cut (a slit at the back), to what she wore under it (not a good enough bra, apparently).
She was shamed for her age, her body and her choice of outfit, and helpfully told what she should wear to be "age appropriate" and "flatter her figure". While Trump is sometimes mocked for his appearance – namely his clear love for tanning beds – he is not judged on his ability to do his job on that basis.
Women's March 2018 across the world: in pictures

Show all 35
Meanwhile, after Trump's outrageous comments in his interview with The Sun – which he has since called "fake news" even though there is an actual recording of him saying it – Love Actually started trending on Twitter as everyone began calling on Theresa May to respond in the style of Hugh Grant and take Trump to task.
Her failure to do so has been characterised as "weak" and "spineless", when in fact to do anything other than what she did with a president as thin-skinned and explosive as Trump would have been a disaster.
May is not some meek submissive lady who needs to be told what to do by a man with no comparable experience; she's theoretically the most powerful person in the country, who is making (often horrifyingly bad) choices because voters gave her a mandate to do so.
If even Theresa May is faced with mansplaining, body shaming and sexist stereotyping. then I see little hope for the rest of the women in the country: women who just want to go to work and do their jobs, without being considered less than just because of their gender.
Register for free to continue reading
Registration is a free and easy way to support our truly independent journalism
By registering, you will also enjoy limited access to Premium articles, exclusive newsletters, commenting, and virtual events with our leading journalists
Already have an account? sign in
Register for free to continue reading
Registration is a free and easy way to support our truly independent journalism
By registering, you will also enjoy limited access to Premium articles, exclusive newsletters, commenting, and virtual events with our leading journalists
Already have an account? sign in
Join our new commenting forum
Join thought-provoking conversations, follow other Independent readers and see their replies