The Independent's journalism is supported by our readers. When you purchase through links on our site, we may earn commission.
I haven't spoken to my family since they elected Trump as President one year ago – I'm not ready to forgive and forget
From the Muslim ban to his attacks on the press, to openly threatening war on Twitter, Trump has exceeded my worst expectations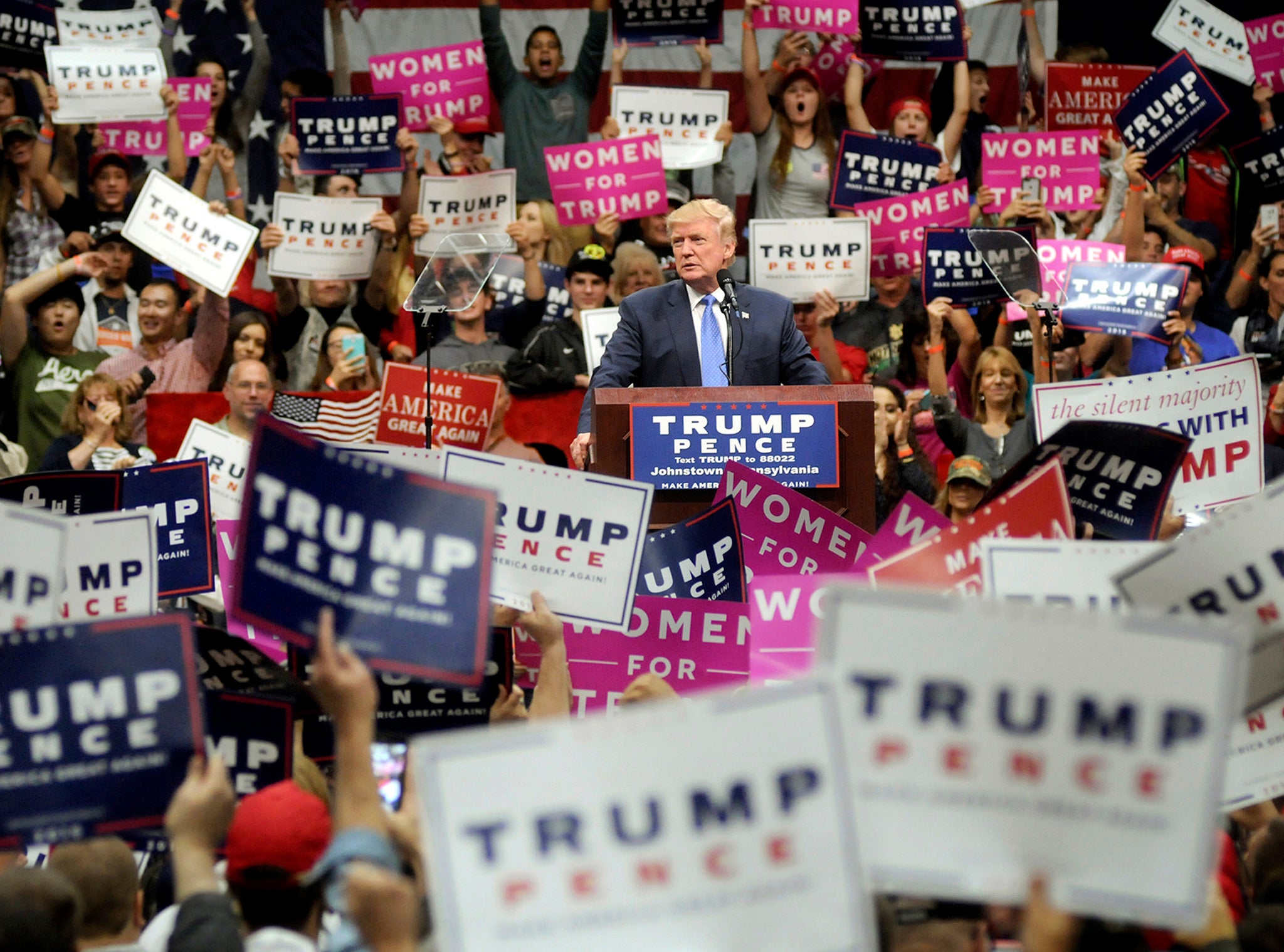 I'm still angry. That's the emotion I keep coming back to as I think about today. One year ago I sat in silent horror as Donald Trump was elected the 45th President of the United States. I'm still teetering between my seething rage and absolute terror. "They say time heals everything," the Dixie Chicks famously sang, "but I'm still waiting."
Last November I wrote my first piece for The Independent about how divided my American family was by the election. Half of us voted for Trump and half, like me, voted for Clinton. The election fractured us, and we've still not recovered. I haven't spoken to either of my sisters all year.
I don't know if they want to speak to me or not. I left one a voicemail a few months back when a producer approached me about a documentary on family's divided by the election. She never called me, nor him, back. I've been approached by several producers since, and I've told them no – we're not interested. Neither of us are ready to forgive and forget.
Donald Trump's least presidential moments so far...
Show all 30
I, for one, can't forgive. The last ten months have been more horrible than I ever could have imagined. Literal Nazis march through our streets. They killed an innocent woman because she dared protest them. The President managed a mealy-mouthed response that was basically a wink in their direction. Evil has been emboldened. Hate crimes are on the rise. White nationalism is mainstream. To my mind, Trump did this. His voters did this. I can't forgive them.
I'm still so incredibly pissed off that we are where we are. It's a constant deluge of proto-fascism, racism and xenophobia. From the Muslim ban to his attacks on the press, to openly threatening war on Twitter, Trump has exceeded my worst expectations. Every push notification increases my stress and each tweet gives me anxiety.
It's exhausting. Tina Fey got a lot of flack for her bit on "sheet caking" (eating cake instead of protesting because it's all just too much to handle) back in the summer, but I get it. Every single day is an experiment in terror, wondering what the sociopath-in-chief is going to do next. Staying engaged is an Olympic sport, and not letting the sheer amount of sewage coming from the Trump sh**storm wear you down is a Sisyphean task.
Donald Trump tramples over fish-feeding ritual by chucking entire box into pond
Just writing this, I keep coming up with new things his administration has done. Fired Jim Comey. Called a Gold Star widow a liar. Leaked American intelligence to the Russians in the Oval Office. Alienated our Nato allies by giving a divisive speech, and then shoving the Prime Minister of Montenegro.
He's too dumb to know what he can or can't do. He was apparently shocked to learn he couldn't direct the FBI to investigate anyone he wants. When told about the 25th Amendment – which provides the means to remove this sunburnt baboon from office – he had to ask what it is.
For all these reasons and so many more than I have the column inches to say, I am still bitter, and I am still so angry at every single American who voted for this monster. What makes me even angrier today than I was a year ago, though, is that these plonkers still support him. Even with no tangible achievements to his name, the Red Hats still stand lock-step (or should I say goose step?) with the tangerine tyrant they put in the White House. Even as he tries to strip them of healthcare or pass tax cuts that will make the rich richer, they stick with him.
The people who voted for him knew what they were doing and they did it anyway. They're happy, but I don't know how much more of this we can take as a country. There is no silver lining here.
A year on from his election and Trump has proven to be worse than we could have imagined. For perhaps the first time in my life, I truly relate to that Dixie Chicks song. I'm still so viscerally angry at every bastard who put us where we are today. A year has passed, but I'm not ready to make nice.
Join our commenting forum
Join thought-provoking conversations, follow other Independent readers and see their replies