Stop saying Northern Ireland doesn't deserve the £1bn given to us by Theresa May – it's long overdue
An astonishing 22 per cent of the entire Northern Irish population is on a hospital waiting list, with the Royal College of Surgeons saying the situation is 'spiralling out of control'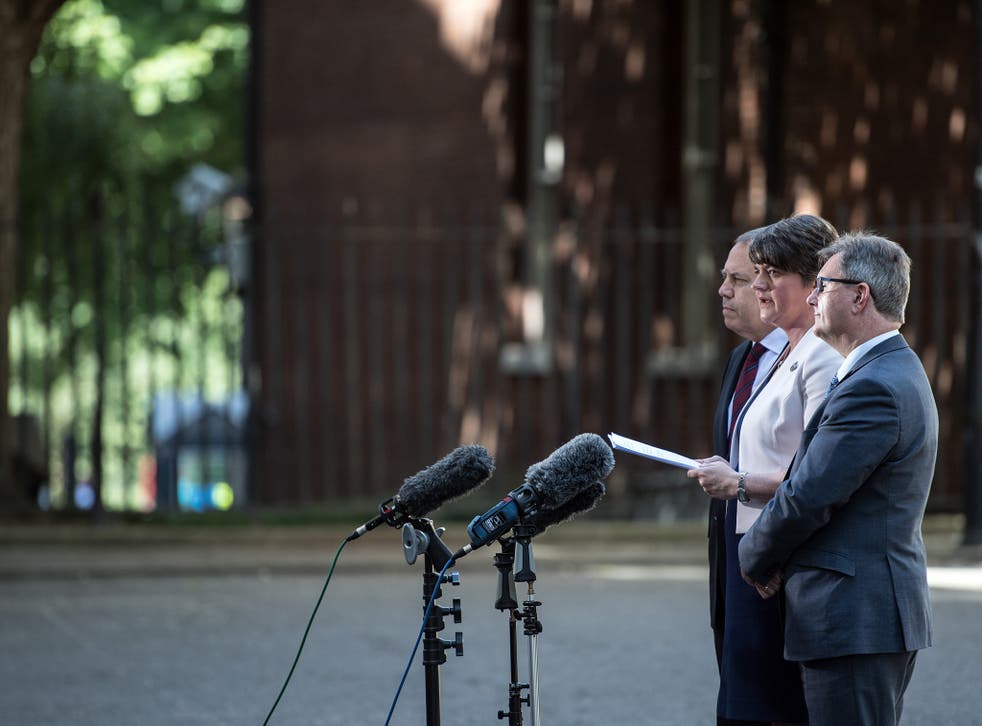 Ever since the DUP-Tory deal was revealed, a bizarre and unfamiliar feeling began wafting across sections of mainland UK – an infuriating sense of being ignored, of being passed over for much needed resources and of being shunted to the side for political convenience. If Northern Ireland could speak in response, it may murmur something about the world's wee-est violin that it's currently playing.
The reality is – despite all the uproar – this is money Northern Ireland vitally requires. There have been two aspects to the deal that I want to address, in a valiant attempt to add facts to the whole discussion: why NI needs the money and why people need to stop talking up the supposed "frailty" of our peace.
Now, it is a sign of these see-saw times that I have found myself defending a party, in a sense, that I have long opposed – only last week I furious at the new DUP MP Little-Pengelly, refusing to push to take down the gang flags which have sprouted in South Belfast, around the area I live. But this is not about the Salem Tribute Act that passes for the DUP – it is about Northern Ireland, the most impoverished area of the UK, which simultaneously is the most frequently ignored.
UK news in pictures

Show all 51
Firstly, the offending funds to flow to us are as follows: £300m for Health (including £50m for mental health provision), £50m for education, £550m for infrastructure projects and £100m for deprivation.
And to put this deal into context, the 2017 Spring budget will see £46bn spent on paying the interest on UK debt, £102bn on education and £149bn on Health – but I'm sure you'll feel the pinch of this comparatively fractional amount being diverted to help the UK's poorest region.
So why do we deserve it?
In education, you maybe didn't hear that NI's largest teachers union described recent cuts as rendering our education system "unsustainable", or that two out of every five children in NI won't get five GCSEs, including English and Maths.
A few months ago the Royal College of Surgeons said hospital waiting lists in NI were "spiralling out of control", with it sitting at 400,000 last year – an astonishing 22 per cent of the entire Northern Irish population.
As for deprivation, you might not be aware that 24 per cent of our children live every day of their lives in poverty, with our region having the lowest average wage and also the highest percentage of adults in the UK with less than £100 of savings (56.7 per cent).
Conservative-DUP deal: In 60 seconds
You know why our education, hospital and levels of deprivation have got into that state? Because the kind of additional funding we are about to be given now has never came; because the kind of attention that political necessity has forced the government to have in us was never previously forthcoming. The idea that any region in the UK wouldn't have done exactly as we have is ridiculous; the idea that we aren't worthy of it, and our being paired with the Queen's palace's renovations as an example of a "money tree", is downright stupid.
And while on the topic of downright stupidity, let's quickly note the constant references, from old politicians to commentators who should know better, that this deal will plummet Northern Ireland into violence.
Currently, NI politics is in a depressing rut, but the idea that we are an extremely high-maintenance child, with a trigger happy finger, needing led back by the hand, away from the edge, every time the weather turns, is a bit much. We inherently have the capacity to reform our executive, as it was the Northern Irish people themselves who found the reserves to cement peace in such an eternal way as we have. Our political institutions are shaky as their blue print embeds fatal and systematic errors – yes, we need talks chaired but we don't need hand-holding – we need engagement and not an incessant reduction in our resources.
The idea that our peace is so fragile diminishes the losses the generation before me suffered and disregards the investment in a terror-free existence that we as a nation have made, and continue to make, every day.
Talking up the frailty of our peace for political capital is deeply insulting, opportunist and obscenely inaccurate. So please stop it. Stop allowing English politicians, last in Northern Ireland two decades ago, to make these grand statements with such high accord; and for the commentators, who continue to make these claims, stop using the imagery of my country on fire to politically point score against May.
I find it fascinating though that the same people who talk up Northern Ireland's potential to break into conflict ignore our past's very real impact on everyday lives – deprivation. That is another reason why we are different, and deserve more money than the other regions. The Troubles continues to reverberate through Northern Irish lives. In 2012, the biggest ever study in poverty in the UK was conducted. It not only found that "levels of deprivation and financial hardship are more extensive in Northern Ireland than in the UK as a whole", but it found that those who were affected by the Troubles are significantly more likely to suffer deprivation. These are factors that, gracefully, nowhere else in the UK endures; it is why we are a special case; it is why this money is needed, and shouldn't be derided.
Northern Ireland is a beautiful, buoyant, brilliant place but we need help – for once, and at last, we're getting it – so why on earth are you begrudging us that?
Join our new commenting forum
Join thought-provoking conversations, follow other Independent readers and see their replies