Angela Merkel should not be blamed for the massacre at the Berlin Christmas market
For many the reaction will be to turn their backs on refugees, to turn to extremist groups such as Alternative für Deutschland, and to regret the million or so hopeless people who were admitted to Germany as they fled for their lives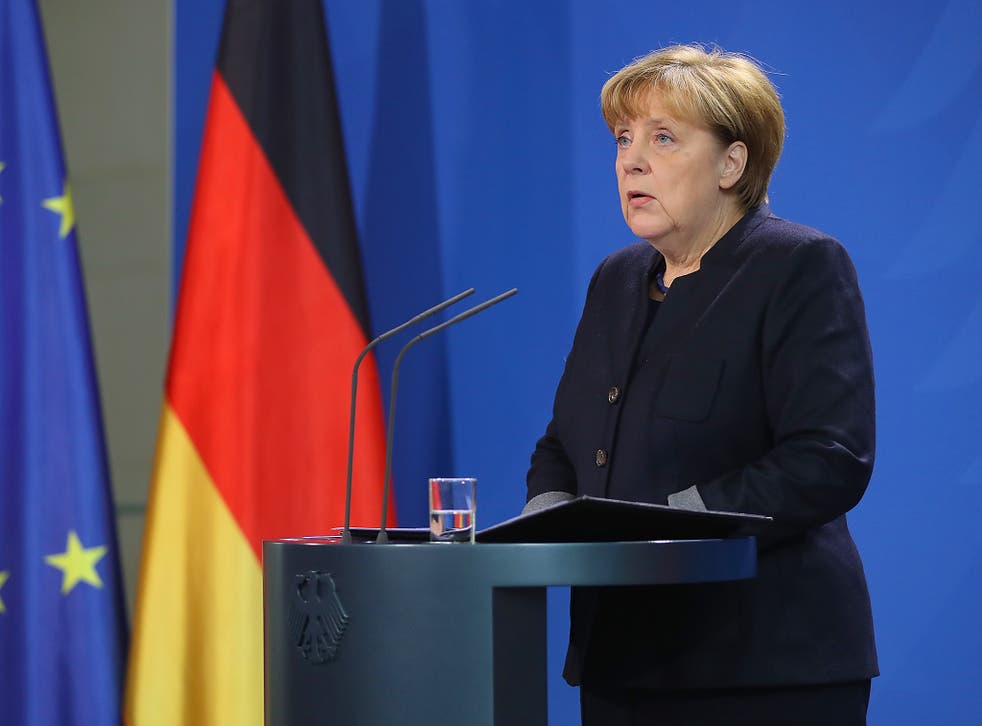 The massacre at the Christmas market in Berlin is obviously laden with painful symbolism, coming at the time it did and at the place it did. Although there had apparently been some intelligence about the possibility of a terror attack at one of the every many Christmas markets across the continent, there was probably very little the authorities could have done about this particular outrage. As with the attack in Nice, and before that the running down and murder of Lee Rigby in Woolwich, and countless suicidal car bombers across the world over the decades, it shows merely how devastatingly effective "low tech" terror can be. If you can afford to buy an old truck, or can steal one, you can become a terrorist.
There is no one to blame but those who carried out the attacks. Nigel Farage's tweet, describing the murders as "Merkel's legacy" was breathtakingly asinine even by his standards; does Mr Farage, and his allies, really believe that Germany and the world would have been better off to allow thousands to drown in the Mediterranean or freeze to death in refugee camps rather than follow the moral imperative to show mercy and save lives? When Mr Farage says that the attack was "inevitable" what he should really be examining is how the fracturing of the Middle East and the refugee crisis that have followed was a direct result of Western policy and the wars that George Bush and Tony Blair visited upon the region. That is where the roots of these atrocities can be traced to. They are nothing to do with Islam, at any rate, nor to do with Muslim people who simply wish to make some sort of life for themselves and their families in a strange land they find themselves exiled in.
Of course that is not going to stop the radical right from making political capital out of this event. The suggestions in the German media that it may have been an Afghan or Pakistan asylum seeker who was involved has already been seized upon. As Chancellor Angela Merkel, who once again faces a test of her formidable political courage, said, it would be "particularly sickening" if this transpired to be the case. For many the reaction will be to turn their backs on refugees, to turn to extremist groups such as AfD, Alternative für Deutschland, and to regret the million or so hopeless people who were admitted to Germany as they fled for their lives. It would be tragedy piled on tragedy if this were to be the case. Yet what we also know is that the radical right is on the march in Europe, and they are skilled at exploiting people's concerns and worries for their own nasty ends.
Their success takes two forms. First, they attract votes in their own right, and in terrifyingly large numbers. When the far-right Austrian Freedom party candidate was defeated in the recent rerun of the presidential contest, many heaved a huge sigh of relief; yet more striking was how a group that would have been a comical fringe a few years ago was able to attract the support of almost half of the Austrian electorate. In 2017 extremist groups will have the chance to spread their poison in the Netherlands, Italy, France and Germany, and their representation in parliaments will almost certainly increase.
Yet there is a more insidious influence this shift to the right has within mainstream conservative parties, such as chancellor Merkel's Christian Democrats. For example, leading figures in her own party's close Bavarian affiliate, the CSU, have already complained publicly about her brave and historic decision to "manage" the refugee crisis properly, and there will be more pressures of that sort. She has already spent a good deal of political capital in resisting these voices, even making some unwise remarks about the wearing of religious dress (through very temperate by contemporary standards). In France and in Italy the mainstream right is already tacking towards a harder, more populist line, and it seems highly likely that Geert Wilders notorious Party for Freedom will become the largest grouping in the Dutch parliament.
When people are frightened, by economic dislocation or by terrorism, or both, they often turn to the right. Historically, this happened before the Second World War, and there are worrying signs of history echoing today. There are too few leaders with the reputation, the strength of character and the confidence to face down these challenges and argue the truth rather than appeasing the worst instincts of the electorate. Unfussy, pragmatic and businesslike, Angela Merkel has become, by default, the defender of the free world's enduring liberal values. She at least can be trusted to follow the resolute approach in the face of terror and extremism.
Join our new commenting forum
Join thought-provoking conversations, follow other Independent readers and see their replies