The Foreign Secretary deserves faint praise for his trip to Russia
Johnson, the first UK foreign secretary to visit Russia in five years, was blunt, face-to-face with Sergei Lavrov about Russian policies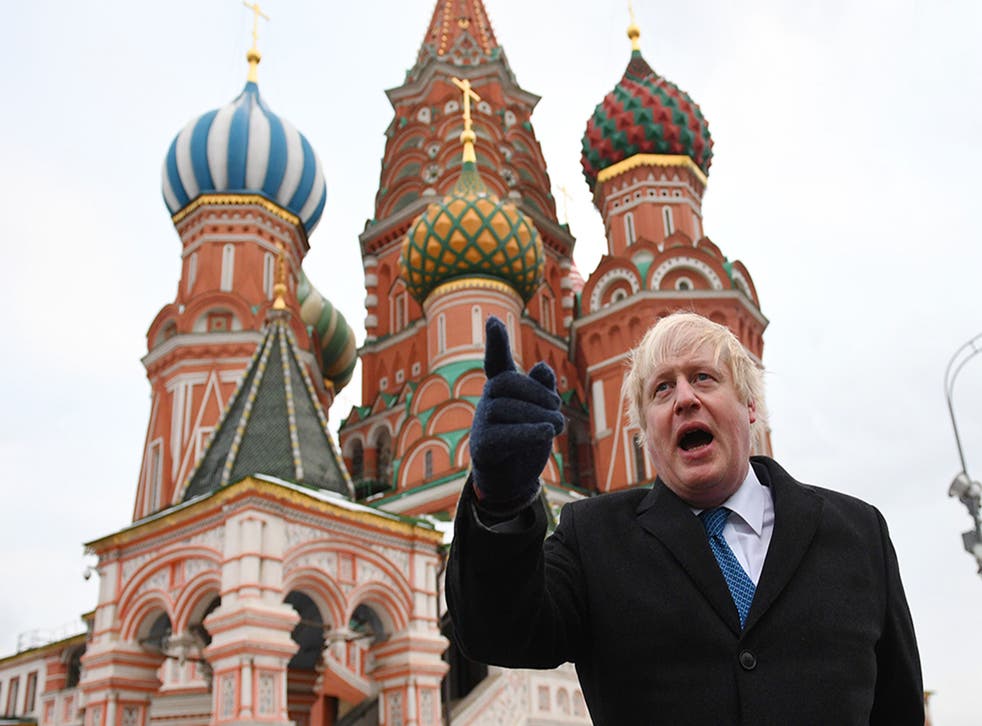 The Independent has been critical of Boris Johnson's appointment as Foreign Secretary but we offer faint praise for his visit to Moscow this week. Mr Johnson broke with diplomatic protocol to interrupt Sergei Lavrov, his opposite number, during their joint news conference.
When Mr Lavrov told journalists that Mr Johnson had confirmed Russia had not interfered in the Brexit referendum, Mr Johnson said: "Not successfully." It was a firm but good-natured exchange. Mr Lavrov replied that the Foreign Secretary was publicly criticising the Russian government only because his reputation in the media would be devastated if he did not. To which Mr Johnson responded: "Sergei, it's your reputation I'm worried about."
To his credit, Mr Johnson, the first UK foreign secretary to visit Russia in five years, was blunt, face-to-face with Mr Lavrov in public, about Russian policy in Ukraine, Syria, the Western Balkans – and in cyberspace. He pointed out that Mr Lavrov had also mentioned Alexander Litvinenko, the Russian former security service officer who was poisoned in London in 2006 – another cause of cooling in British-Russian relations.
UK news in pictures

Show all 50
In fact, the evidence of Russian attempted interference in British democracy is thin, but Mr Johnson was right to say there is "abundant evidence" of interference in votes in the US, Germany, Denmark and France. More importantly, he was right to criticise the Russian government publicly for its aggressive promotion of what it sees as its geopolitical interest in Ukraine and Syria. Russian support is the main reason Bashar Assad is still in power in Syria and an important cause of the continuing death toll in the civil war.
There are those who take the view that Russian national pride should be acknowledged; that its aggression in what it sees as its spheres of influence is a response to perceived slights by the West; and that it would be more productive to keep any criticisms behind closed doors.
It would of course be counter-productive to insult Russia, but that should not mean holding back from speaking plainly when Vladimir Putin's regime breaches international norms.
Mr Johnson's truth-telling trip to Moscow comes soon after his journey to Tehran, which may have produced some softening in the theocracy's attitude to Nazanin Zaghari-Ratcliffe, the British-Iranian national who has been detained for more than a year. Or it may not have done, as we report today. The Iranian authorities have been sending out flatly contradictory signals.
Boris Johnson and Russian foreign minister talk about frosty UK-Russia relationship
On Ms Zaghari-Ratcliffe's case, we shall have to wait and see, keeping our fingers crossed for a humanitarian outcome. On that, we give Mr Johnson credit for apologising for the mistake that seemed to make her predicament worse, and for seeking to make amends for it.
Just as we, having criticised Theresa May for her appeasement of Donald Trump, give the Prime Minister credit for voting at the United Nations this week to condemn the US President's inflammatory statement in support of Jerusalem as the capital of Israel.
The Independent aims to speak the truth about the UK Government. That means praising it when it does the right thing, no matter how much we criticise it when we believe it to be in the wrong.
In our view, Mr Johnson would be better in a different ministerial post, but he was right to go to Tehran to try to help Ms Zaghari-Ratcliffe, and he was right to go to Moscow to hold the Russian government publicly to account for its shortcomings.
Register for free to continue reading
Registration is a free and easy way to support our truly independent journalism
By registering, you will also enjoy limited access to Premium articles, exclusive newsletters, commenting, and virtual events with our leading journalists
Already have an account? sign in
Join our new commenting forum
Join thought-provoking conversations, follow other Independent readers and see their replies