There's no such thing as a soft Brexit – it will bring economic hardship to the UK, whatever its shape
The British appear willing to spend anything from £20bn to £40bn, or more, on an unknown trade deal with the EU, and a deal that is, to be sure, inferior to the access currently enjoyed by British firms to the largest single market in the world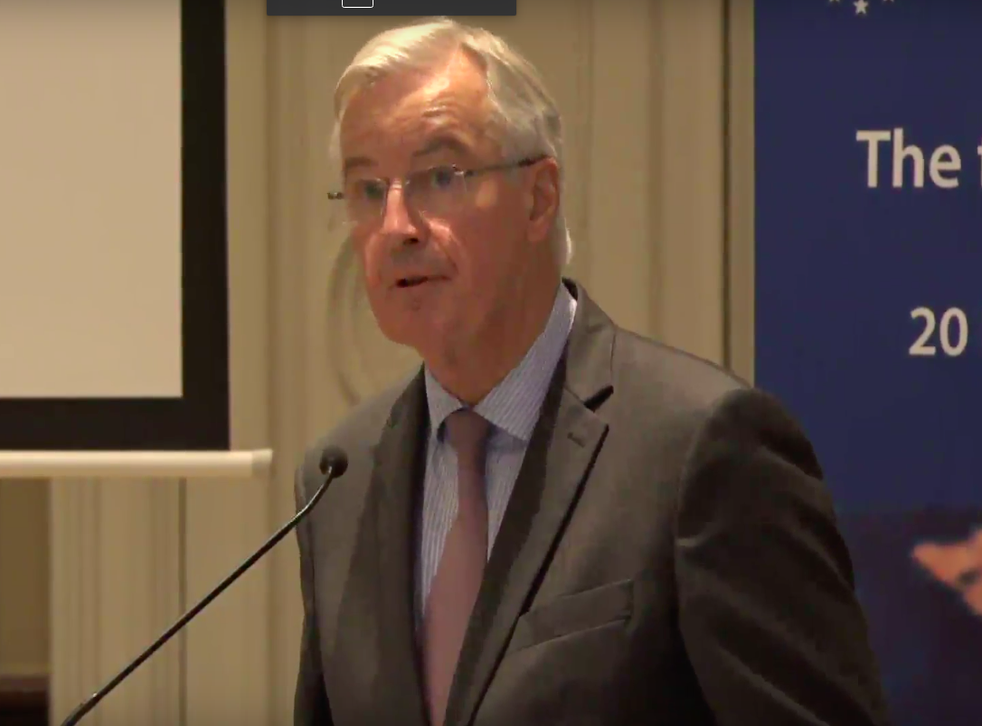 Since the EU Referendum last year one of the few British growth industries has been Brexit word play. There have been many variations on the theme, variously the products of speculation, wishful thinking and scare-mongering on all sides: hard Brexit, clean Brexit, soft Brexit, Brexit-lite, "a red, white and blue Brexit" and "Brexit means Brexit" in the Prime Minister's meaningless catchphrases, "a jobs-first Brexit" in the equally vacuous Labour soundbite, Brexodus, and so on. No doubt there will be more imaginative lexicography to divert us before we stagger to the exit and the cold protectionist world of Messrs Trump and Xi that lies beyond.
Yesterday, though, we should have realised that, for the time being at the least, this will be a Brexit with a French accent – "Brexeet" you might say. The weakness of Angela Merkel, who may not even be around for very much longer as the anchor of European politics, now puts Emmanuel Macron and the French politico-diplomatic machine firmly in control of the Brexit talks. Even if Chancellor Merkel wanted to do a side deal with Theresa May – never likely – that prospect is fast disappearing.
Michel Barnier, a Eurocrat of the traditional French template, is becoming a familiar face and voice, and it is his version of Brexit, as mandated by his colleagues in the European Commission, that is now gaining ground. It is ironic that it is as flinty and uncompromising as the British hard Brexiteers' vision, but then again inevitable when it is realised that there is, logically, no such thing as a soft Brexit anyway.
President Macron has graciously hinted that Article 50 can be cancelled at any time; but he will now apply his fertile mind to continental-scale futures. National stereotypes are just that – crude caricatures. Nonetheless, the French have always been cheerfully brazen in using the EU for their own national interest, as they and every other nation state is entitled to; they would be less than human if they didn't dream of Nissan-Renault and Peugeot transferring jobs from Sunderland and Ellesmere Port to Flins and Sochaux in the early 2020s, and financiers keeping estate agents, champagne bars and fine restaurants in Paris in healthy profitability for decades to come, just as they used to in London's Square Mile and Canary Wharf.
Whatever else, it is unlikely to deliver the UK any great advantages. The announcement of the moves of the European Banking Authority to Paris and the European Medicines Agency to Amsterdam should concentrate British minds as symbols of the kind of influence, highly paid jobs and industrial leadership that will be lost before long; an unprecedented self-inflicted economic hardship.
For Mr Barnier was admirably clear in his message, even if his message was deeply unwelcome: "Brexit means Brexit, everywhere". After all, that is really Ms May's old slogan, reimagined. He outlined once again the legal reality of the UK outside the single market and customs union – which is that any access the City, the carmakers or any other sector of the economy will have to European markets, European talent and European rule-making, will be inferior to that enjoyed today. It is as simple as that.
What was true before the referendum remains the fundamental fact: if the British are against the free movement of labour then they cannot have the other three freedoms. This would simply be renegotiating the terms of EU membership by other means. It is not going to happen.
In such uncharted territory it is unclear as to exactly how great the scale of that loss will be, nor the timescale. If "Project Fear" was wrong about one thing it was the notion that there was to be an immediate deep recession after the referendum vote, which did not, as we know, take place. In reality the economic impact of Brexit will be literally invisible and take years if not decades to be fully felt in lower growth, lower wages and fewer jobs; the factories and warehouses not standing where otherwise there might have been expansion in foreign direct investment; the newly recruited French, German, American and Swiss bankers not prowling the streets of the City and Canary Wharf but instead working in Frankfurt, Zug or New York as London loses its competitive advantage; and the European workers deterred, discouraged or even barred from working in our engineering firms, on farms, in our hospitals and sandwich bars. As Mr Barnier said, it will indeed be "Brexit everywhere". It will cost the British dear.
Will another £20bn from the UK as a payment towards the "divorce bill" be enough to change Mr Barnier's mind, and, more importantly, that of the European Council, the European Parliament and the dozens of European national and regional assemblies required to agree to the final deal? Well, it would certainly assist at the margins, but the logic of Brexit suggests not. It is a divorce bill, not a bargaining chip for lower tariffs or easier visas. It would be required even under a no-deal scenario.
Mr Barnier appears anxious to want to make clear to the British that, adapting the Prime Minister's robotic catch phrase, that "Brexit Means Brexit" and that some things are logically impossible. As one example, the Irish border issue, shows all too clearly, countries cannot have their cake and eat it, even if both sides would like it or there are supposed technological solutions to the conundrum of how a country can be simultaneously inside and outside the single market or "a" customs union, as Labour and the soft Brexit camp in the Conservative Party sometimes fancifully imagine. Given that membership of Efta has been ruled out – which would potentially provide some of these benefits and access – the riddles of Brexit remain as formidable as ever. There are limits to what even the smartest and most well-intentioned of negotiators can achieve, and the Brexit talks are notably lacking at times in either or both of these features.
As things stand, the British appear willing to spend anything from £20bn to £40bn, or more, on an unknown trade deal with the EU, and a deal that is, to be sure, inferior to the access currently enjoyed by British firms to the largest single market in the world. We will lose frictionless access to the market, we will lose a supply of skilled, semi-skilled and unskilled labour to fill vacancies in jobs the British cannot or will not do, and we will lose international influence as part of such a major player in world affairs (including trade treaties with Japan, China, India, America and the rest). And all of it because Boris Johnson wanted to wind up David Cameron; a feud between Old Etonians will cost millions of jobs even as these two overgrown schoolboys, in due course, sell their memoirs and diaries for millions, the story of Britain's most humiliating episode all the more compelling for their venality, incompetence or both. How on earth did Britain get here?
One day – hopefully long before 29 March 29 2019 – the country should wake up to the fact that the deal we are likely to win is far, far worse than "No Brexit". At that point the country deserves a vote on these likely final terms. If we do not hold such a referendum, then the nation will never be at ease. Recriminations and the complaints and the public inquiries about the Brexit process – the lies, the suppressed studies, the Russian interference, the deceptions – will be just as bitter and protracted as those over the Iraq War. It will be a wound that can never heal, including the prospective exit of Scotland and Northern Ireland from the UK, further dividing families, colleagues and friends. Better, by far, to admit the error and minimise the damage, however late in the day. No Brexit is far better than hard Brexit, and hard Brexit is the only logical outcome of this process – the truth, in any language.
Register for free to continue reading
Registration is a free and easy way to support our truly independent journalism
By registering, you will also enjoy limited access to Premium articles, exclusive newsletters, commenting, and virtual events with our leading journalists
Already have an account? sign in
Join our new commenting forum
Join thought-provoking conversations, follow other Independent readers and see their replies