Mariano Rajoy won't answer the Catalonia question by visiting Donald Trump
Oddly, the very existence of the EU as a supranational proto-federalist body has given relatively small would-be states such as Scotland, Catalonia and Flanders more encouragement to feel that they can make it in the world under the EU 'umbrella'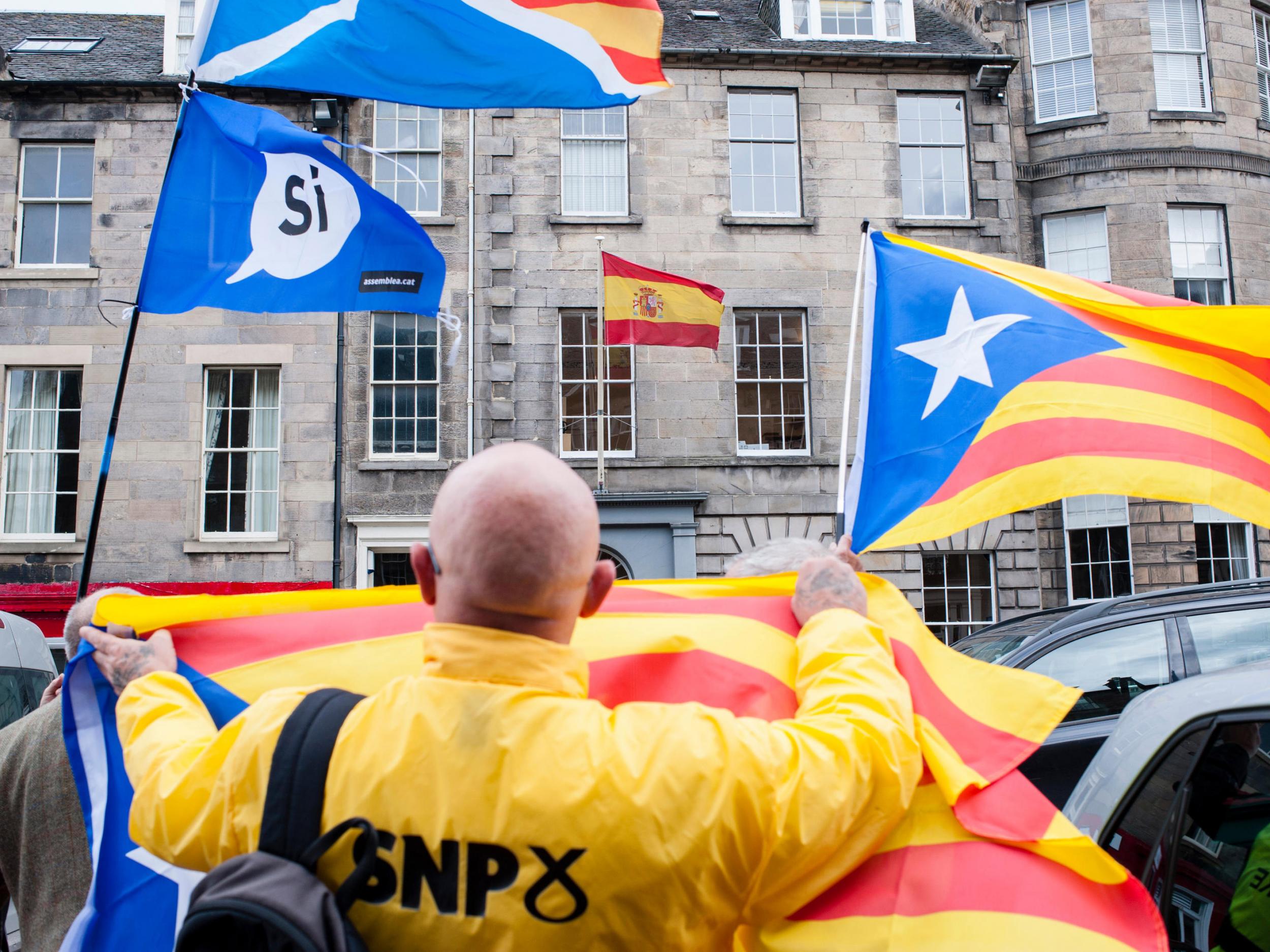 It is difficult to know what the Spanish Prime Minister, Mariano Rajoy, on his visit to Washington this week, was expecting President Trump to do about his little local difficulties in Catalonia. It is perhaps a sign of some desperation that the Madrid government is resorting to seeking out the support of this most divisive and controversial of world leaders in its attempts to keep Catalonia from holding its unofficial independence referendum – now all but certain to go ahead – and, indeed, to keep Catalonia within the kingdom of Spain for the longer run.
What, the world might wonder, is Donald Trump supposed to do? Send out a tweet threatening to nuke Barcelona?
Facetious maybe, but Mr Rajoy should have learned by now that even the most draconian of measures and bloodcurdling of threats have done nothing to dampen the appetite for change in Catalonia. What's more, there is every chance that the attempt to coerce local officials into obstructing the referendum, with threats to jail mayors and postal workers, will have precisely the opposite effect.
Such militancy on the part of Madrid simply makes the separatists' case for them; they can simply ask their fellow Catalans to look around and see the authoritarian tendencies of the Spanish government, all too willing to hurt ordinary Catalans and all too reluctant to engage in a dialogue about the future.
Spanish police storm Catalan buildings in fight over referendum
The Catalan question, which will be far from resolved after the vote on Sunday, is only the latest example of some strikingly similar moves towards separatism and self-determination. The Scottish National Party, partly rebuffed at the general election earlier this year, will no doubt be back in due course for IndyRef2 – especially if, as does seem the most likely scenario, the UK crashes out of the European Union and its single market. Oddly, the very existence of the EU as a supranational proto-federalist body has given relatively small would-be states such as Scotland, Catalonia and Flanders more encouragement to feel that they can make it in the world under the EU "umbrella".
In rather different circumstances, but with some echoes of Scotland and Spain, the Kurdish independence referendum has also stirred dangerous passions and ambitions – and equally aggressive threats, not least form President Erdogan's Turkey. Even more than prosperous Catalonia's position within Spain – a good fifth of the national economy – Iraq depends crucially on the Kurdish territories for some 40 per cent of its oil revenues. Neither Spain nor Iraq need starve if their troublesome provinces did break away, but the economic damage does add to the political reasons for trying to keep them within a unitary state, or at least that is how the majority in both countries – overall – view the question.
In the German elections, too, there was a similar, almost atavistic urge for a simpler world of nation states united by a common – perhaps even homogenous – people, language and culture.
It is no novelty. When the spirit of self-determination grew in Europe in the 19th and early 20th centuries, it gave us unified Italy and Germany, and, after the First World War and again after the fall of the old Soviet Union, a modern version of the ageless Russian empire, a kaleidoscope of newly independent states across Central and Eastern Europe appeared. Some, such as Czechoslovakia and Yugoslavia, themselves fragmented into their constituent parts in due course. Others, such as the Serbian province of Kosovo, are still doing so.
Catalonia referendum protests – in pictures
Show all 10
In the mid-20th century it was Africa and Asia's turn, and billions more were liberated and achieved independence for their own homelands. There again, as most painfully in India, Pakistan and Bangladesh, and most recently in South Sudan, some of the emerging nations created after the Second World War came to be partitioned or have their borders redrawn along ethnic or religious lines, with ethnic cleansing to match.
From the poorest or most obscure of territories – Somaliland, Norfolk Island, Transnistria – to the most prosperous – Quebec, Catalonia, Corsica – the urge toward separatism seems to be primeval and universal. Sometimes such ambitions can be contained within federal or devolved structures, or "power sharing", and sometimes it has to be otherwise peacefully accommodated, but never does it forever stay dormant under a system of oppression. That is one powerful lesson of history.
At the moment, though, Mr Rajoy and his counterpart in Barcelona, Carles Puigdemont, President of the government of Catalonia, are proving themselves adept at making their problem even worse. It is past time that they started talking to each other, instead of appealing to the likes of Donald Trump.
Join our commenting forum
Join thought-provoking conversations, follow other Independent readers and see their replies