Jeremy Corbyn may not be antisemitic but he gives too many people grounds for doubt
In an exclusive opinion poll for The Independent, 60 per cent of people say that allegations of antisemitism in the Labour Party have been handled badly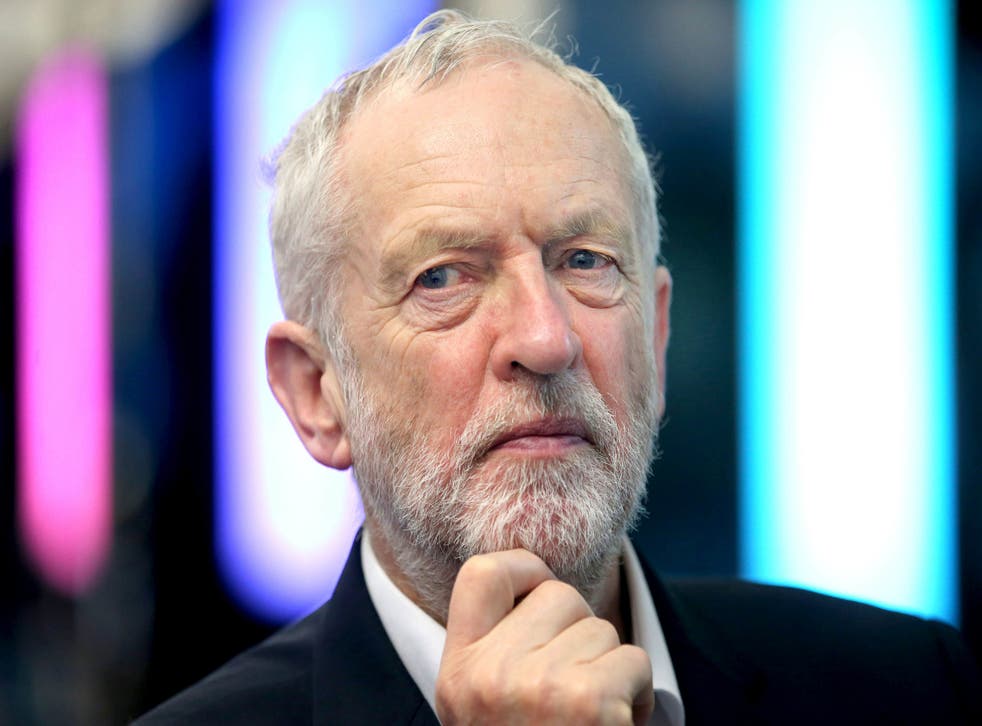 One person in four believes that Jeremy Corbyn, offered by the Labour Party as the nation's alternative prime minister, is prejudiced against Jews, according to a BMG opinion poll for The Independent.
This is a truly shocking finding. When asked a blunt question, "Do you believe Mr Corbyn is antisemitic?" 27 per cent of our sample of adults in Great Britain said "Yes"; more said "No", but only 35 per cent. Furthermore, 38 per cent said they didn't know, reflecting a lack of knowledge and possibly a lack of interest, but no political leader should be comfortable with these numbers.
Nor should Mr Corbyn be able to ignore the verdict of the poll on the handling of allegations of antisemitism in the Labour Party: 60 per cent say they have been handled badly and only 9 per cent say they have been handled well. Again, many respondents, 31 per cent, say they don't know, but among those expressing an opinion the judgement is emphatic.
Concerns about the associations with antisemitism of Mr Corbyn's brand of politics, particularly its avid support for the Palestinian cause, were raised the moment he put himself forward as a candidate for the Labour leadership three years ago. That he has been unable to allay them in that time is a terrible indictment of his competence as a leader and potentially of his true views about anti-Jewish prejudice.
The question has been brought to a head recently, almost unbelievably, by the Labour Party's attempt to define antisemitism for the purposes of internal discipline. That it has failed to do so in a way that commands the confidence of most British Jews is extraordinary.
It is no use Mr Corbyn or his colleagues John McDonnell, the shadow chancellor, and Rebecca Long-Bailey, the shadow business secretary, arguing that the Labour definition is better or tougher than the widely accepted International Holocaust Remembrance Alliance (IHRA) definition.
That could be debated indefinitely. In our view, the critical omission from the Labour Party's code of conduct is one of the IHRA's examples of antisemitism: "Claiming that the existence of a State of Israel is a racist endeavour."
It is worth noting that, of those expressing an opinion in our poll, most, 38 per cent, agree that such a claim is antisemitic, while only 25 per cent disagree (and 36 per cent don't know).
UK news in pictures

Show all 50
Yet the important point is that Mr Corbyn needs to accept the IHRA definition in full, with all its examples, if he is to start to regain the trust of not just of Jews but of all those genuinely opposed, as he so often claims to be, to all forms of racism.
Three weeks ago, The Independent said that the row over the IHRA definition had gone on too long. That it is still going on is testament to the Labour leader's stubbornness, which some of his supporters mistake for strength.
Unless Mr Corbyn does the right thing, and quickly, they will find out what kind of weakness it really is.
Join our new commenting forum
Join thought-provoking conversations, follow other Independent readers and see their replies