Buying off fracking opponents is a smart but cynical political move
Offering £10,000 to households affected by fracking sets an uncomfortable precedent for all manner of infrastructure projects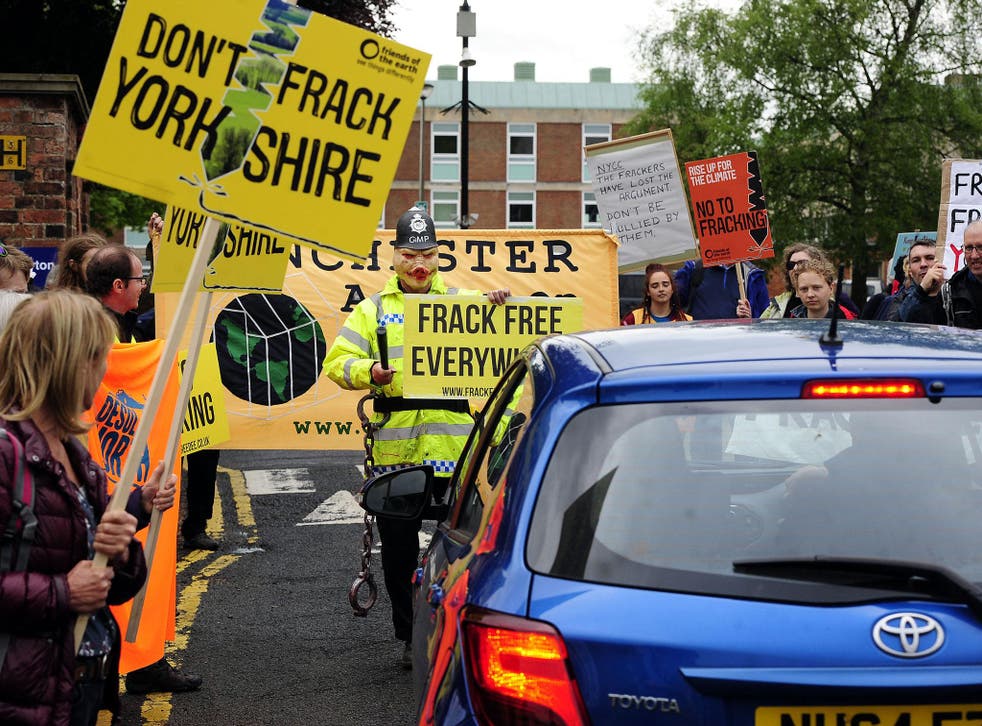 As a method of buying off local opposition to fracking projects, the idea of offering substantial sums to the individual households affected is, in cynical political terms, smart and has some merit. Apparently it also has the personal support of the Prime Minister, and seems to be an early example of Theresa May putting into practice her pledge to take the side of the littler people in society. Ms May also, no doubt, wishes to stay on side with voters in marginal seats from Sussex to Lancashire.
The policy certainly moves away from the scheme favoured by the former Chancellor, George Osborne, of setting aside 10 per cent of the tax proceeds from fracking to go to local councils and community trusts. The problem with that idea was, sadly, all too obvious: there is no actual hard cash compensation available to people whose lives may be devastated by the forced industrialisation of their countryside and villages. And, whether anyone likes it or not, few have sufficient faith in the ability of local government to use the funds wisely; for voters, it was not a sufficiently attractive proposition.
Ms May has instead intervened in a controversy that threatened to cost her party valuable support in areas of the country it most needs to retain. It is almost as if she asked herself how she might feel if the lorries started thundering down the B-roads near her own home. Even the most lavishly supported community fund would not be enough to compensate for domestic trauma.
Ms May no doubt has in mind her duty to keep the nation's lights on. Given her reservations about Hinkley Point, she may feel that she has little choice but to back this huge expansion in fossil fuel consumption, but with the minimal political damage. This is problematic.
If the polluter pays, then there is still the question of who receives the benefit. Tactically, offering £10,000 to households may be good party political tactics, but it does set an uncomfortable precedent for all manner of infrastructure projects from HS2 to Heathrow expansion, let alone housing, quarrying and industrial developments.
These schemes, like fracking, are designed to boost the national economy; it may not be sensible to institutionalise nimbyism by offering automatic compensation on some sliding scale. More significantly, wider community is disenfranchised when those immediately affected are, in effect, paid to shut up.
There are wider reasons why the Government's compensation approach (or, less kindly, bribery) is profoundly wrong. We are way past the era of fossil fuels, even if the gas extracted by fracking is reportedly cleaner than coal, oil and North Sea gas.
There is a better way to secure energy for the future. If the Government and the energy companies put as much thought and investment into imaginative renewable schemes, we might not have to waste so much public money trying to persuade people that fracking is the best way forward. It is not, and no level of compensation to residents will stop local environmental damage, nor the harm to the planet or the risk of accelerating climate change that fracking will cause.
Never having been filmed with a team of huskies in the Arctic Circle, Ms May has none of the green baggage David Cameron carried with him. She is taking a fresh look at many other policies, so she should look again at her Government's green credentials.
If Ms May is really on the side of the British people, she should listen to their concerns rather than buying them off, and place a moratorium on fracking, just as she did with Hinkley Point. The losers from fracking we know about; the benefits are much less clear.
Register for free to continue reading
Registration is a free and easy way to support our truly independent journalism
By registering, you will also enjoy limited access to Premium articles, exclusive newsletters, commenting, and virtual events with our leading journalists
Already have an account? sign in
Register for free to continue reading
Registration is a free and easy way to support our truly independent journalism
By registering, you will also enjoy limited access to Premium articles, exclusive newsletters, commenting, and virtual events with our leading journalists
Already have an account? sign in
Join our new commenting forum
Join thought-provoking conversations, follow other Independent readers and see their replies