Jeremy Corbyn's cult of personality puts Labour ever further from power
Corbyn has a mandate to do almost what he wants and he will take full advantage of it: so far from wiping the slate clean, he has wiped the floor with his enemies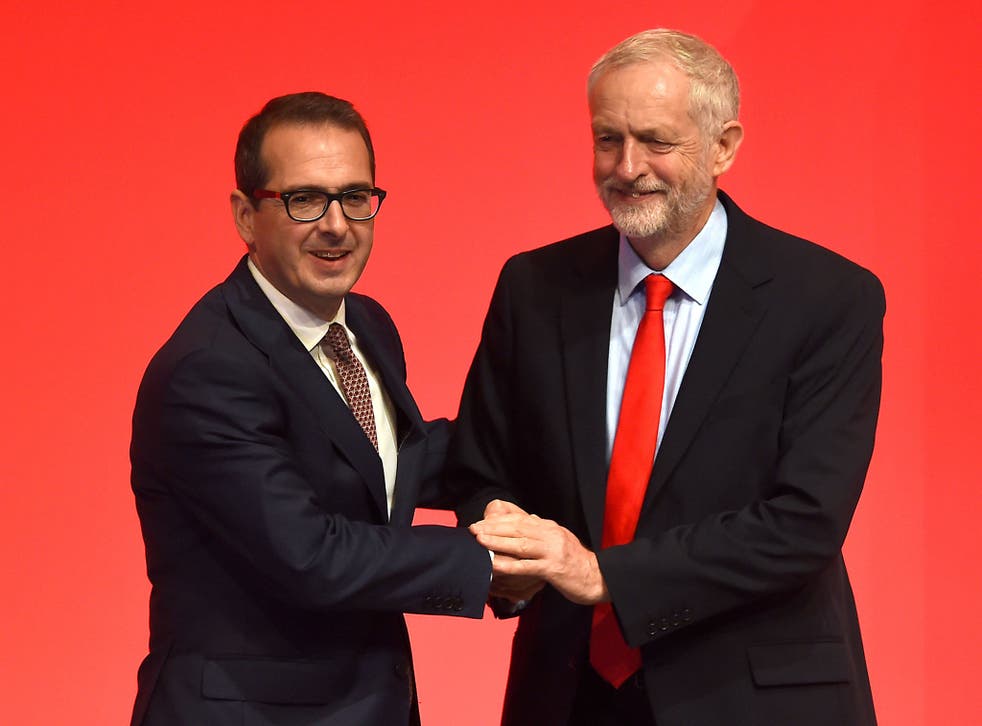 So much for social democracy, then. Jeremy Corbyn's convincing victory in his second leadership contest, with an increased majority, is also the greatest victory for the Labour left since the 1930s. It buries Labour's centre-right for the foreseeable future, and with it any realistic chance of a Labour government in the next decade.
To be fair to Mr Corbyn, it is a remarkable personal achievement for a politician who has spent most of his career on the margins of debate, even within his own party. Less happily, it is also a clear signal that Labour is very happy to be led further and further to the left, well away from its social democratic tradition, let alone the election-winning ways of Blairism.
Mr Corbyn has a mandate to do almost what he wants and he will take full advantage of it: far from wiping the slate clean, he has wiped the floor with his enemies.
Corbyn says we have much more in common than that which divides us
Labour MPs, we know all too well, don't like that. They still don't rate their recrowned leader, but the harsh truth is that the Labour Party belongs to its members. The MPs will have to lump it; talk about annual leadership elections ought now to come to an end. Mr Corbyn is the only leader they've got, or are likely to have in the coming years. Indeed, given that his challenger Owen Smith agreed with Mr Corbyn's policies on almost every aspect of politics apart from Trident (and, oddly, talking to Isis) the result could be interpreted as a 100 per cent vote for Labour's current leftist stance.
So, what next? It is, in fact, fairly predictable. A veritable banquet of words will have to be eaten in the Parliamentary Labour Party. A few Corbyn critics will return to the Labour front bench. They may feel a sense of duty and want to get on with the job of opposing the Tories. They may also judge that, if Labour loses badly next time, they will escape the blame for not helping the leader and doing their bit for unity.
Others will stick to their principles and channel their energies into particular causes and committee work, distancing themselves from the leadership but toning down the criticism of Mr Corbyn. All will have their eye on their local parties and the prospect of deselection – a reality as boundary changes grind on, and a restive membership exacts revenge on prominent "right-wing" figures. A few will emulate Mr Corbyn's time as a backbencher and become serial rebels. They will still row.
Not that it matters much what the PLP does now. The choice of shadow Education Secretary or shadow Attorney General, or even who ends up getting deselected, won't sway many votes. Labour is set for an electoral disaster such as it cannot imagine. Every indication of public opinion, not least the views of those maligned Labour MPs, suggests Mr Corbyn and his party are drifting further away from the voters they need to persuade to return Labour to government. They are gifting the Tories a 15-point lead. The lessons of history are indisputable.
When Labour commands the centre ground offering economic competence and social justice, such as it did under Tony Blair, it can win. When, as in the 1980s, it reverts to type as a "campaigning movement" and loses its focus on winning power, it allows the Conservatives to rule, to destroy everything it stands for and, worse, to wreck the life chances of the very people Labour claims to protect.
Demos and marches are fine, but they won't win Nuneaton, Corby or Morley back. Whatever else, Labour did not lose in 2010 or 2015 because it was not sufficiently leftist.
After a year of mostly disappointing public performances from Mr Corbyn, a year of open contempt from his MPs and a year when he failed to mobilise his movement to defeat Brexit, the members still demonstrably love Mr Corbyn, just as the wider electorate remain unmoved by him, his policies and his principles. He has attracted an astonishing number to join his party, but the entire Labour membership would only populate approximately 10 parliamentary constituencies.
Such devotion as Labour members show to their leader is rare outside the worlds of pop music, religion or football. It is also worth mentioning that, had his party apparatus not been so zealous in blocking some members and supporters from exercising their vote, Mr Corbyn's majority would have been even more impressive.
More than ever in its history, the Labour Party now resembles a cult of personality. For that reason, and that alone, Mr Corbyn is here to stay. It will, in time, become a matter of regret.
Register for free to continue reading
Registration is a free and easy way to support our truly independent journalism
By registering, you will also enjoy limited access to Premium articles, exclusive newsletters, commenting, and virtual events with our leading journalists
Already have an account? sign in
Join our new commenting forum
Join thought-provoking conversations, follow other Independent readers and see their replies