Kenya has the unfortunate task of choosing between the lesser of two politicals evils
The vaguely leftist politics of Raila Odinga's Orange Democratic Movement are not so very different from President Uhuru Kenyatta and his Jubilee Movement – but at least he is not being sought by the International Criminal Court at the Hague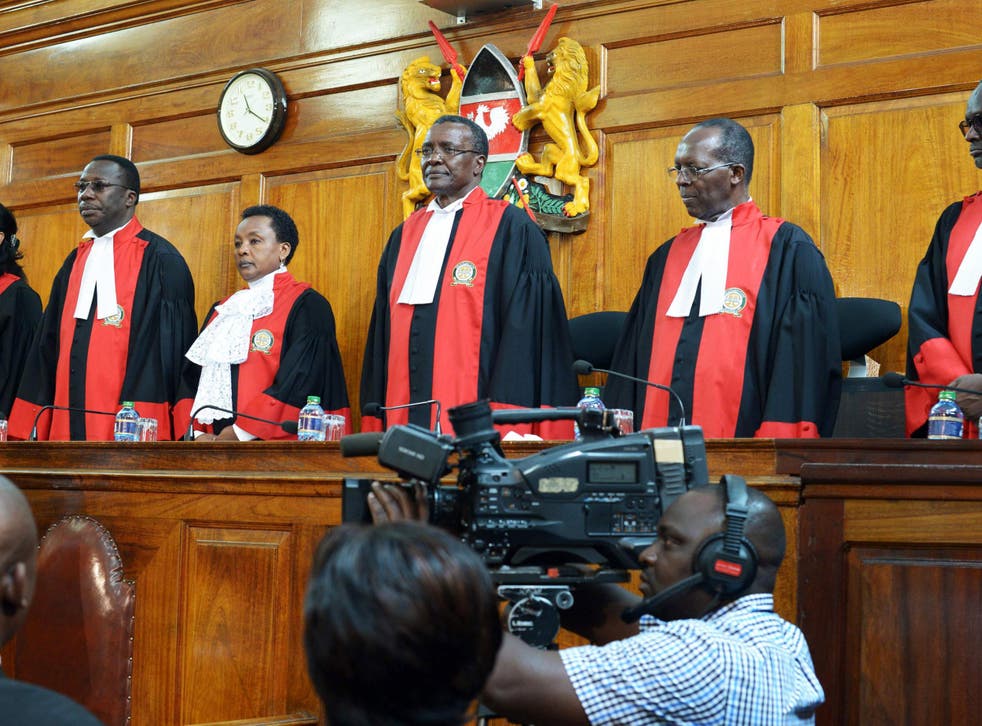 Not so very long ago if a judge in east Africa had tried to challenge a president's authority, let alone set aside an entire general election, they would have found themselves deprived for their liberty, at the least. Dramatic and destabilising as it is, then, the decision by Kenya's Supreme Court to nullify President Uhuru Kenyatta's victory at the polls last week is something of a turning point in the slow and unsteady democratisation of the country. Indeed, the performance of Kenya's independent judiciary in such stressed circumstances places this developing country in a favourable light when set against the feeble efforts made in the United States to determine whether their presidential election of last year was tampered with by the Russians.
This, then, is a moment for Kenya to take pride in its institutions. Despite being observed and approved by international observers, the judges were brave to declare their verdict, after they discovered what seem to be material discrepancies in the tallies of paper and electronic results in multiple locations. If the election wasn't actually stolen, then Mr Kenyatta's apparently solid support has been overstated. Either way it is unsound.
Still, this is also a dangerous moment. The leader of the opposition, Raila Odinga, who lost – at least in theory – to Mr Kenyatta, has been stirring up popular discontent in the cause of seeing the election overturned. In a country where ethnic divisions still determine some patterns of voting, though declining in recent times, this is a doubly hazardous enterprise.
Riots break out after Kenya election's contested result
Mr Odinga has cause to feel aggrieved, or at least frustrated. He has been running for the presidency, on and off, since 1997, thus far unsuccessfully. In 2007 he was defeated in a poll where it emerged some 1.2 million dead Kenyans remained on the registers, about 10 per cent of the total electorate, among other abuses. The process was, moreover, marked by widespread violence – around 1,400 deaths and many more injured and left homeless. The fighting was on communal lines. Five years Mr Odinga was defeated by Mr Kenyatta, albeit in a less bloody contest. No one can be sure it was free and fair.
Triumphant as he is now, Mr Odinga has a mixed record as a democratic politician. He and his father – who served as the first Vice President of Kenya (while Uhuru Kenyatta is the son of the founder of the nation and first president, Jomo Kenyatta) – were locked up in the 1970s for their political beliefs, but Mr Odinga Jr then set about planning a coup in 1982, and has consistently threatened violence to get his way ever since. He has, bizarrely, claimed to be related to Barack Obama, but with little evidence to back up the notion.
The vaguely leftist politics of Mr Odinga's Orange Democratic Movement are not so very different from Mr Kenyatta and his Jubilee Movement – but at least Mr Odinga is not being sought by the International Criminal Court at the Hague to answer charges of crimes against humanity, as President Kenyatta has over the 2007-2008 election and post-election murders in the country.
Kenya, then, is a prime example of a country faced with having to make a choice between the lesser of two evils, and it is not entirely clear who would make the safer pair of hands. As the incursions of terrorists from Somalia shows, the country faces huge security as well as the usual challenges of corruption, poverty and economic growth. Given the political crisis, Islamist extremists may take another opportunity to strike terror into the country, and especially its vital tourist industry. If the record is anything to go by, Kenya will be lucky to get through the next few months without more bloodshed. Some 25 years after the nation's first free elections since independence in 1963, Kenyan democracy is still very far from safe and sound.
Join our new commenting forum
Join thought-provoking conversations, follow other Independent readers and see their replies