Make your voice heard: Sign The Independent's petition to welcome refugees
Millions of people need our help. It's time we took a stand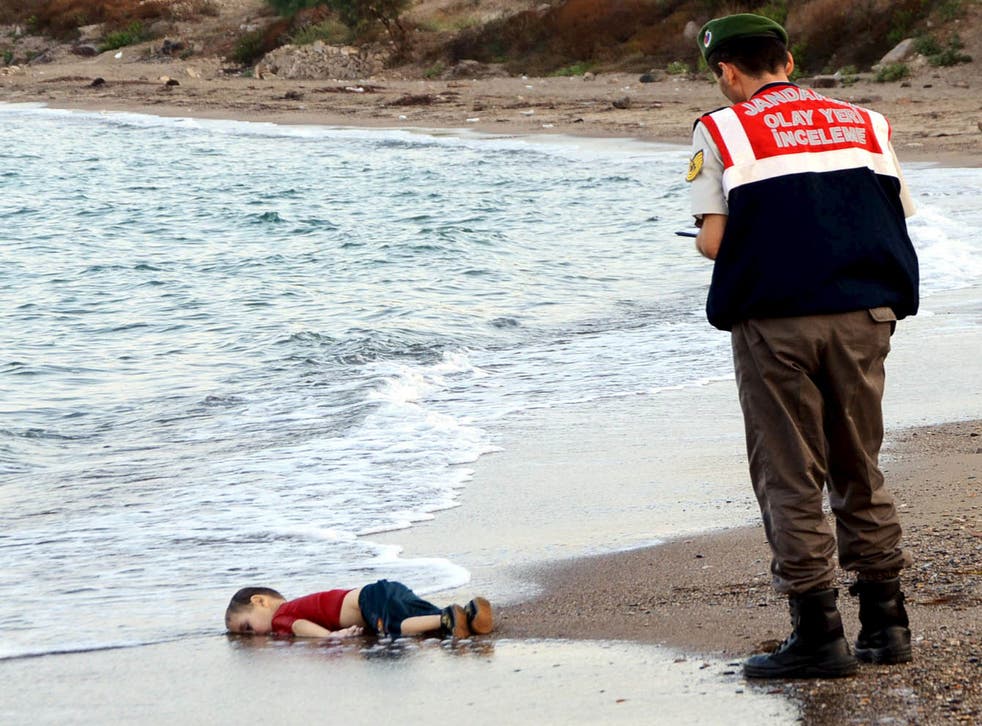 The Second World War started 76 years ago this week. What followed in the years from 1939 was death and the displacement of people on a scale never before seen.
Europe is now at peace. But the continent cannot escape the impact of conflicts in the Middle East and Africa which are driving innocent men, women and children in their millions to seek safety in the West. European leaders have manifestly failed in their response to the crisis, dithering in the hope that the migratory tide might turn.
The situation is growing ever more serious. In July alone, more than 100,000 individuals crossed into European Union countries, a record figure.
Last week there were terrible scenes at the Macedonian border as refugees were confronted by security forces. This week hundreds have found themselves stuck in Budapest, prevented from boarding trains by police. And in Austria, 71 lifeless bodies were discovered in an unventilated lorry.
This year, more than 2,500 people have died trying to cross the Mediterranean.
With each new development hands are wrung, heads are shaken, yet still there is no cogent solution in sight.
Responding to the movement of so many desperate people is not straightforward. Yet it is clear that many of Europe's existing policies are inadequate. Most obviously there is no point clinging grimly to the Dublin Regulation, which requires refugees to seek asylum in the first country they reach. To do so places a disproportionate and unreasonable burden on Italy and Greece and, in principle at least, criminalises those fleeing war for crossing a border.
Whatever the political difficulties, quotas are the only solution, at least in the short term. The Shadow Home Secretary, Yvette Cooper, has set out in clear terms how a large number of refugees – about 10,000 for the UK – can become much less daunting to the public at home if we think locally: 10 refugee families aided by each and every county and borough council.
David Cameron's refusal to budge on taking more in may be to his cost. It has not impressed Germany's Chancellor, Angela Merkel, who the PM needs on board if he is to secure a favourable renegotiation of Britain's EU membership.
None of this is to suggest that there should be a free-for-all. On the contrary, by formally renouncing the Dublin Regulation and accepting that each member state must take an allocation of refugees, work can begin on the establishment of fully resourced asylum centres in every EU country, all conforming to common standards. By this process, people could effectively apply for refugee status from the EU, rather than a specific country. If claims for asylum fail (and a good many will), there must be an agreed and efficient process for facilitating migrants' return to their countries of origin.
For many genuine refugees, of course, action will be too late. For those who suffocated in the Austrian lorry; for those who have succumbed trying to cross the Channel from "the Jungle" in Calais; and for the little Syrian boy whose body was washed up near Bodrum.
Our decision to publish pictures of this tragic child was not made easily. Some will feel we have overstepped the mark of common decency; a few will claim we have put emotion above rational debate. But the fact is this: abject people are dying and they need our help. If we cannot see that, then we have no right to look away from the consequences of inaction.
Now, we call on our readers to sign a petition which urges the Government to accept Britain's fair share of refugees fleeing war-torn countries. And we encourage you to join our social media campaign to prove that those in real need of a safe haven will receive a compassionate welcome from many of us here.
And to political leaders in this country and across the EU we say this: if ever there was a time for Europe to work together – and to show how far the continent has come since the dark days of the last world war – it must be now.
Here's how you can make a difference:
And here is the link to our petition: change.org/refugeeswelcome
Join our new commenting forum
Join thought-provoking conversations, follow other Independent readers and see their replies