The arrests of Myanmar journalists Wa Lone and Kyaw Soe Oo should concern everyone
It's ironic, to say the least, that two reporters trying to tell the truth about human rights abuses and mass murder should now be deprived of their own human rights to a fair trial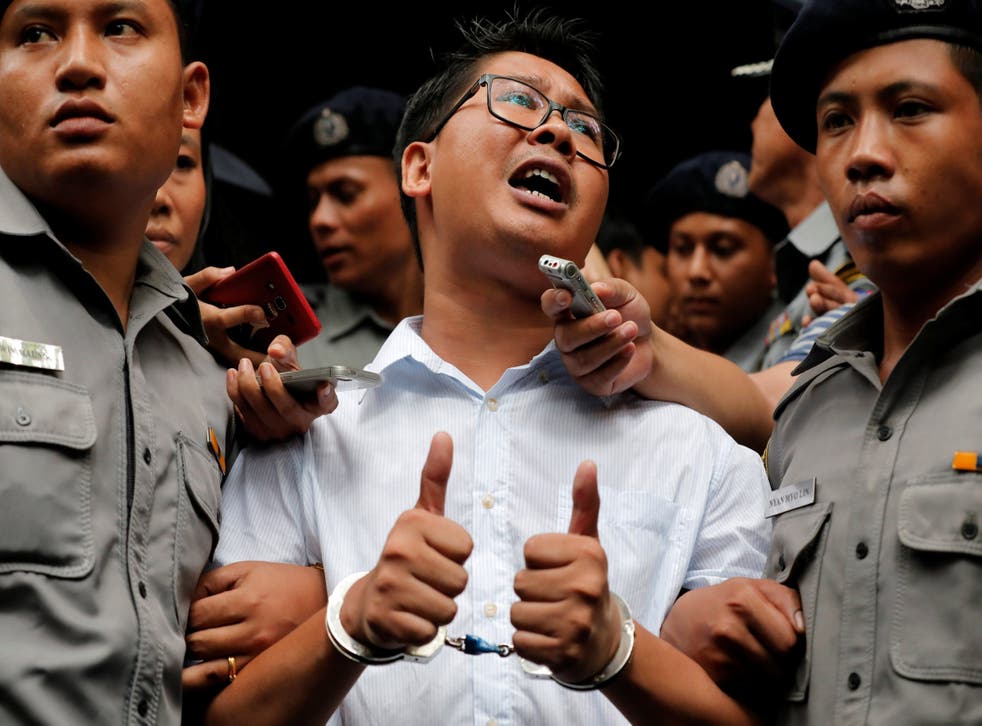 The trial of two brave Reuters journalists in Myanmar was billed as a key test of that country's journey towards democracy and human rights.
Little wonder, given all that we have seen emerging from that country, that the authorities there failed the test.
As things stand – there will be appeals and much opportunity for international pressure – Wa Lone and Kyaw Soe Oo, locals working for the news agency, have been jailed on trumped up charges of breaking Myanmar's official secrets legislation, after an entrapment exercise by the police. It's ironic, to say the least, that two reporters trying to tell the truth about human rights abuses and mass murder should now be deprived of their own human rights to a fair trial.
Even by historic standards of past mass killings and genocides, the attempt by the Myanmar authorities to claim that all is well with the Rohingya people is ludicrous, indeed so absurd that it discredits the government even on the rare occasions it is telling some approximation of the truth. Wa Lone and Kyaw Soe Oo were investigating a massacre of Rohingya Muslims and due to report on it when the police intervened. At first, true to form, the murderous attacks on the Rohingya refugees were denied, but now the Myanmar government have at least given up that pretence and admitted that the massacre – one of so many – did happen. Even so, the journalists remain rotting in jail, where they have been since last December.
It is a case that should concern every journalist and media organisation. From Gaza, Moscow, Malta and Zimbabwe to Donald Trump rallies in the United States, the safety of journalists is being compromised. There is an old cliche that journalism is about telling the world things that some people wish the world not to know, and every time a journalist is jostled, obstructed, arrested, assaulted or even assassinated the whole world becomes less open and free, because human rights are universal and the right to know respects no national frontiers.
Populist politicians of the left and right and authoritarian regimes such as the one in Myanmar demonise the media for telling fake news, and talk as though journalists were one indistinguishable mass of conspirators seeking to collude with shadowy forces to undermine whichever president, party leader or general happens to be coming under pressure for their misdemeanours. The truth – not fake news – is journalists are simply doing their jobs as they always have, and are finding it more hazardous. There is an atmosphere being created by the much more powerful figures running governments and political movements which legitimatises attacks on individual journalists. It is dangerous, not only for individuals who can be arbitrarily detained or tortured, but for those societies themselves. When free, independent, fearless reporting dies, democracy dies with it.
As is obvious, the Myanmar generals and the now discredited Aung San Suu Kyi are resistant to pressure, even as the scale of the abuse meted out to hundreds of thousands of refugees becomes clear, and a matter of record so far as the United Nations is concerned. That, though, is not reason to just turn away and do nothing. Past British foreign secretaries, particularly Boris Johnson, preferred to "engage" with the regime on his visits to the country. Whatever merits that approach might have had, it is has patently failed, and the murders and rapes of innocents continue.
World news in pictures

Show all 50
Diplomatic pressure, sanctions and the clearest possible warnings about the personal penalties that will be exacted on those responsible have to be given. The honorific titles loaded on Aung San Suu Kyi should be publicly removed. Warrants for the arrest of specific military commanders would be issued for war crimes, with the aim of an eventual trial at an international court. Even the most hardline Myanmar general or sadistic lieutenant might fear that their regime might not last forever, and that one day they may find themselves dragged off to The Hague or some other place to account for their actions and tell the truth.
And when they are arraigned, just as their predecessors in Cambodia, former Yugoslavia and Rwanda have been, there will be plenty of reporters and cameras to tell the world about what they did, and why. With luck, Wa Lone and Kyaw Soe Oo will be in the press gallery.
Register for free to continue reading
Registration is a free and easy way to support our truly independent journalism
By registering, you will also enjoy limited access to Premium articles, exclusive newsletters, commenting, and virtual events with our leading journalists
Already have an account? sign in
Join our new commenting forum
Join thought-provoking conversations, follow other Independent readers and see their replies