Not so much all for one and one for all, the three Brexiteers are out for themselves
Far from freebasing ideas and channelling their energies into forging new trading relationships across the seas, Mr Johnson and Mr Fox, at any rate, seem embroiled in an old-fashioned turf war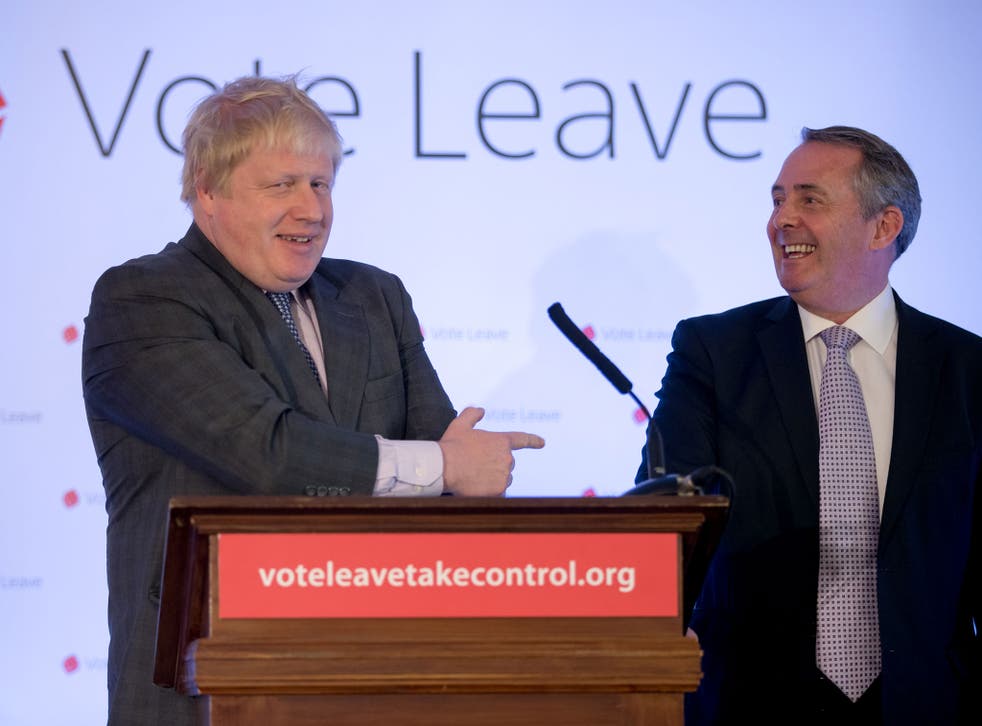 In Whitehall they have a phrase for it: "creative tension". Perhaps that is what Theresa May had in mind when she put Brexit in the hands of Boris Johnson, Liam Fox and David Davis. Maybe she expected three of the biggest egos in politics to work together cooperatively to deliver success in a project of national, if not global importance. Possibly the force of their clashing intellects would create new, imaginative ideas.
Well, boys will be boys, and Theresa May probably should have known better. Far from freebasing ideas and channelling their energies into forging new trading relationships across the seas, Mr Johnson and Mr Fox, at any rate, seem embroiled in an old-fashioned turf war. Mr Fox, surely pushing his luck, has asked for the Foreign Office to be broken up, with a crude attempt to get "teacher", Ms May, on his side. It appears not to have succeeded. From her mountain fastness in Switzerland, Ms May has ordered the boys to stop squabbling and get on with their homework.
So, a little amusing diversion not unknown in politics, about who's in charge. It is, of course, no laughing matter when the economy – and thus jobs and public services – rely on the progress of these talks. According to a "mistaken" announcement by the Department for International Trade, and since withdrawn, the post-Brexit UK will be thrown back on World Trade Organisation rules. In which case UK-based financial companies will find it vastly harder to get "passporting" rights to operate in the EU, and the Minis, Nissans and Range Rovers we export will have a 10 per cent tariff slapped on them, to give a few examples.
Even if that is not the case, Britain is likely to be disadvantaged badly by three structural problems. First, as a great trading nation that relies on exports and imports we have to get this right. Second, trade deals have always been difficult to achieve and take a long time. If the UK agrees to maintain some common external tariffs with the EU, for example on wheat or dairy products, then what will that do to a deal with, say, Canada or New Zealand? Third, trade tariffs and barriers are normally less severe on goods than services – but the UK is now a heavily service economy. So there is much work to be done, and it needs leadership.
Publicly or privately it seems the Prime Minister will have to intervene and put someone, presumably Mr Johnson, firmly in charge, and set down clearly delineated responsibilities for the three Brexiteers.
Thus far, there seems remarkably little progress towards defining the new future for the British economy. Apart from a little diplomatic wandering by ministers, there seems little productive activity in what should be a vital period – just a few months away from the expected activation of Article 50. The nation may be forgiven for wondering precisely how many new trade negotiators have been recruited; what their negotiating position will be; and what remit our diplomats have been given across their global missions. More than that, we are yet to see how the magic trick of keeping access to the single market while restricting EU migration is to be pulled off. Brexit, never an appetising project, is off to a dispiriting start. Not so much all for one and one for all, the three Brexiteers are out for themselves.
Register for free to continue reading
Registration is a free and easy way to support our truly independent journalism
By registering, you will also enjoy limited access to Premium articles, exclusive newsletters, commenting, and virtual events with our leading journalists
Already have an account? sign in
Join our new commenting forum
Join thought-provoking conversations, follow other Independent readers and see their replies