Journalism is not a crime – protecting a free press is vital for us all
Editorial: Violations of journalistic freedom are sadly becoming more commonplace, including in America and Britain. Growing hostility to the press is a threat to everyone
Wednesday 15 July 2020 19:56 Comments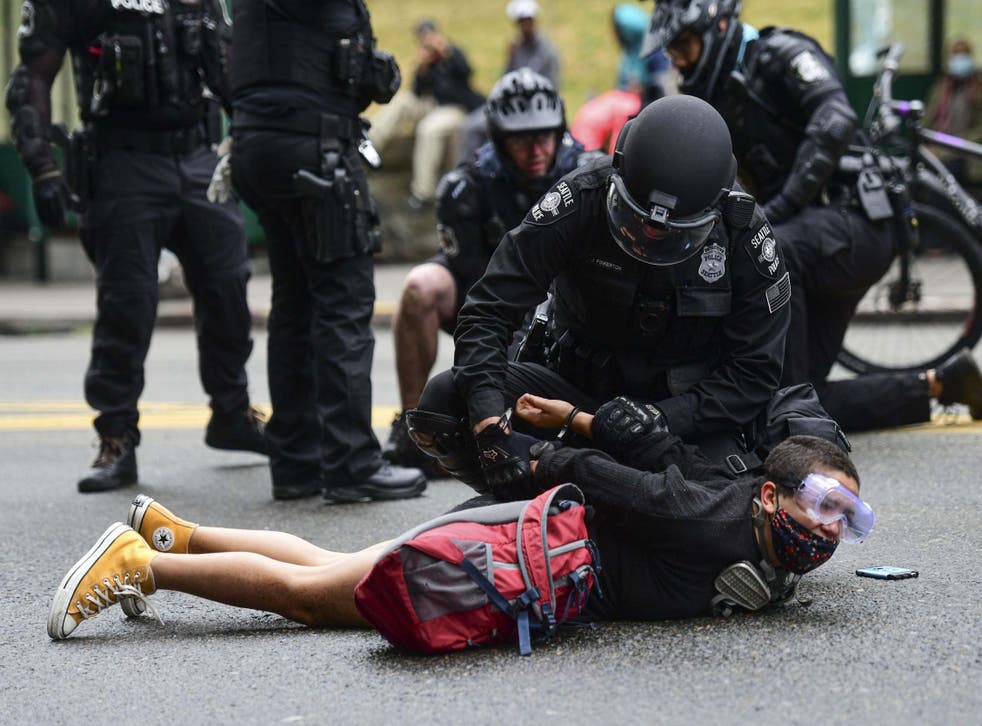 The Independent today launches a campaign to protect journalism, under attack as perhaps never before: Journalism Is Not a Crime.
We are moved to do so most urgently by the recent experience of our correspondent, Andrew Buncombe. Reporting on the Black Lives Matter protests in Seattle and posing no threat to anyone, nor breaking any law, he was summarily detained with some brutality by the police. His latest account of these events can be read here. He's now been released.
It is not so unusual, it seems, these days to see press freedom eroded. Some broadcast journalists have been filmed being interrupted and detained even as they were on camera. Amnesty International say there have been at least 60 reported arrests of journalists covering these protests in the US and some may face prosecution and jail sentences.
This the kind of thing that is only supposed to happen in dictatorships. We are not so surprised when media organisations are attacked in Hong Kong, say, or parts of the Middle East, or when correspondents are assassinated in war zones, as was so tragically the case when Marie Colvin was killed during the siege of Homs in Syria.
The world was rightly shocked when the writer Jamal Khashoggi was murdered by the Saudis, and he was hardly the first dissident or critic of the regime to be so treated. The Independent's foreign and war correspondents have often found themselves in the line of fire. Andrew himself has been detained arbitrarily in Cuba and shot by police during riots in Thailand.
Indeed, at least 500 journalists have lost their lives worldwide in the last decade. Rather than a press card or media flak jacket offering some protection, the modern way is deliberately to target journalists, most despicably as Isis did during their grisly short-lived caliphate.
Yet what is, in its way, more disturbing, now, is when journalists are prevented from doing their jobs, treated as criminals on jumped up charges, in supposedly free societies such as the United States. The first amendment, after all, offers the constitutional basis for free expression and a press fair and free.
What we see today is how often the human rights of many, reporters included, seem to be casually disregarded by American police forces that are granted extraordinary immunities from prosecution. A certain institutional ethos has developed that the police are above the law, and have so little to fear from press scrutiny that they can lock journalists up with impunity. It is not healthy for a police officer to treat justice and the tradition of habeas corpus as dispensable, mere inconveniences to clearing the streets.
Journalist arrested while covering Seattle protest speaks of police violence
The rise of authoritarian nationalist politicians has made things far worse, in America and elsewhere. The "mainstream media" are portrayed as part of some evil conspiracy against the people. When the population is pounded with the message that they are being fed "fake news" by "failing" unpatriotic titles, and when a president feels at liberty to mock a reporter with a disability, then there is something wrong, and there is bound to be growing hostility to legitimate journalism.
The phenomenon is not confined to the United States; the British government is presently waging a guerrilla war against the journalism produced by the BBC, using its funding as a way of coercing its political coverage. Earlier this year, journalists took a stand and walked out of a Downing Street briefing on after the prime minister's director of communications tried to restrict it to selected publications and broadcasters.
Around the world, from Poland to India, democratic societies are experiencing chilling attacks on press freedoms.
But in the land of Woodward and Bernstein, of Martha Gellhorn, of Dan Rather, Barbara Walters and Walter Cronkite, of the Pulitzer Prize and Magnum, of Time magazine and The New Yorker, there is something deeply poignant and worrying about these new insidious trends. A nation that led the world in press freedom is now placing that freedom in jeopardy.
The other threat to free journalism, there is no doubt about it, is financial. Quality news gathering, investigations and analysis costs money, whether the organisation is local, national or global. It is increasingly difficult to make money from telling the truth. The digital revolution has vastly democratised news, spread journalism to new audiences (where, that is, it has not yet been blocked) and made citizens better informed, and perhaps more inquisitive about the world around them.
Yet that disruption has also upended traditional business models. The Independent, like many others, has to rely on its readers, subscribers and supporters to fund its work, dangerous as it sometimes is. You can do that by contributing to our supporter programme.
Register for free to continue reading
Registration is a free and easy way to support our truly independent journalism
By registering, you will also enjoy limited access to Premium articles, exclusive newsletters, commenting, and virtual events with our leading journalists
Already have an account? sign in
Join our new commenting forum
Join thought-provoking conversations, follow other Independent readers and see their replies