Will an emboldened Vladimir Putin make the world safer?
After a successful World Cup concludes on Sunday and a summit with Donald Trump on Monday, the Russian leader will stand tall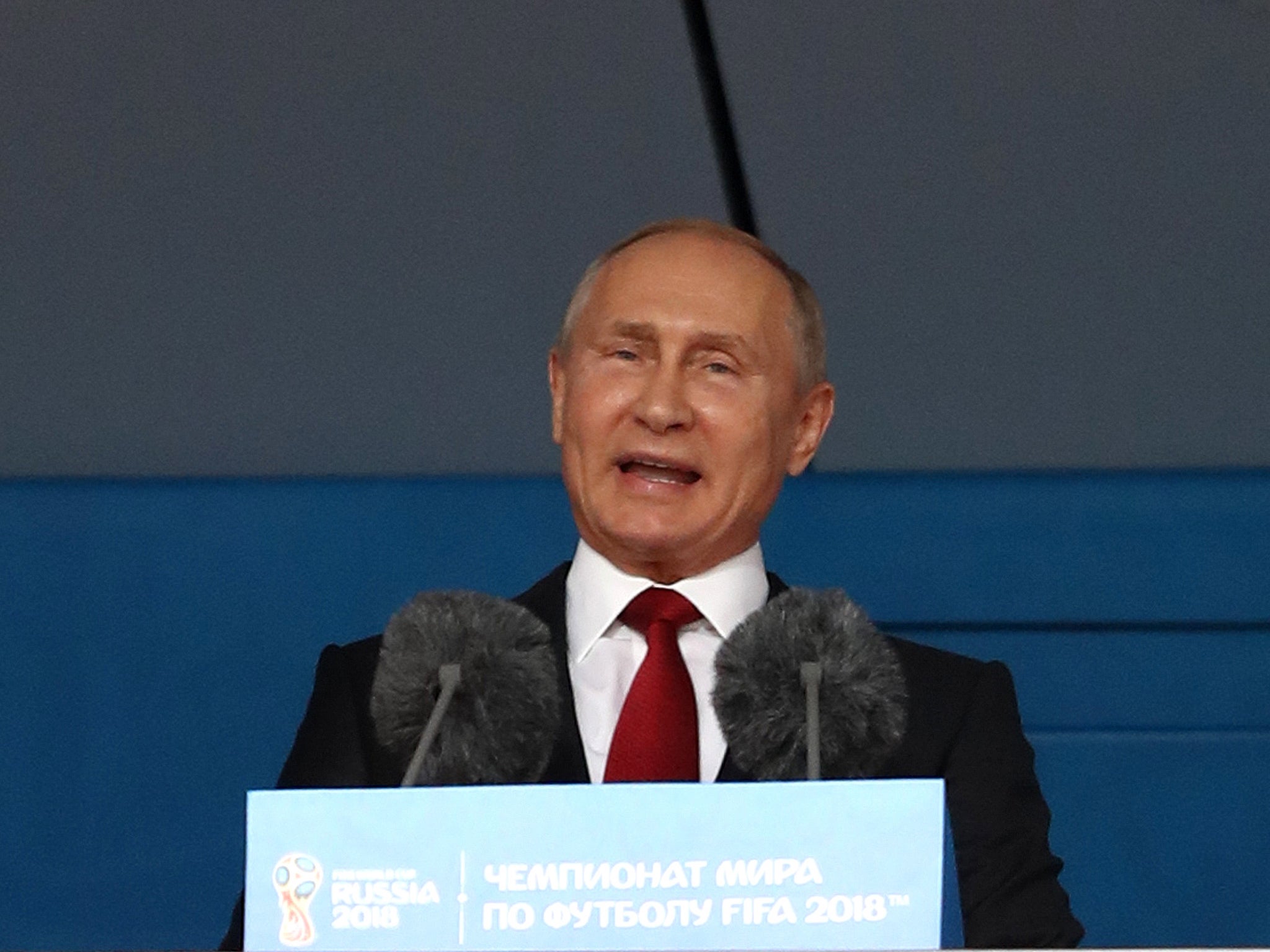 Although Russia were knocked out (on penalties, by Croatia) in the quarter-finals, the World Cup has been a triumph for the country – and for Vladimir Putin, its leader for nearly two decades. That the tournament was boycotted by British politicians and minor royals does not seem to have dented the prestige of the host nation.
For the travelling fans, the competition has been well organised and the Russian people hospitable. The Foreign Office's fears beforehand about security and hooliganism seem to have been exaggerated. Tomorrow's final between France and Croatia promises to be a fitting culmination of a global sporting festival.
Mr Putin's standing is likely to be further enhanced the next day, when he meets Donald Trump in Helsinki. The Russian leader, re-elected for a fourth presidential term this year, has cemented his popularity with the people, and distracted them from their economic troubles, by a proud assertion of Russian power in the world. Monday's summit with the US president will reinforce Russian nostalgia for superpower status.
The respect with which Mr Trump treats Mr Putin is an unpredictable quantity, however. At the Nato summit on Thursday, for example, the US president delivered a monologue about the US paying to defend Germany against Russia only for Germany to buy gas from Russia. The implication seemed to be that Russia should be subjected to a total economic boycott, although his real target was presumably low German defence spending.
And at his news conference with Theresa May on Friday, Mr Trump criticised the Russian annexation of Crimea and said it would not have happened had he been in the White House at the time.
On the other hand, no one can be sure that Mr Trump would not allow Russia a freer hand in Ukraine, say, in return for Mr Putin's support in restraining Iran – both in its nuclear ambitions and in Syria.
World news in pictures
Show all 50
Ms May tried to remind the US president that Mr Putin has so far been uninterested in explaining how a Russian nerve agent has been used on British soil, a hostile act for which there have so far been too few consequences.
There are two schools of thought about how to deal with strong leaders who flout the rules, such as Mr Putin (and indeed Mr Trump). They can be made to pay a price for doing the wrong things, or they can be flattered into doing the right things.
In the next few months, those who argue that the best way to deal with Putin is to show respect for the Russian nationalism he embodies will be given the chance to test their theory.
Join our commenting forum
Join thought-provoking conversations, follow other Independent readers and see their replies