The Lib Dems face a daunting challenge, but the country needs a strong voice for Europe and for social democracy
Out of all this current turmoil could come the long-awaited realignment of progressive politics in Britain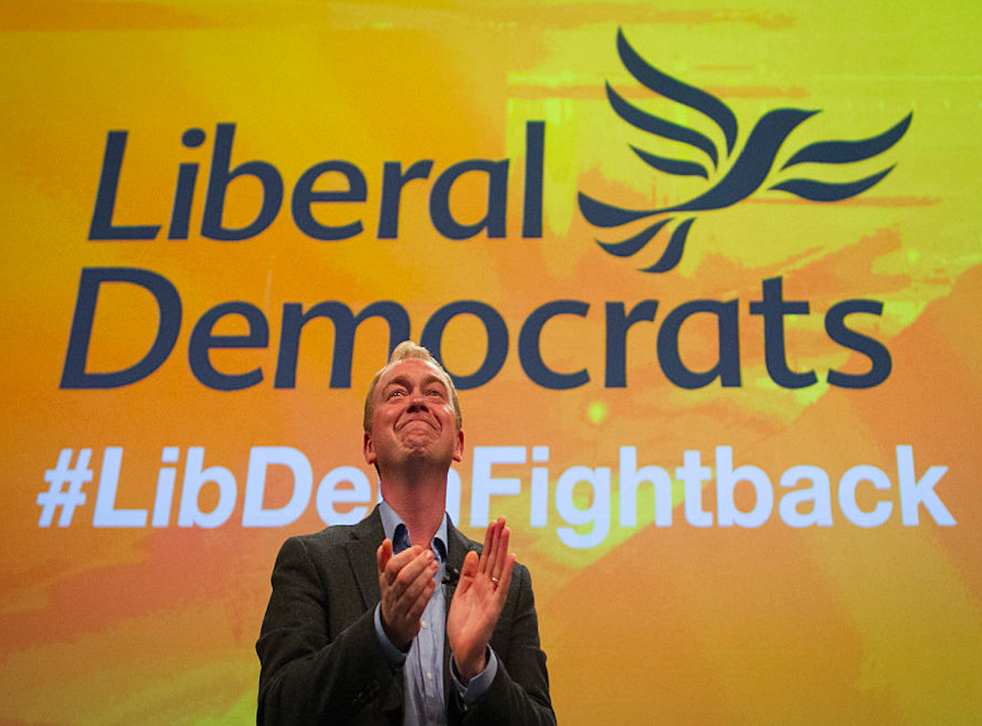 They call it #LibDemFightBack: a rise in membership of some 29,000 since the last election, some overdue gains in local elections after about a decade of decline; more or less holding their own in Scotland and Wales; some electoral straws in the wind from local by-elections. It could be worse.
Still, these are meagre gruel for a party that was until recently co-ruling the UK. The 2015 disaster could be followed in 2020 by a still worse return in the House of Commons under the current boundary review proposals. A "national" party in fourth place in votes behind Ukip and with fewer MPs than the Democratic Unionist Party – a perfectly feasible outcome in four years – would leave the Lib Dems a joke, just a decade on from that famous love-in in the Downing Street rose garden between Nick Clegg and David Cameron and all the windy talk about power.
So the task confronting leader Tim Farron, as his party gathers in Brighton to consider its future, is as daunting as any the party has had to consider in its history, and that of its predecessors, the SDP and Liberal Party. The good news – for those who want to see a political force in Britain unequivocally brave enough to stand up for Europe, for refugees and for civil liberties – is that Mr Farron is saying and doing the right things. He was smart, as well as principled, to immediately commit his party to a second referendum on the EU Brexit deal, and to reiterate his party's historic mission to secure Britain's future in the EU, a cause the Liberals alone have supported consistently and wholeheartedly since the birth of the European movement in the 1950s.
Similarly, Mr Farron stands up for causes with conviction and, in fact, a Lib Dem track record in power that adds to his party's credibility. As we learn from the memoirs of Nick Clegg, David Laws and Vince Cable, the Lid Dems did stop the Tories from following their most partisan, authoritarian and vicious instincts between 2010 and 2015. Britain would be far better off now if that moderating influence was still at work in Whitehall and the Cabinet room: the Brexit referendum would simply not have happened.
The truth is that by 2015, after the tuition fees fiasco and five years of austerity, we were never going to listen to Mr Clegg and his party, and he underestimated the scale of the rout they would suffer. The Lib Dems also failed to recognise the force of the anti-establishment, anti-European sentiment in the country, and with it the rise of Nigel Farage and Ukip.
Now, with Mr Farron still struggling to punch through to national attention, the public are still mostly uninterested in what the Lib Dems have to say. That does not mean, though, that they will always and forever be indifferent. As the referendum campaign showed, and even more the period after, there is a passionate enthusiasm for Europe out there, and a group of people who are also looking for a party that will campaign for the environment, for human rights, for refugees and for social justice. That is a far larger group than the 10 per cent the Lib Dems score in the polls, and many in the Labour Party are wondering whether that party is any longer fit for its historic purpose. The Greens are also talking openly about cross-party cooperation.
Out of all this could come the long-awaited realignment of progressive politics in Britain. It may well not though – talk of a Labour split has subsided a good deal as Jeremy Corbyn has looked more secure – and the lesson of history is that the British electoral system punishes splits and divided oppositions badly. That's puts Labour's social democrats off getting together with like-minded Lib Dems. In the meantime Mr Farron and his loyal followers can only make the best of what they have.
They will need hope in their hearts.
Register for free to continue reading
Registration is a free and easy way to support our truly independent journalism
By registering, you will also enjoy limited access to Premium articles, exclusive newsletters, commenting, and virtual events with our leading journalists
Already have an account? sign in
Join our new commenting forum
Join thought-provoking conversations, follow other Independent readers and see their replies