The West's involvement in Syria is only making matters worse
Since the wars in Iraq, Afghanistan and Libya, the West's leaders should have learned more lessons about the risk of striking targets from thousands of feet in the air on the basis of intelligence reports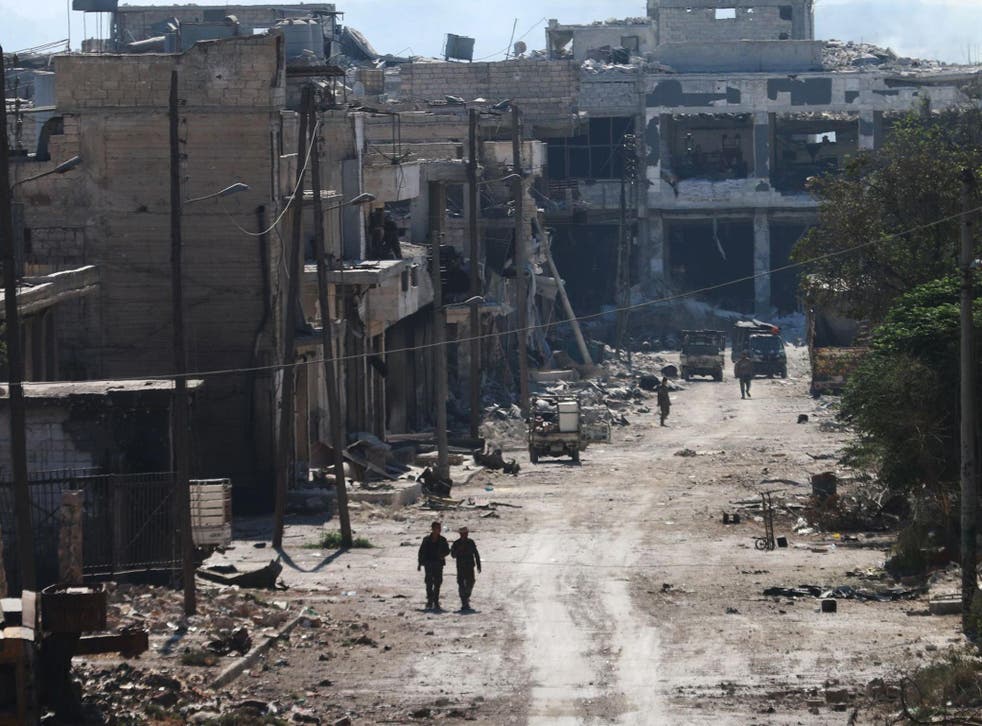 The blunder that led to Syrian government troops being killed instead of Islamic state forces was, we learn, a multinational affair. At first the assumption was that it was a purely American error; now it appears that British, Danish and Australian aerial forces were also involved. The Russians, on this occasion were not, and caused much public irritation on the part of US officials when they appeared to make political capital out of it. There have been cross words at the United Nations in New York.
All that does confirm the operational and political problems inherent in this multilateral attempt to deliver a partial ceasefire, defeat the so-called Islamic State and, of immediate concern, open the way for much-needed humanitarian aid to reach besieged Aleppo, where conditions are as appalling as anything experienced by a city in modern times. There have been some grievous shortcomings that, clearly, led up to this calamitous error.
First is the predictable lack of co-operation and failures in communication between the US and Russia. We do not yet know precisely how these arose, but had the habit of working together been better established, with more trust on both sides and less suspicion, it may well have been the case that the allied forces wouldn't have bombed the wrong target. Given their recent frosty relationship, it was too much to expect Nato-style co-ordination. This incident, and the backbiting that has followed it, does not suggest trust will be rapidly built.
Second, intelligence gathering may also have been at fault. No one would suppose gathering accurate, reliable information on the ground in the war zones of Syria to be a simple business. Yet since the wars in Iraq, Afghanistan and Libya, the West's leaders should have learned more lessons about the risk of striking targets from thousands of feet in the air on the basis of intelligence reports.
Third, aerial combat, so attractive for Western powers wary of casualties on the ground, is proved once again to be far from an easy way to win a war. That much, again, we should have learned in the past 15 years; the Foreign Affairs Committee's stinging criticism of David Cameron's strategy in Libya is another reminder of this.
The whole affair shows, once again, how Western interventions in these conflicts can make matters worse, at least in the short term. Even the most perfectly resourced and co-operative effort will make mistakes, and every war has its share of attacks which kill civilians needlessly. The West's operations in Syria – now with Russia as an uncertain ally – are unusually difficult, given the fractured nature of the opposition forces and the shifting alliances between them. Even now we cannot be sure about the real intentions of factions that we know comparatively little about.
In the meantime, far away from the chambers of the United Nations and the Pentagon and Whitehall, the people of Aleppo are no nearer relief.
Register for free to continue reading
Registration is a free and easy way to support our truly independent journalism
By registering, you will also enjoy limited access to Premium articles, exclusive newsletters, commenting, and virtual events with our leading journalists
Already have an account? sign in
Register for free to continue reading
Registration is a free and easy way to support our truly independent journalism
By registering, you will also enjoy limited access to Premium articles, exclusive newsletters, commenting, and virtual events with our leading journalists
Already have an account? sign in
Join our new commenting forum
Join thought-provoking conversations, follow other Independent readers and see their replies